KWALITEIT DUIKEN & SNORKELEN
MEXICO'S TOP DUIK & SNORKEL BESTEMMINGEN
Leve het duiken in Mexico! Bezoek een van onze vele duikcentra om met ons te genieten van trips en excursies op de oceaan. De vele snorkel- en duikplekken van dit land maken het mogelijk voor onze gasten om te genieten van een wereldberoemde ervaring die avontuur met rust combineert. Dus waarom niet mee met Dressel Divers in Mexico voor de vakantie van uw leven, waar u ongelofelijke stranden met ongelofelijke riffen tegenkomt?
OCEAAN TRIPS MET DRESSEL DIVERS IN JAMAICA
Ontmoet ons in Jamaica voor scubaduik– en snorkeltours welke u gegarandeerd mooie vakantieherinneringen zullen geven. Dressel Divers' watersportcentra is gelegen op slechts een steenworp afstand van de beste duik- en snorkelplekken die Jamaica te bieden heeft. Of u nu aan de oppervlakte blijft met een masker en vinnen of dieper gaat in de turqoise wateren van het eiland, we garanderen u een ervaring als nooit tevoren.
LET'S DIVE IN DE DOMINICAANSE REPUBLIEK
De enorme tropische eiland achtige lagunes die perfect zijn voor snorkelen en scubaduiken zijn het middelpunt van onze dagtrips in de Dominicaanse Republiek, onze watersportcentra zullen u die plekken van de oceaan laten ontdekken waarlangs Columbus naar de Dominicaanse Republiek kwam. Dressel Divers is uw toegang tot de beste snorkel- en duikriffen langs de Noord-, Oost- en Zuidkustlijn van dit waterparadijs.
CARIBISCHE EXCURSIES MET DRESSEL DIVERS
Om te zorgen voor een vakantie met nog meer activiteiten, bieden al onze scubaduik- en snorkelcentra in de Cariben excursies naar riffen die bekend staan om hun exceptionele schoonheid en ongerepte wateren. De perfecte plek voor een duik- of snorkeltrip! Als het rif bekend is in de Caribische watersport gemeenschap en bereikbaar is voor een avontuurlijke tour, dan gaan we!
LEER DUIKEN IN DE SPAANSE MIDDELLANDSE ZEE
Europese duikers verplaatsen zich naar Spanje, waar de ongelofelijke schoonheid van het land zich uitstrekt tot aan de zee. Het kristalheldere water is rijk aan majestueuze duikplekken welke tegenover ons eerste Dressel Divers' winkel (welke nog steeds bestaat!) liggen. De kalme, kleurrijke, transparante wateren van Spanje doen denken aan de tropen.
SCUBA DUIKEN AANBIEDINGEN & KORTINGEN

Aanbiedingen & Speciale acties
Duik pakketten met GRATIS DUIKEN! Duik club & groepsaanbiedingen.

Tot 25% Internet Korting
Betaal online voor uw aankomst en BESPAAR tot 25% op uw duik- en snorkelactiviteiten!

Verblijf & Duik aanbiedingen
Neem contact met ons op voor hotel- en duikcombinaties alsook voor onze prijzen voor all-inclusief duiken!
Ja! De online korting is van toepassing op alle recreationele duiken en snorkeldiensten!
We bieden ook GRATIS NITROX waar dat beschikbaar is en GRATIS ADVANCED open water duik cursussen.
WATERSPORTEN MET DRESSEL DIVERS
DRESSEL DUIK CENTRUM HOTELS&RESORTS
VERBLIJF & DUIK
VERBLIJF in een resort waar een duikcentrum van Dressel Divers aanwezig is zodat u aan boord kunt van de Dressel boot en DIRECT VANAF HET STRAND KUNT DUIKEN!
BEZOEK&DUIK
Verblijft u ergens anders maar wilt u genieten van de watersporten van Dressel Divers?
Kom dan naar ons toe met ons dagelijks georganiseerde BEZOEK&DUIK transfer (uitzonderingen kunnen van toepassing zijn).
WAAROM DIENT U DRESSELDUIKERS TE KIEZEN?
Meer Dan 25 Jaar Tot Uw Dienst
Dressel Divers Liveaboard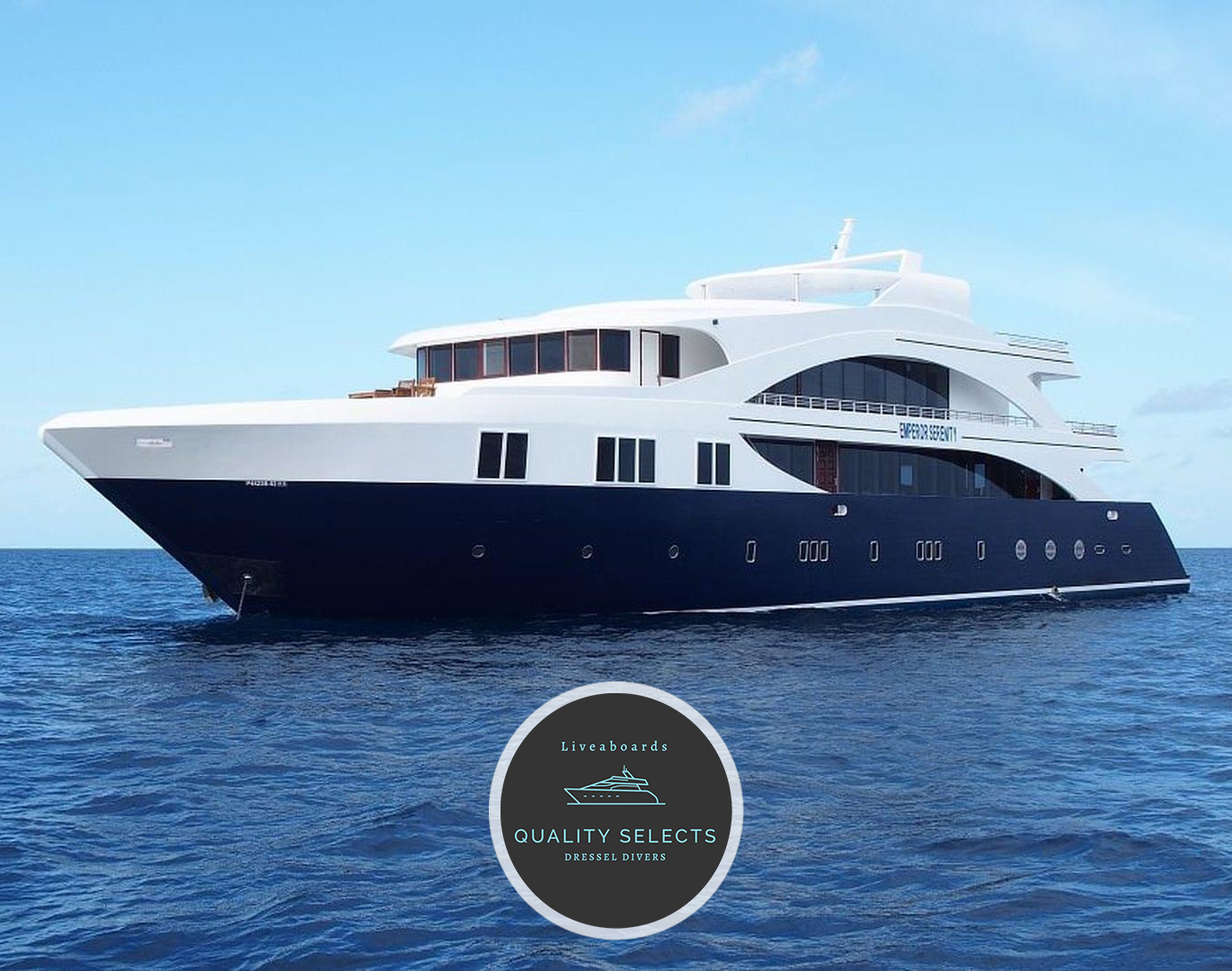 Dressel Divers' liveaboard diving Quality Selects are the perfect option for those who want to go one step further in their scuba diving adventures! Experience wild life and real nature at maximum from the amazing dive deck of a liveaboard. Our "Liveaboard Quality Selects" are the result of many clients requesting directly to our CEO, Javier Ibran, their desire for new Dressel Divers adventures and stunning experiences. Your orders are our demands!
Dressel Divers has 25 years' experience in diving and is well-known for its top-notch level of safety, service and quality, giving it the knowledge to evaluate liveaboards and suggest only the very best options. We select only one liveaboard per world class diving destination, the very best one, offering a service level compatible with Dressel Divers and its Quality Selects associate recognition. Nevertheless, the diving is offered based on the own strong standards of each liveaboard operator. All these signature liveaboards also agree to yearly quality controls on behalf Dressel Divers' owner or one of his trusted top managers.
DRESSEL DIVERS LAATSTE NIEUWS – Blijf op de hoogte!
Wat onze klanten van ons denken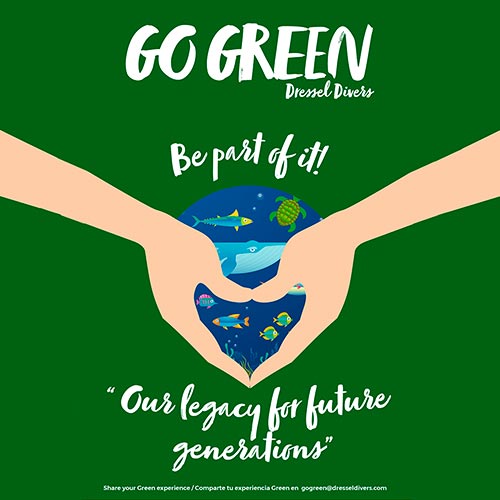 BE PART OF OUR LEGACY
Our main challenge is to share with our customers experiences that go beyond to a sustainable diving. The satisfaction of doing something for the blue planet and also for our future generations.
Go Green is an attitude, a philosophy, a commitment to raise awareness. The opportunity to transmit the responsibility of each individual in the care of our planet.
Go Green develops environment actions in the Caribbean area, such as Coral Reef maintenances, seabed cleanup activities, and decrease ecological footprint. We also support local NGO`s and we help them to make their social and green goals come true.
Be part of Dressel Divers community does not only mean diving, leisure, fun or passion. It also means commitment, action, respect and solidarity.
Be part of it!
Duikcentra dressel Divers