DIVEMASTER Jobs & Careers with Dressel Divers
DRESSEL DIVERS
Dive Guide Employment
Welcome to our divemaster employment page! At Dressel Divers we understand why one wants a Divemaster job and offer careers in line with those expectations.
Whether you have little on the job experience or come from a long dive guide career, Dressel Divers is the perfect place to work. With us you will reach the highest standards of professional preparedness and job satisfaction.
The year after year strong increase in our loyal customer base allows us  to offer frequent divemaster employment opportunities and long term career growth perspectives.
Our team is multicultural, friendly, easy-going yet very professional. The mood is international as employees make up a mix of many nationalities along with the clients.
If you would like more information on divemaster employment with us, please consult the contact section and send us a resume (C.V.) and two daily life pictures, one full person and one portrait.
Prerequisites for a career in Divemaster employment
Diving Credentials
Clearly you need to be a PADI Divemaster or equivalent of another dive federation. Your credential needs to be renewed. Inactive membership prohibits professional functions .
Prior experience is welcome but not a must. We are totally prepared to help new Dive guides transition to full job maturity and scucesfull longer term careers.
Non-diving Credentials
Furthermore you need to be an enthusiastic, hardworking, safety oriented and service minded person with a good flair for promoting diving and people skills.
Fluency in English is required, the official language of Dressel Divers. If you speak one or more of the following; Spanish, German, French, Portuguese, Italian or Dutch, that would be much appreciated.
Others possibilities:
Anyone wanting to join us that is NOT A DIVEMASTER YET BUT WOULD LIKE TO BECOME ONE is welcome to join our internship that offers the course totally for free including meals, lodging and more…
We also have opportunities on our team for Public Relations that speak English and at least one second language (of those listed previously)!
So if a partner or any of your friends are not elligible for a divemaster job but are equally interested in joining us, please invite them to contact us also, for any of these two great alternatives.
What do we offer to you? dive The best PADI Divemaster jobs, divemaster employment, divemaster career, divemaster work, working as divemaster, PADI jobs, divemaster in Cozumel, work in the Caribbean.
To apply for this job please fill in this form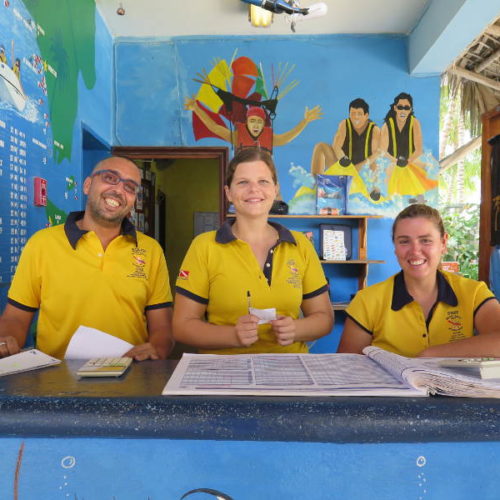 Diving is fun! Guiding divers even more!
A sample of Divemaster Job Testimonials from our Blog
DIVE GUIDE JOB DESTINATIONS