Free SDI & PADI Diving Instructor Internship with Dressel Divers
DRESSEL DIVERS
Apprentice Dive Instructor Internships
Sign up for our SDI & PADI Scuba Diving Instructor internship and apprenticeship and GRADUATE AS DIVE INSTRUCTOR FOR FREE.  Dressel Divers is a pioneer in SDI & PADI dive instructor grants via internship and on a regular basis offers FOUR MONTHS SDI & PADI dive instructor internships including all the dives needed for admission to the SDI & PADI IDC received for free (with a scholarship including study materials) after completion of the internship.
In the interest of maximum quality the free course is not integrated in the internship itself but given as formal separate program taken afterwards, along with the paying customers we also have, and of the exact same standard.
The diving instructor internship and scholarship program also includes daily free breakfast, free lunch (in some areas also dinner), free lodging (youth hostel style), a free daily dive, free standard dive equipment use, and much more. In exchange for this as SDI & PADI diving instructor intern and apprentice you participate fully in those dive center tasks as assigned by the manager.
In the hope that this page has triggered your interest in our internship please write us via the contact section for more information or to apply send us a resume (C.V.) and two daily life pictures, one full person and one portrait.
Apprentice Prerequisites for the Dive Instructor internships.
Diving related Credentials
You need to hold a renewed/active SDI & PADI Divemaster certification or equivalent from another federation. If you do not have this no worries, simply apply for our divemaster apprenticeship first.
Participants need to be free of any medical contraindications to scuba diving and obtain a medical certificate saying they are fit for diving.
Non-diving related Credentials
You have to be fluent in English, the official language of DRESSEL DIVERS. Ideally for the apprenticeship you will also speak one or more of the following; Spanish, German, French, Portuguese, Italian or Dutch.
Furthermore you need to be an enthusiastic, hardworking, safety oriented and service minded individual with good sales and people skills.
Include the MSDT for a GUARANTEED JOB OFFER!
Perhaps you are interested in staying with Dressel Divers after completing one of our diving instructor internships? Perfect because if you add the MSDT prep course to your free SDI & PADI IDC we include a garanteed JOB OFFER (*) for all successfull instructor intern graduates.  This combination DIVING INSTRUCTOR INTERNSHIP + EMPLOYMENT OFFER is truly unique in its kind, because you can start teaching straight away after graduation and continue to benefit from our professional advice and help during this critical transition.
(*)  Please consult us for the terms and conditions.
To apply for this internship please fill in this form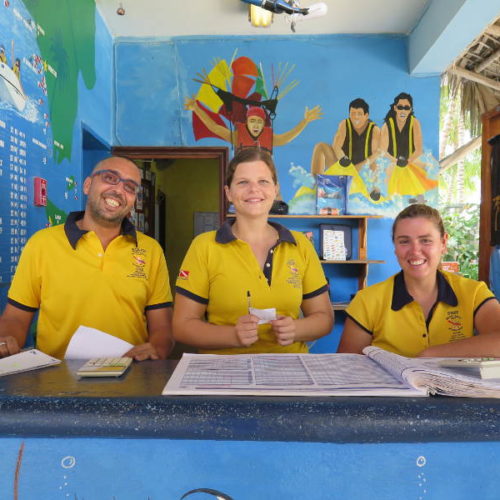 Diving is fun! For free even more!
Some Dive Instructor Intern Testimonials from our Blog
DIVE INSTRUCTOR APPRENTICESHIP DESTINATIONS