DRESSEL DIVERS COZUMEL
Dive Center & Shop
20% ONLINE DISCOUNT on the best scuba diving Cozumel has to offer! Cozumel is ranked among the world´s top scuba diving destinations for a reason: each dive is simply among the best on the planet. It is the perfect place to get in a maximum number of dives with Dressel´s great package prices and offers!
Resort dive this exceptional underwater world with free nitrox. The beauty and abundant marine life of Cozumel scuba diving have been intensely documented by famous oceanographers such as Jacques Cousteau. Don´t miss out on the opportunity of experiencing one of these documentaries with your own eyes!
Scuba diving in Cozumel is made even more amazing by the ocean´s crystal clear waters, providing incredible visibility, as if nature knew that such beauty deserves to be seen as clearly as possible on nearly every dive.
FREE NITROX! With this destination being so popular, with divers doing multiple dives daily, we offer free nitrox to help keep them going.
Guests who are not staying on the island of Cozumel can also enjoy a day of diving in these amazing reefs participating in our Excursion to Cozumel!
Video of the Dive Center!
Videography services available!
SCUBA DIVING COZUMEL –  PICTURES AND PLANNER
COZUMEL DIVING EXCURSIONS
DRESSEL DIVERS COZUMEL IS THE BEST DIVE CENTER IN MEXICO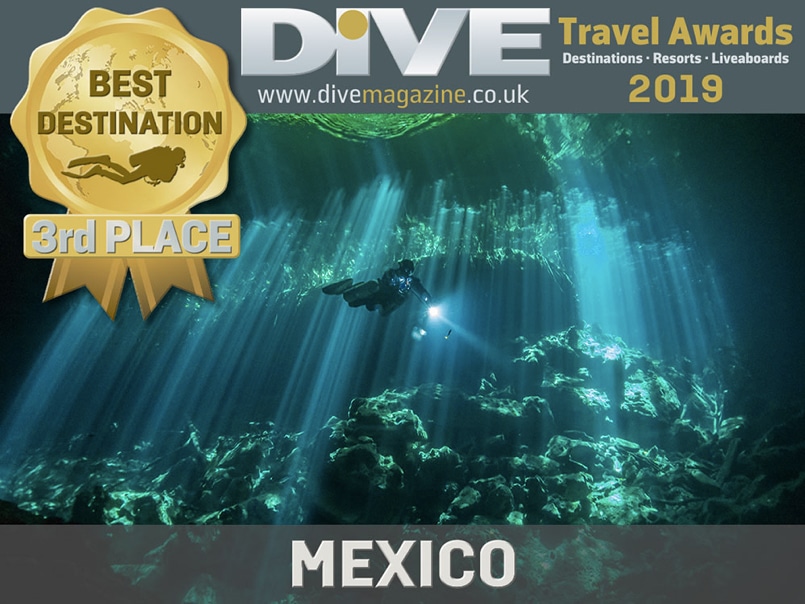 DRESSEL DIVERS COZUMEL HAS RECENTLY BEEN NAMED 
BEST DIVE CENTER IN MEXICO
6TH BEST DIVE CENTER IN THE WORLD
After a long 6 voting months, more than 470 diving centers all over the world participating, and 20.000 votes, on November 15, 2019 Dressel Divers Cozumel was chosen as the 6th best dive center in the world, and the best dive center in Mexico. In addition, Mexico was ranked as the 3rd best destination.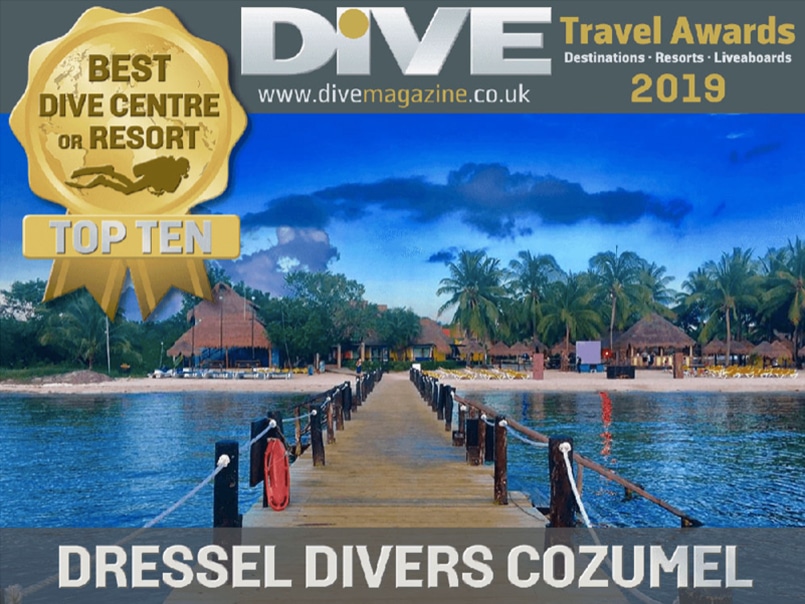 Hotel & Resort Diving in Cozumel

We have a dive center DIRECTLY ON THE BEACH of the
Carretera Costera Sur Km 17782 El Cedral, Cozumel, Quintana Roo, 7771, Mexico
VISIT & DIVE outings can be arranged with and incredible number of hotels and dive resorts throughout the island!
Why not take a walk & dive with Dressel Divers?
A number of resorts are located along the beachfront, meaning that the Iberostar and Dressel Divers are just short walk away.
Note: Diving equipment can be stored overnight at the dive center.
| Estimated walking time from: | Minutes: |
| --- | --- |
| Holiday Village White Sands | 10-15 |
| Occidental Allegro Cozumel | 10-15 |
| Occidental Grand Cozumel | 10 |
Transfers
Not staying at the Iberostar Hotel, but would like to dive or take diving courses with Dressel Divers?
Take advantage of a transfer arrangement to join us for a single- or two-tank dive (exceptions may apply).
ALL-IN Transfers
Want to spend a full day at the resort? Sign up for an ALL-IN Transfer which includes lunch (buffet), unlimited drinks and use of the beach, pool and facilities.
Additional Visit & Dive ACTIVITIES
Snorkeling, parasailing or banana rides, for yourself or any non-divers joining you.
Hotels at Transfer Distance
Sign up for a transfer & dive with Dressel Divers! A number of resorts are within easy transfer distance! Why not join us with a VISIT & DIVE transfer arrangement (exceptions may apply)?
Note: Diving equipment can be stored overnight at Dressel´s dive center. 
| Estimated transfer time from: | Minutes |
| --- | --- |
| Aura Cozumel Wyndham Grand Bay | 10 |
| Bahia (downtown) | 20-30 |
| Casa Del Mar | 15-20 |
| Casa Mexicana | 25 |
| Condumel |  20 |
| Coral Princess |  20 |
| Costa Del Sol |  10 |
| Cozumel Palace |  20-30 |
| El Cid La Ceiba |  15 |
| El Cozumeleño Beach Resort |  25 |
| Fiesta Americana Cozumel |  10-15 |
| Flamingo Cozumel |  20-30 |
| Hotel B Cozumel |  25-30 |
| Hotel Cozumel & Resort |  15-20 |
| Melia Cozumel |  20 |
| Park Royal Hotel |  15-20 |
| Presidente Intercontinental Cozumel |  15 |
| Residencias Reef Apartments |  20 |
| Sunscape Sabor Cozumel |  10 |
| Safari Inn |  20 |
| Villablanca Garden Beach Resort |  20 |
| Wyndham Cozumel |  7 |
Scuba Diving in Cozumel
Incredible diving
all year-round.
Average visibility:
+75 feet (+25 meters)
Coldest water temp.:
78.8 ºF (26 ºC)
Warmest water temp.:
87.8ºF (31 ºC)
Wetsuits (full) rentals:
1,2 inch / 3mm
Aluminum Tanks:
80 cubic feet (12 liters)
Full Tank :
+/- 3,000 psi (200 bar)
INT Connection,
DIN Adapters available
Offers & Discounts

20% Internet Discount
Pay online before your arrival and SAVE 20% on diving and snorkeling activities!

Dive Offers & Specials
FREE NITROX. Dive packages with FREE DIVES! DEALS for dive clubs and other organized groups! Free Advanced diving courses. 

Stay & Dive Deals
Dressel Divers can organize fantastic all you can dive prices or combined hotel and dive rates!  Please contact us for more information.
SCUBA DIVING COZUMEL – REEFS MAP