SOCORRO LIVEABOARD  DIVING- QUALITY SELECTS
Our Socorro liveaboard diving  safari guarantees big animal encounters like very few places can. Although famously know as Socorro Island scuba diving, there are really 4 islands in total. Socorro Diving is but one highlight of the liveaboard trip! Diving Roca Partida and San Benedicto Island are the other pelagic magic moments that complete the trip and bring in scuba diving fans from all over the world .
Together with Clarion they make up the Pacific Ocean Revillagigedo Archipelago, located off the coast of Mexico, a true scuba hotspot for diving with 7 species of sharks, including whale sharks and schooling hammerheads, giant mantas, playful dolphins, humpback whales, and tuna. With but a little bit of luck you will also enjoy dive encounters with more surprise appearances such as bait balls, false killer whales, orcas and more.
Socorro Liveaboard diving is one of those must do dive adventures that leave a painful gaping hole in your logbook until you have been there, done that. All the pelagic wildlife of your dreams is there and so is the Vortex liveaboard, just waiting for your decision to make it all come true. The Sol Mar V, without doubt is Socorro's signature big animals diving liveaboard, is the ideal vessel to forget you normally live on land and make the ocean your complete diver habitat, even when not scuba diving.



YEAR BUILT / RENOVATED
2019



SOCORRO LIVEABOARD DIVING – QUALITY SELECTS
Our Socorro Liveaboard diving is the perfect combination of luxury and adventure is also what scuba diving in Socorro is all about, not just the diving with schools of hammerheads sharks and giant mantas, playful dolphins. Here you become one with the whole ocean environment for more than a week without need to put a foot on land. Widely considered among the best location on earth for big animal pelagic diving, the Islands of Socorro, San Benedicto and Roca Partida draw not only divers from all over the world but also those that are professional underwater photographers and videographers, due to perfect conditions and very intense shark, manta, whale and dolphin behavior.
Your Socorro liveaboard diving safari will start your diving in San Benedicto, which is the third largest island and highly rated for a dive site called the "El boiler", for good reason called the home of the world-famous Giant Pacific Manta. These giant mantas are extremely impressive because of their, in excess of twenty feet wingspan and, friendliness, offering unique up-close personal encounters. The congregation of Giant Pacific Mantes is so intense they meet the divers even when just entering the water.
 SOCORRO LIVEABOARD DIVING WITH THE AMAZING VORTEX
WHAT CAN YOU EXPECT FROM OUR SOCORRO LIVEABOARD DIVING SAFARI?
SOCORRO LIVEABOARD DIVING – VORTEX DECK PLAN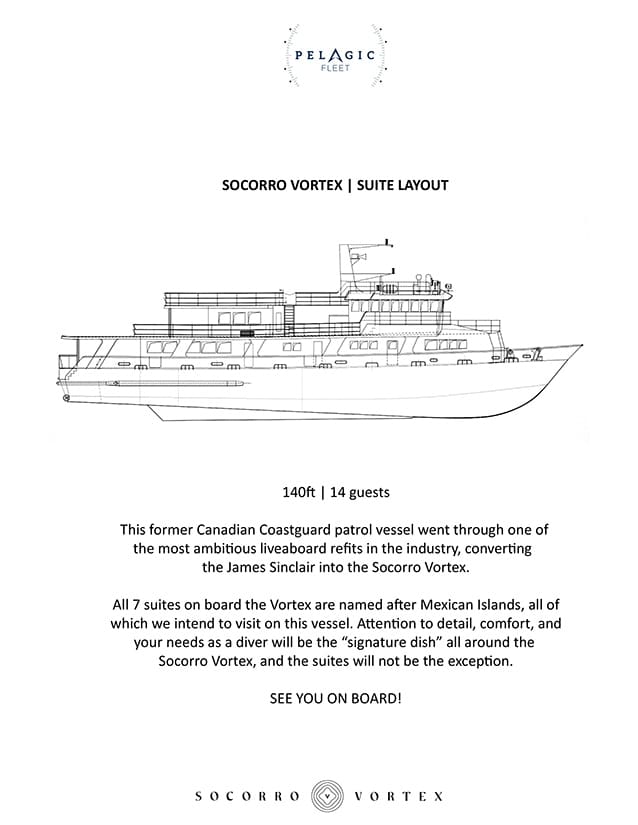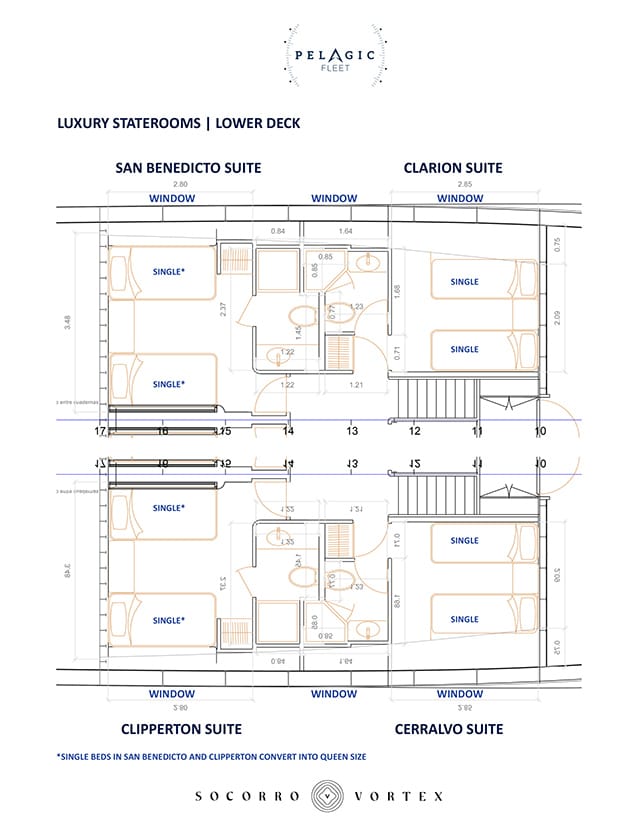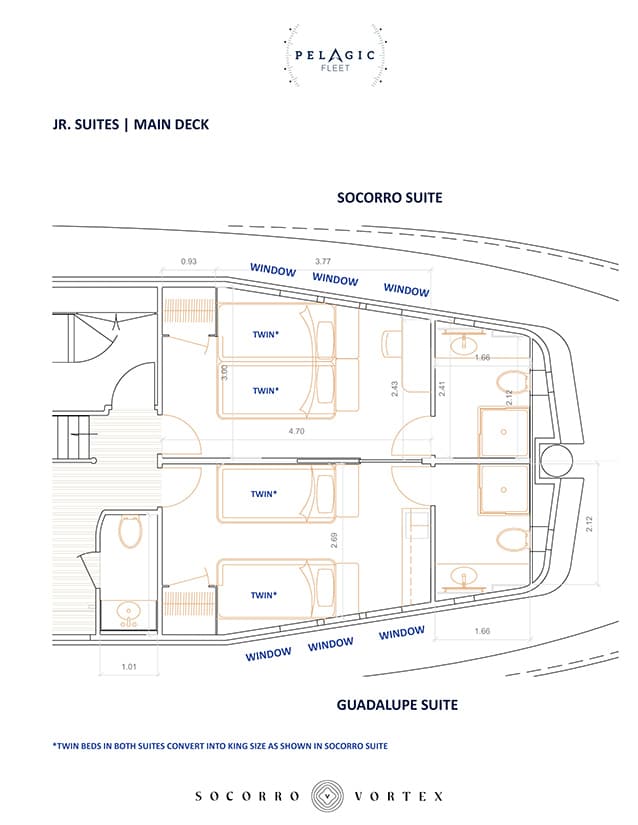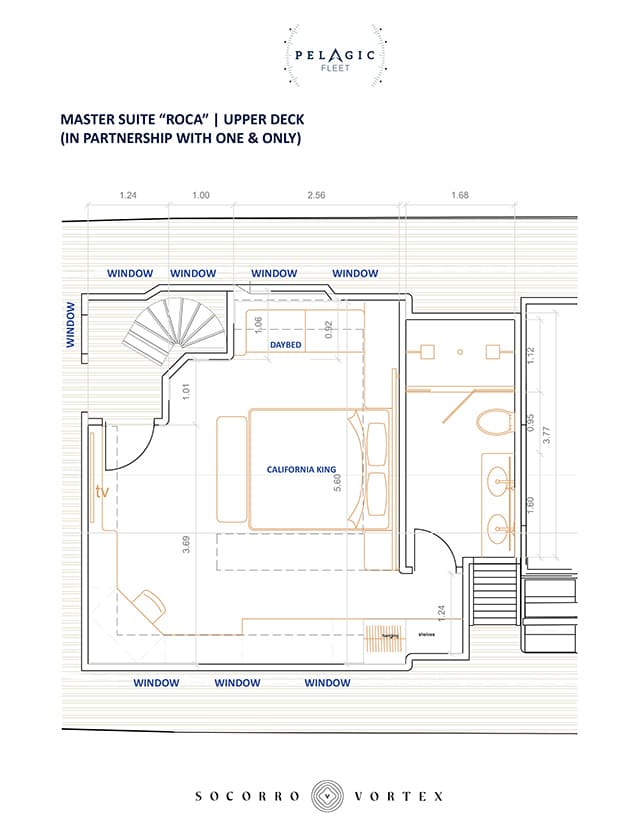 WHAT IS QUALITY SELECTS BY DRESSEL DIVERS?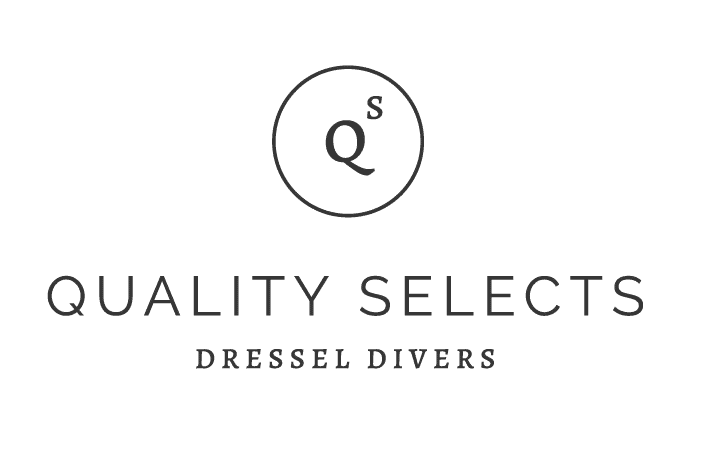 Welcome to our selection of liveaboard scuba diving adventures! Diving is true living, especially from the dive deck of a liveaboard. The Dressel Divers "Liveaboard Quality Selects" are the result of many clients expressing directly to Javier Ibran, owner of the company, their increasing desire for new dive destinations and experiences. When need calls, we listen!
Dressel Divers totals 25 years of experience in the scuba diving market and is recognized for its high level of safety and service. Therefore, we have the experience and knowledge with which to evaluate liveaboard dive operations and suggest only the very best options to our customers. We select only one liveaboard per world class diving destination, the one we consider the very best of all available, offering a service standard compatible with Dressel Divers and its Quality Select associate recognition. This Socorro liveaboard diving experience will meet all your scuba needs!