SOCORRO LIVEABOARD DIVING – Giant Mantas & Dolphins
Socorro Liveaboard Diving with Dressel Divers Quality Selects guarantees big animal encounters like very few places can. You will be face to face with resident giant mantas, diving among playful pods of dolphins and surrounded by sharks. Each dive you will be invigorated and in awe of the large, pelagic wildlife you see. Apart from the resident animals, there are seasonal visitors that include whale sharks, whales, bait balls, pilot whales, false killer whales and tuna.
Quick facts
Season: November – July
Trip Length: 9 Days, 8 Nights
Average Number of Dives: 17-20 (weather dependent)
Boat: Nautilus Belle Amie, diving from skiffs (3 total)
Port: Cabo San Lucas
Closest Airport: SJD Los Cabos, Mexico
Starting price: $2995 USD
Diver experience: no minimum but recommended Advanced open water and at least 50 dives due to currents and some bottomless dive sites
Giant manta Pods of Up to 10 species Pelagic rays dolphins of sharks encounters

SOCORRO LIVEABOARD DIVING – QUALITY SELECTS
About Socorro Island  + Dive Sites
Socorro is the largest and most famous of the four volcanic islands that make up the Revillagigedo Archipelago, which is located 250 miles off the coast of Cabo San Lucas. You will dive 3 of these islands: Socorro, San Benedicto, and Roca Partida. The underwater scenery of the islands is volcanic in nature with lava tubes, visible geothermal activity, and elaborate rock formations. Although there is no color reef, there is no lack of wildlife. San Benedicto is the best island for giant manta ray encounter. The dive site known as "The Boiler," is a manta ray cleaning station where you will be very close to the largest ray in the world. These giant, but graceful creatures can have up to a 30-foot wingspan. Roca Partida, the smallest island, is known for schools of jack and tuna swarming around the pinnacle. Don't forget to look at the pinnacle itself for small life such as octopuses, lobsters and crabs hidden in the crevices as well as caves filled with sharks.
For the majority of dives, we are spoiled with 70-100 feet visibility Sometimes when the current is stronger, ash from the volcanic isles reduces the visibility to 30 feet. On these dives, we move closer to reef and the marine life checking out the eels, lobsters, crabs and octopus. Socorro Liveaboard diving is one of those must-do dive adventures! All the pelagic wildlife of your dreams is there and so is the Nautilus Belle Amie liveaboard, just waiting for your decision to make it all come true.
Socorro Island Wildlife Calendar
When should I visit?
Year-round you will see giant mantas, bottlenose dolphins, up to 10 species of sharks and lots of fish! Although hammerheads can be spotted year-round, schooling hammerheads are more often seen in May-June and November-December. Starting in January, 1,200 humpback whales come to Socorro to mate.
You will for sure see them on the surface, hear them underwater and if luck is on your side, you might get to see one underwater. May to July is bait ball season that seems to bring the intensity of more sharks including schooling silkies and hammerheads, lots of tuna, and even pilot whales. Whale sharks also return during these months.
What is the water temperature?
November-December is low 80s. January-April it drops to the low 70s during whale season. May-July the temperature rises to mid-high 70s.
SOCORRO LIVEBOARD: Nautilus Belle Amie
Belle Aime Highlights
✔ Heavy steel construction with stabilization features designed specifically to provide comfortable open ocean crossings
✔ Heavily sound proofed walls for a good night sleep
✔ Reputation for outstanding crew and the utmost service
✔ Hot tub to warm up between dives with snack and drink services
Launched in 2015, Nautilus Belle Amie is the perfect combination of luxury and practicality. This custom-built boat is designed specifically for divers. It has a spacious dive deck for people to get ready, a large camera station, and lots of indoor and outdoor seating to relax between dives. The main deck has a large air-conditioned salon and dining room, where a fusion of Mexican and West Coast North American food is served. The partially shaded sundeck is the perfect place to soak in the sun during the day or star gaze at night with its bar, hot tub and sun chairs. The Belle Amie experience would not be the same without the crew of 12 wonderful and extremely hard-working teams of men and women from around the world who put safety and service as a priority.


LENGTH / WIDTH
147 ft / 32 ft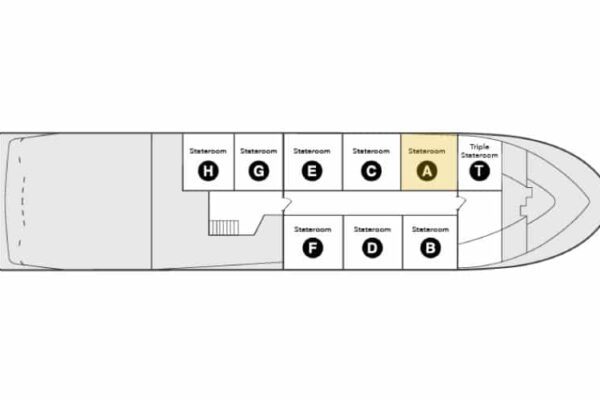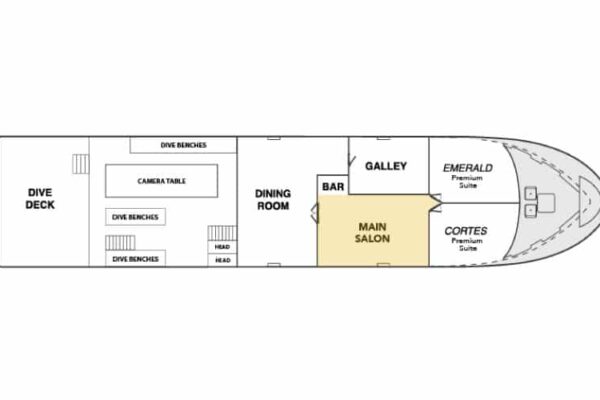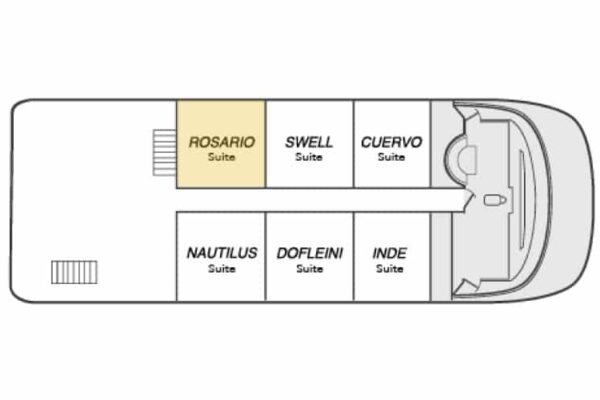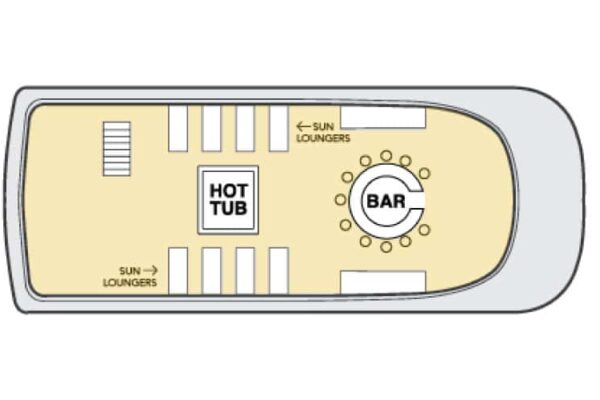 SOCORRO LIVEABOARD DIVING ITINERARY
Fly into SJD. Cabo.
Day 1
Complimentary Backscatter photo and video workshop at SeeCreatures Cabo San Lucas. Check in at SeeCreatures by 5pm, drop off your bags. Explore town. Meet back at 7:15 for orientation. Transportation provided to boat. 8 pm boarding.
Day 2
Traveling and relaxing at sea. It's a one day run out to the islands. Cocktail hour. Sunsets. Arrive at San Benedicto Island by evening.
Days 3-7
Over five full dive days, you will be able to experience some of our favourite sites such as El Canyon, the Boiler, Red Rocks, Roca Partida, Cabo Pearse, Punta Tosca and Roca Oneal. Average of four dives a day. Expect to see the friendliest giant mantas in the world, bottlenose dolphins, up to ten species of sharks and loads of fish. We will also have other activities to keep you busy such as kayaking and paddle boarding. Or simply relax in our hot tub.
Day 8
Early morning voyage back to Cabo San Lucas. Great time to look back on all your photos and videos, connect with new friends or simply relax during the journey back.
Day 9
Disembark at 8:30am in Cabo.
WHAT CAN YOU EXPECT FROM THIS SOCORRO LIVEABOARD DIVING SAFARI?
BOOK YOUR LIVEABOARD DIVING SAFARI
Dressel Divers' liveaboard diving Quality Selects are the perfect option for those who want to go one step further in their scuba diving adventures! Experience wildlife and real nature at maximum from the amazing dive deck of a liveaboard. Our "Liveaboard Quality Selects" are the result of many clients requesting directly to our CEO, Javier Ibran, their desire for new Dressel Divers adventures and stunning experiences. Your orders are our demands!
Dressel Divers has 30 years' experience in diving and is well-known for its top-notch level of safety, service, and quality, giving it the knowledge to evaluate liveaboards and suggest only the very best options. We select only one liveaboard per world-class diving destination, the very best one, offering a service level compatible with Dressel Divers and its Quality Selects associate recognition. Nevertheless, diving is offered based on the own strong standards of each liveaboard operator. All these signature liveaboards also agree to yearly quality controls on behalf Dressel Divers' owner or one of his trusted top managers.


WHY SHOULD YOU CHOOSE DRESSEL'S SOCORRO LIVEABOARD DIVING?
We select ONLY 1 LIVEABOARD in Socorro, THE VERY BEST ONE, offering a service compatible with Dressel Divers and its Quality Selects Associate Recognition. The operator also agrees to quality controls by Dressel  Diver's owner or top managers.

DRESSEL DIVERS QUALITY CHECK




SPACIOUS CABINS & FACILITIES

NITROX & EQUIPMENT AVAILABLE
What's included:
Accommodations
4 meals a day ( continental breakfast, made-to-order breakfast, lunch, dinner) unlimited snacks of freshly baked goods and fresh fruits.
Non-alcoholic beverages
Use of kayaks and stand-up paddleboards
Weights, weight belts, aluminum 80's and air
Daily room service, towels
Complementary photo workshop day of arrival
In-water divemaster and end-of-trip slideshow DVD
Transfer from SeeCreatures in Cabo to the port
What's excluded:
5%Tax
$375 marine park fees* (cash only)
$35 port fee* (cash only)
Dive insurance (required)
Trip insurance (highly recommended)
Flights + Visa
Nitrox ($125 US for 2023/2024)
Rental equipment
Alcohol
Gratuities
Wi-Fi
Gift shop
All transfers not mentioned in "What's Included"
*Subject to change