Dressel Divers Free EAN
(Enriched Air Nitrox)
Dressel Divers offers FREE NITROX* diving to all scuba divers that hold enriched air nitrox (EAN) certification issued by PADI or any other recognized international dive federation. Diving nitrox for free brings several benefits, especially for divers who aim to do many dives in one day.
Scuba diving with our FREE NITROX* you will dive with a lower percentage of nitrogen than normally present in air. Recreational Nitrox fillings by reducing this percentage of nitrogen allow scuba divers to extend their no decompression limits or dive time by reducing the amount of nitrogen absorbed. It also allows for shorter surface intervals.
The main benefit of recreational diving with our free nitrox is that you reduce your overall nitrogen absorption, therefore adding an extra layer of safety to an already very safe sport, by reducing the dangers of decompression even more.  
Not a Nitrox diver yet? Not a problem! Just sign up for our PADI Enriched Air Nitrox course to quickly also benefit from our free nitrox use every time you dive with us. The EAN course is easy, interesting and fun, and the certifications is valid for a lifetime of free nitrox diving with Dressel Divers.
Ask For Our
Free Nitrox*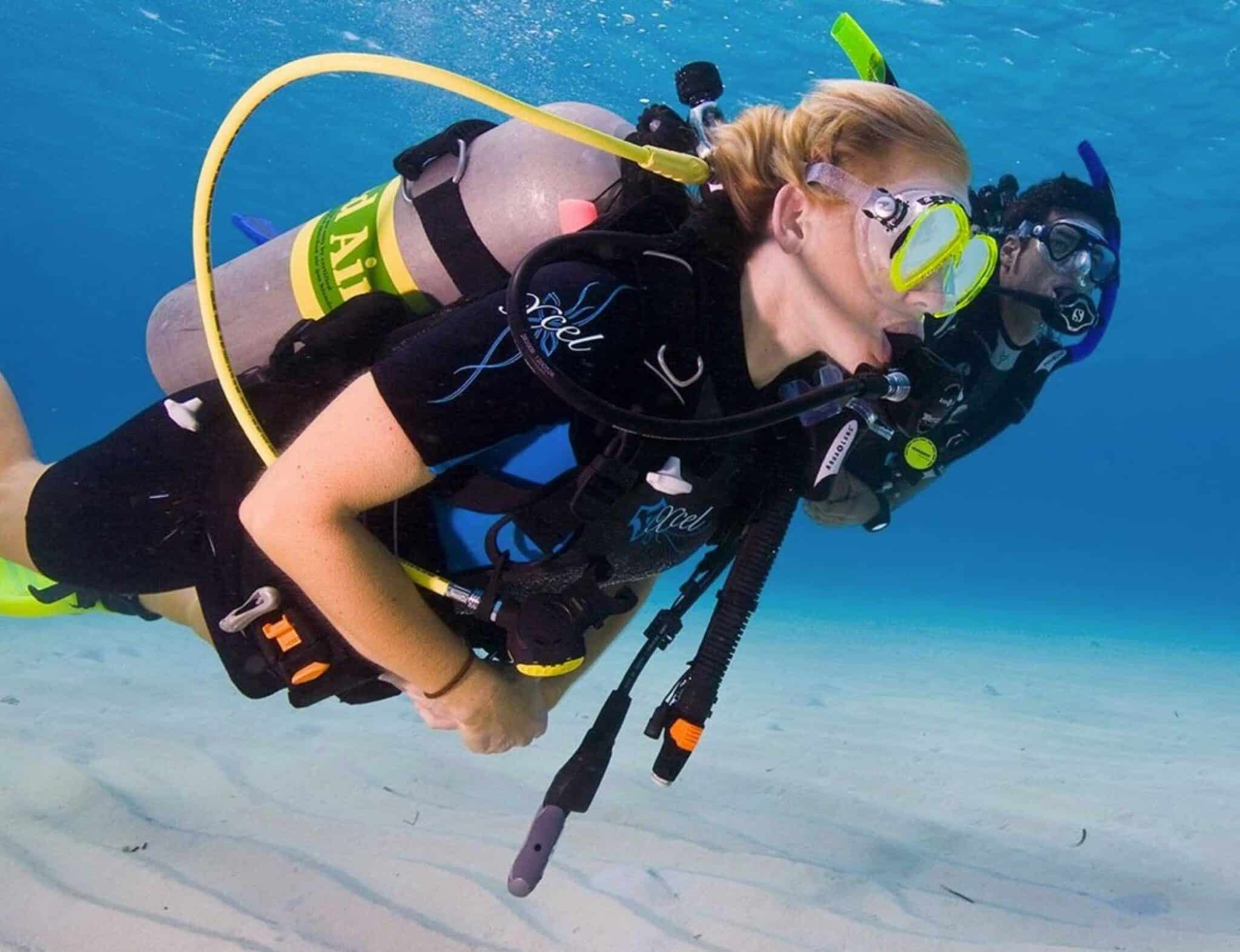 Free Nitrox In most of our dive centers
Become a PADI Enriched Air Diver
To Enjoy Free Nitrox
Start your PADI EAN
(Enriched Air Nitrox) Course Today
The PADI  Nitrox course has a theory section that can easily be done during your vacation or should you prefer with PADI eLearning before you arrive at the dive center, from the comfort of your house with a laptop or tablet. Many PADI Continuing Education programs are available with eLearning, including the PADI Enriched Air Diver Online Nitrox course.
So, why not start today! If you opt for eLearning to do the theory parts and chapter reviews or quizzes, during your actual holiday you will be able to pretty much go straight into scuba diving our free nitrox.
(*)Free Nitrox is provided subject to in-house compressor capacity and operational status.
(*)In Montego Bay and Puerto Vallarta, there is no Nitrox available. In Punta Cana, Nitrox can be obtained, but it is not free.
More Discounts, Promotions, Offers and Deals!
Free Package Dives and Stay & Dive Deals
Depending on the time of the year and hotel you are interested in we can offer you a great price on Caribbean COMBINED HOTEL & DIVING DEALS. Please contact us to request more information.
In all our scuba diving centers we offer great dive PACKAGES WITH EXTRA DIVES FREE OF CHARGE the more you dive. The packages vary in dive options adaptable to so the length of your vacation. Our bigger packages also comprise our popular dive excursions.