20% ONLINE DISCOUNT, Offers, Deals & Promotions
Dressel Divers 20%
Online PREPAYMENT DISCOUNT!
Dressel Divers offers to its Cyber divers a 20% prepayment discount!*
On recreational diving & snorkeling > valid for our dive centers in Mexico, Jamaica and the Dominican Republic
* 15% in Majorca
* 10% in Puerto Vallarta
** These promotion discounts apply on products/services that are paid before your arrival at the hotel, through our DRESSEL DIVERS Headquarters. If you send in your booking less than 3 days before your arrival (not counting the weekend when our reservations office is closed ), we cannot guarantee confirmation of your pre-booking with the according discount.
**The 20% discount does not apply to the online brand store, and on some activities like liveaboards or some special packages. Such activities have this exception indicated in their description.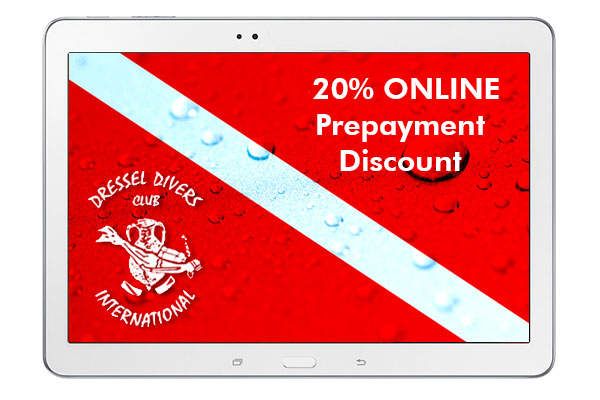 More Discounts, Promotions, Offers and Deals!
Free Nitrox and Free Advanced Promotion!
We offer FREE NITROX tanks in most of our dive centers on every dive for nitrox certified divers.  If you do not have this certification we recommend obtaining it with DRESSEL DIVERS on arrival to benefit from the free nitrox tanks.
We also offer FREE ADVANCED course. Buy the book plus PADI registrations fee and the program itself is totally free, using dives you have already purchased. See our courses section for further information.
Free Package Dives and Stay & Dive Deals
Depending on the time of the year and hotel you are interested in we can offer you a great price on Caribbean COMBINED HOTEL & DIVING DEALS. Please contact us to request more information.
In all our scuba diving centers we offer great dive PACKAGES WITH EXTRA DIVES FREE OF CHARGE the more you dive. The packages vary in dive options adaptable to so the length of your vacation. Our bigger packages also comprise our popular dive excursions.
DRESSEL DIVERS DIVE CENTERS