Qualitäts Tauchen & Schnorcheln
MEXIKOS BESTE TAUCH- & SCHNORCHEL PLÄTZE!
Es lebe Tauchen in Mexiko! Besuche eines unserer Wassersportzentren und genieße Ausflüge aufs Meer und rundherum. Die unzähligen Schnorchel- und Tauchplätze des Landes ermöglichen unseren Gästen eine unvergessliche Zeit mit einer Kombination aus Abenteuer und Erholung. Also, warum kommst du nicht nach Mexiko für den Tauchurlaub deines Lebens, um den Mix aus wunderschönen Stränden und ebenso atemberaubenden  Riffen, mit Dressel Divers, zu genießen?
AUSFLÜGE MIT DRESSEL DIVERS AUF JAMAIKA
Treff uns in Jamaika, wo Tauch– und Schorchelausflüge deinen Urlaub garantiert zu einem unvergesslichen Ereignis machen. Das Wassersportzentrum von Dressel Divers ist nur wenige Meter von Jamaikas besten Schnorchel- und Tauchplätzen  entfernt. Egal, ob du dich nur an der Wasseroberfläche mit Maske und Schnorchel aufhältst oder abenteuerlustig tiefer in das türkiesblaue Wasser der Insel eintauchst, wir garantieren dir ein unvergessliches Erlebnis.
 LASS UNS IN DER DOMINIKANISCHEN REPUBLIK TAUCHEN
Tropische Inseln mit unvergesslichen Lagunen, perfekt zum Tauchen und Schnorcheln, sind der Mittelpunkt unserer Tagesauflüge in der Dominikanischen Republik. Von unseren Wassersportzentren aus lassen wir dich das Meer erkunden, das Columbus einst in die Dominikanische Republik brachte.  Dressel Divers ist dein Ausgangspunkt zu den besten Schnorchel- und Tauchriffen entlang der nördlichen, westlichen und südlichen Küste dieses tropischen Paradieses.
AUSFLÜGE IN DIE KARIBIK MIT DRESSEL DIVERS
Wir bieten dir unzählige Wege, deinen Urlaub so aufregend wie möglich zu gestalten. All unsere Tauch- und Schnorchelzentren in der Karibik bieten dir Ausflüge zu den besten, schönsten und beeindrucktesten Plätzen des Meeres. Der perfekte Platz für einen Tagesausflug zum Tauchen oder Schnorcheln! Sobald ein Riff der Karibik, in der Welt des Wasserspors bekannt ist,  bieten wir eine unvergessliche Tour dorthin!
LERNE TAUCHEN IM MITTELMEER VON SPANIEN
Europäische Taucher strömen nach Spanien, wo die Schönheit des Landes bis weit ins Meer reicht. Majestätische Tauchplätze im kristallklaren Wasser liegen direkt vor der ersten Tauchschule von Dressel Divers, die natürlich immer noch in Betrieb ist. Spaniens ruhiges, farbiges und klares Meer erinnert an tropische Länder.

Angebote und Specials
Tauchpakete mit GRATIS TAUCHGÄNGEN! Rabatte für Tauchclubs und gruppen

Bis zu 25% bei online Buchung
Zahlen Sie vor Ihrer Ankunft online und sparen Sie bis zu 25% auf Tauch- und Schorchelaktivitäten

Angebote für Übernachtung mit Tauchen
Kontaktiere uns für Superangebote für Hotel plus Tauchen und Preise für All-inklusive Tauchen!
Ja! Der online Rabatt zählt auf alle Tauchgänge und Schnorchelaktivitäten.
Außerdem bieten wir GRATIS NITROX, wo immer es möglich ist und GRATIS ADVANCED openwater kurse.
WASSERSPORT MIT DRESSEL DIVERS
DRESSEL TAUCHZENTREN HOTELS & RESORTS
ÜBERNACHTUNG & TAUCHEN
BESUCH & TAUCHEN
Du übernachtest in einem anderen Hotel, möchtest aber trotzdem die Wassersportangebote von Dressel Divers nutzen?
Kein Problem, wir organisieren täglich den Transport für deinen Besuch & Tauchgang (Möglicherweise gelten Ausnahmen).
WARUM SOLLTEN SIE DRESSEL DIVERS WÄHLEN?
Seit Mehr Als 25 Jahren Für Dich Da
Dressel Divers Liveaboard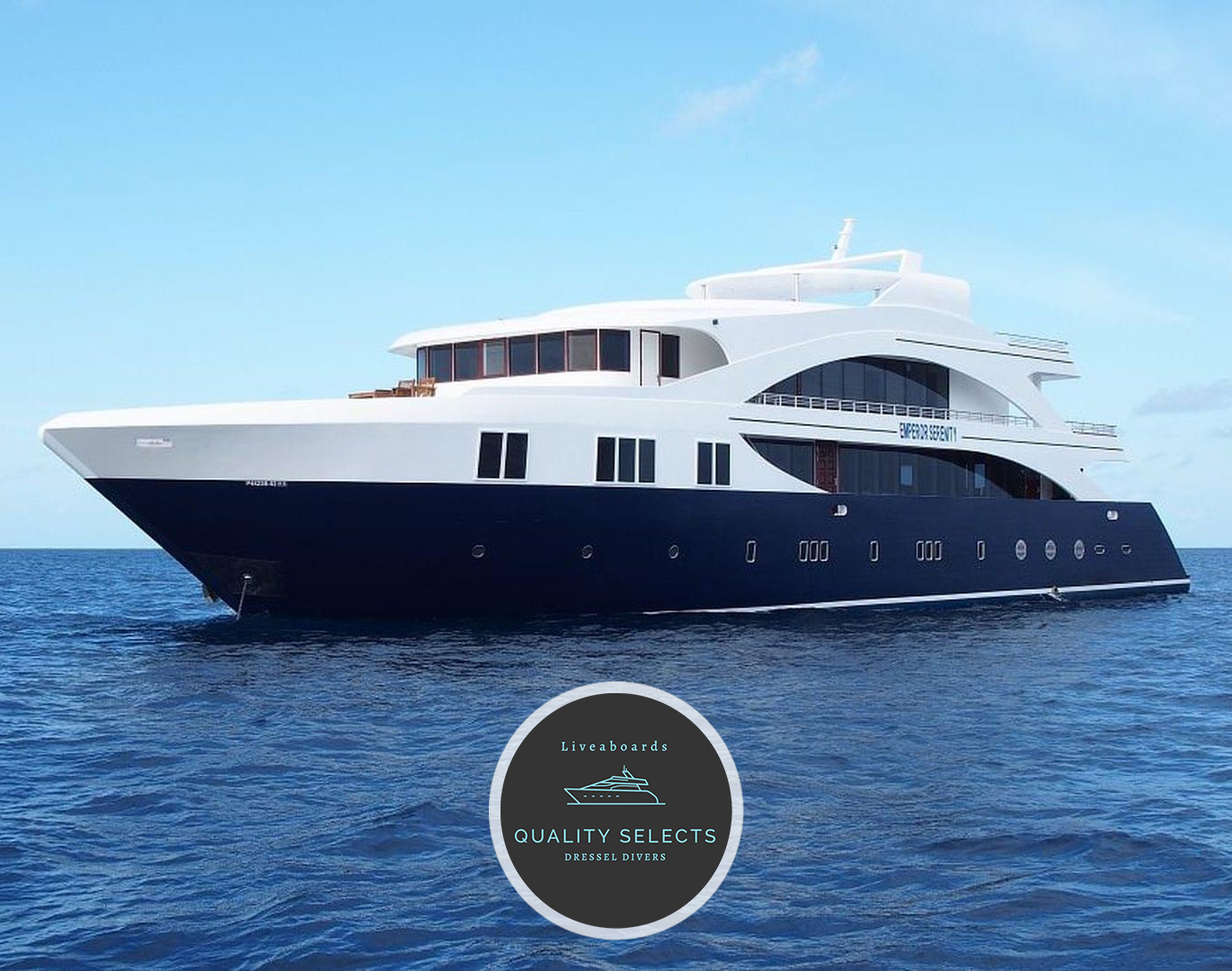 Dressel Divers' liveaboard diving Quality Selects are the perfect option for those who want to go one step further in their scuba diving adventures! Experience wild life and real nature at maximum from the amazing dive deck of a liveaboard. Our "Liveaboard Quality Selects" are the result of many clients requesting directly to our CEO, Javier Ibran, their desire for new Dressel Divers adventures and stunning experiences. Your orders are our demands!
Dressel Divers has 25 years' experience in diving and is well-known for its top-notch level of safety, service and quality, giving it the knowledge to evaluate liveaboards and suggest only the very best options. We select only one liveaboard per world class diving destination, the very best one, offering a service level compatible with Dressel Divers and its Quality Selects associate recognition. Nevertheless, the diving is offered based on the own strong standards of each liveaboard operator. All these signature liveaboards also agree to yearly quality controls on behalf Dressel Divers' owner or one of his trusted top managers.
Neueste Nachrichten von Dressel Divers. Bleib auf dem neuesten Stand
Was unsere Kunden über uns denken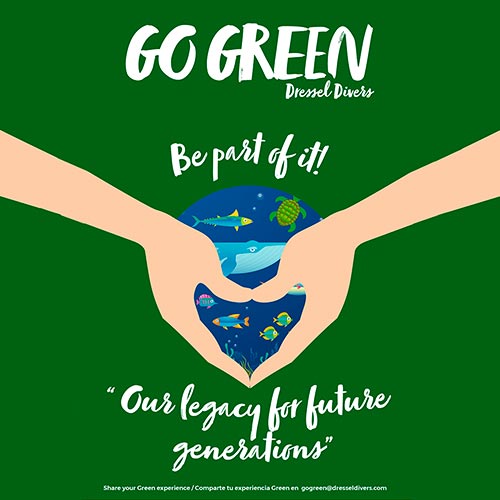 BE PART OF OUR LEGACY
Our main challenge is to share with our customers experiences that go beyond to a sustainable diving. The satisfaction of doing something for the blue planet and also for our future generations.
Go Green is an attitude, a philosophy, a commitment to raise awareness. The opportunity to transmit the responsibility of each individual in the care of our planet.
Go Green develops environment actions in the Caribbean area, such as Coral Reef maintenances, seabed cleanup activities, and decrease ecological footprint. We also support local NGO`s and we help them to make their social and green goals come true.
Be part of Dressel Divers community does not only mean diving, leisure, fun or passion. It also means commitment, action, respect and solidarity.
Be part of it!
Tauchzentren Dressel Taucher