WATER SPORTS Jobs & Careers with Dressel Divers
DRESSEL DIVERS
Water Sports Employment
We offer water sports employment for anyone looking for a great sports job related to the sea. No previous employment in water sports is required but of course such a background is very useful. The most important ingredient for a career in water sports is a love for the ocean and the great activities related to it.
Our water sports centers are particularly interested in job applicants with previous employment experience as captains, assistant captains, beach boys, dive equipment room attendants and sailing or windsurfing teachers.
We also offer sports jobs through teaching skill development related to the educational dive sector. This is ideal for people with a physical education degree and/or a previous sports employment background interested in building a career in sport diving as guides or teachers. For this please consult our internship pages which offer the perfect start for such a choice.
Please to apply for any of the above and/or request more information send us a resume (C.V.) using the contact section, including two daily life pictures, one full person and one portrait.
Prerequisites for a career in water sports employment.
Necessary Credentials
English (in Jamaica) or Spanish (in our other destinations) is a required language for all water sports jobs.
Captains & assistant captains require a local captains license and in the case of the captain the more experience in the area, especially related to diving and snorkeling, the better.
For jobs as windsufing or sailing teachers it is important you are very good at these sports yourself and have teacher talent. The more languages you speak obviously the better.
The ability to swim and be comfortable in water is a prerequisite for all water sport employment in Dressel Divers, except for the dive equipment room attendants.
Usefull Credentials
For Captains, Assistant Captains, and equipment room staff pior knowledge of dive equipment set up and doning is a very welcome, although in no manner a must.
Beach boys will benefit from familiarity with the basics of setting up, washing and stowing windsurfing and catamaran sailing equipment.
Apart from English or Spanish, ideally you will also speak one or more of the following; Spanish, German, French, Portuguese, Italian or Dutch, but again this is not obligatory.
Furthermore you need to be an enthusiastic, hardworking, safety oriented and service minded individual with good people skills.
Types of water sport jobs:
We have employment possibilities for boat captains, assistant boat captains, parasail captains, assistant parasail captains, banana ride captains, jetski operators, beach boys, dive equipment room attendants, compressor filling station staff , snorkeling guides and sailing or windsurfing teachers.
We also have opportunities on our team for Public Relations that speak English and at least one second language, and interships for those tempted by a career as dive guides or dive instructors.
To apply for this job please fill in this form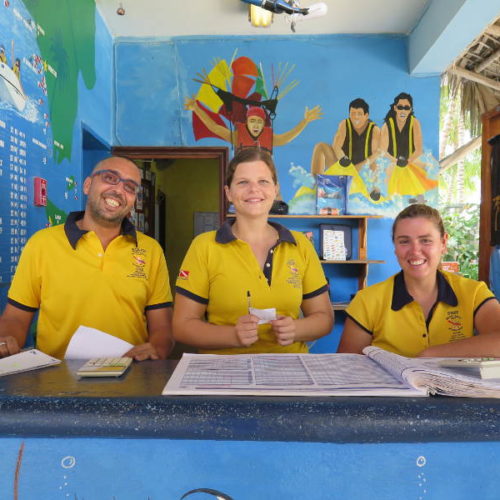 WATER SPORT JOB DESTINATIONS