Water Sports in the Dominican Republic
Water Sports in the Dominican Republic are true across the ocean adventure. Rediscover the coastline of the Dominican Republic by doing water sports of all kinds. The wonderful beaches are the historical gateway to the Americas giving ocean activities in the Dominican Republic a very special twist while you parasail, banana ride, kayak, windsurf or hobby cat sail along them.
Because of the history, this coastline feels different and takes on added excitement while enjoying water sports. In the Dominican Republic, you just can't help feeling some old Columbus-era shipwreck lies hidden below the surface somewhere very near you. All manner of Dominican Republic activities are waiting for you making its beaches and ocean your wild and wonderful water park.
Water Sports in
Punta Cana
Join us for some extremely tropical water sports in Punta Cana and Bavaro. From the famous Astron wreck in Bavaro all the way to Punta Cana, this truly endless coconut palmed beach is a water sports paradise found.
Thirty kilometers of beach and blue lagoons, to parasail above and sail along! Depending on the time of the year, during you Punta Cana water activities you may also be privileged to see humpback whales splash their massive tail further out at sea.
Resting comfortably on your beach chair in front of the water sports center, you will be able to see the silhouette of the Astron wreck. Want a a closer view? just windsurf, hobby cat sail or kayak towards it. Or, go see it from the sky with the parasail, for sure one of the best activities water activities in Punta Cana.
Dressel Divers offers first-rate water sports in Bayahibe and La Romana. Bayahibe water sports options will exceed expectations and leave you pleasantly surprised, mixing ocean and sky activities such as parasailing for an incredible horizon view of the nearby Barcardi islands of Saona and Catalina.
As a gateway for the first European ships to navigate to the Americas, any water activities in Bayahibe will give you the feeling as though some undiscovered shipwreck lies hidden just below the surface you are sailing or kayaking on. And, there are plenty of modern wrecks to spot from the Parasail!
Calm seas and smooth breezes – all year round – make our Bayahibe activities the perfect thing to do to cool down from the hot beaches. Bayahibe truly unites all the conditions for a tremendous water sports vacation like no other! Join us and we will quickly convince you that you made the very best choice.
Enjoying Dressel Divers water sports in Puerto Plata, in one way or another you will be navigating along the historical ocean gateway to the New World. On daily basis, you can go hobby cat sailing and windsurfing two absolute favorite activities in Puerto Plata.
Did you know this side of the country is super famous for its guaranteed winds perfect for sailing in the afternoon? Until midday the oceans are flat, perfect for swimming, snorkeling, and diving. But then in the afternoon, the wind always picks up and turns the place into a windsurfing paradise.
The coast is also lined with an impressive chain of mountains, the reason for the great winds, but moreover, also the source of great background view while you enjoy the most popular sport in Puerto Plata, which without a doubt is sailing a hobby cat or a windsurf.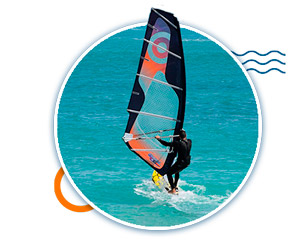 Puerto Plata Windsurfing
The best Dominican Republic windsurfing is right here on the Puerto Plata side of the country. If you do not know how here is the place to learn for sure. Windsurfing relies on a fairly perfect balance between your body, the sail, and the strength of the wind. Once you find that balance and you will feel like a local pelican sheering across the ocean surface with the sail as your wide wing.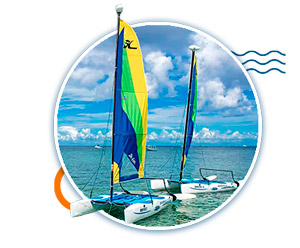 The Puerto Plata coastline is blessed by fantastic winds for sailing almost every afternoon, due to a temperature switch with the mountains that line this wonderful coastline. Sailing in the Dominican Republic is nowhere better than this side of the country. If you love hobby cat sailing we and the wind are waiting for you.
The Dominican Republic Sports and Activities Highlights.
A vacation is not a vacation without at least some water sports in the Dominican Republic. There are just so many water sports for you to choose from that for sure one of them will end up being the highlight of your visit to this great place.
Dressel Divers is renowned for offering Dominican Republic water sports vacations at superb price value, with a safety record and service guarantees very difficult, if not impossible to match.  With 5 different water sports to choose from: Parasailing, Kayaking, Banana rides, Windsurfing, Sailing, snorkeling, and diving, there is no way that you can get bored on the palm-lined beaches.
To top it all up, if you are a true water sports addict, we can package different non-motorized or motorized water sports together for you, including anything you want to do at one great all-inclusive rate. And yes! We can also include your hotel logging in the pack, so you enjoy an all-around complete Dominican Republic sports price deal.
Your part is just to think about all the Dominican Republic activities you long to enjoy during your vacation, and then let our staff pack them all together into one great all-inclusive resort package offer.
20% Online Discount
More value, more action
Surfing and Sailing Courses
 Come and sail with us on monohulls or catamarans
Water Sports Included at Iberostar Resorts
Experience new sensations during your all-inclusive vacation!
Customized Group Activities
Join sports in the most stunning bodies of water
BOOK YOUR OUTDOOR DOMINICAN REPUBLIC ACTIVITIES AND SPORTS
Activities and Water Sports in The Dominican Republic FAQ