Best Caribbean Watersports Vacations Ever
Water Sports for ocean lovers!  Make the ride worth the travel with Dressel Divers Caribbean water sports. Greater than great Caribbean watersports activities are waiting for you in every one of our locations. We guarantee Caribbean water sports vacations with a dazzling array of ocean adventures right from your hotel beach.
CARIBBEAN SPORTS AND ACTIVITIES
6 different water sports to choose from!
Check destinations available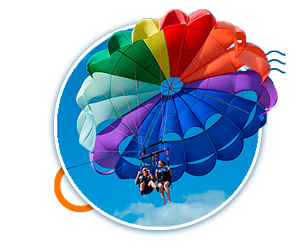 Caribbean Parasailing
For sure one of the best Caribbean water sports to choose. Take to the skies with a parasailing ride and enjoy an unparalleled view of your vacation hangout. You will see everything, maybe even a dolphin cruising just below the transparent surface!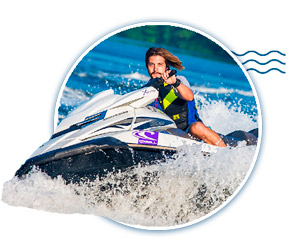 Jet Skiing
Go jet skiing for a holiday ride to remember! Escape from the hot beach on a cool jet ski! In many of its destinations, Dressel Divers offers this very exciting Caribbean water activity. Hop on your ocean Harley Davidson with just your swimming trunks.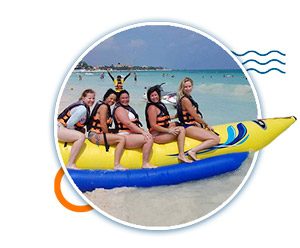 Banana Boats Water Sports
Ride the ocean front on a great big yellow banana! Due to its popularity, in most Dressel Divers destinations, it is available leaving straight from the beach. The perfect Caribbean watersport to enjoy as a group, with friends and family. Get wet!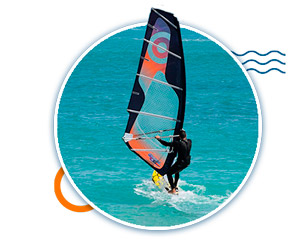 Caribbean Windsurfing
Gone with the windsurf! Want to sail? Want to Surf? How about both in one? Windsurfing combines two exhilarating feelings, that of sailing and that of surfing. One of the best Caribbean activities for those that believe in wind power.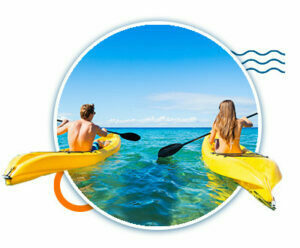 Caribbean Kayaking
Let your arms take you for a walk with our sea kayaks! A beach vacation is a perfect moment to enjoy this most popular of Caribbean water sports. It offers a fantastic workout, or you can just float around like a duck on a pond, with great coastal views.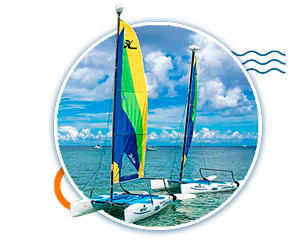 Sailing In the Caribbean
Fancy Sailing on a Big Sunbed? Don't just watch the hobby catamarans sailing along the azure horizon go get one and join them. Water sports vacations simply are not complete without some hobby cat sailing.
Caribbean Water Sports Destinations
Combine the most exciting Caribbean watersports with our paradisical locations. There is no waterpark or Aqualand greater than the ocean itself. The opportunities for excitement are wide and wonderful. Enjoy them with the guarantee of our more than 28 years of professional management of non-motorized and motorized water sports in the Caribbean.
Find Dressel Divers' top-notch Caribbean activities in these 3 different Countries: Mexico, Jamaica, and the Dominican Republic. Take advantage of our superior facilities and professional sports instructors and enjoy a remarkable water sports vacation. Escape from the hot beaches to cool down on the ocean with the coolest of activities.
Dressel Divers is located in the very best Caribbean water sports resorts with a wide-ranging selection of 5-star Iberostar, Barceló, and Hard Rock hotels. All of them with the bright blue ocean right at the tip of your toes. No other Caribbean resorts with water sports make it that easy to have a fantastic time every time you hit the beach.
Water Sports in Mexico
The Riviera Maya in Mexico is a Caribbean water sports Paradise. Water is everywhere, not just that of the azure blue sea but also inland in the world-famous Cenotes, with crystal clear water for snorkeling among stalactites and stalactites or to go ziplining over their jungle ponds.
Water Sports in Jamaica
Jamaica is by definition the ideal place for Caribbean water sports vacations. The island is bathing right in the middle of the Caribbean Sea, and has the perfect climate and ocean opportunities for all year long water adventures. In a close by bay the water is even luminous at night. Come see this miracle!
Dominican Republic Activities
With more miles of palm-lined beach than the eyes can see, the Dominican Republic is a 100% natural Caribbean Watersports destination. The views from the parasail, banana boat, or windsurf board are like 360-degree perfect Bacardi island posters with you right at the center in action. Every day is watersports day with the great all-year-long water temperatures.
Dressel Divers Caribbean Water Sports Highlights
Dressel Divers offers great price value water sports vacations, with unsurpassed safety and service guarantees. We can even package together all your planned non-motorized or motorized water sports in the Caribbean, including snorkeling or diving, for one great rate.
What's more, your hotel logging can also be included in the package, so you enjoy a super Caribbean sports price value deal. Just imagine all the very best Caribbean water activities you are dreaming of in one great all-inclusive resort package deal, and then contact us to make it happen.
20% Online Discount
More value, more action
Surfing and Sailing Courses
 Come and sail with us on monohulls or catamarans
Water Sports Included at Iberostar Resorts
Experience new sensations during your all-inclusive vacation!
Customized Group Activities
Join sports in the most stunning bodies of water
BOOK YOUR CARIBBEAN SPORT AND ACTIVITIES
Caribbean Water Sports FAQ