SNORKELING IN MEXICO WITH DRESSEL DIVERS
DRESSEL DIVERS MEXICO
Snorkel Centers & Shops
Snorkeling in Mexico is simply sensational.  Magnificent snorkel sites dot the Mexican coastline and snorkeling is simply the coolest break from the hot beaches and tacos. Everyone can do it and everyone enjoys snorkeling!
Some snorkel sites even have a drift allowing more relaxed snorkeling, with fins used for steering rather than moving. You literally go with the flow and the boat follows you along. So come snorkeling in Mexico and glide the reef!
Also, in Mexico land and ocean join efforts to impress you profoundly with not only ocean opportunities for snorkeling but also the Yucatan jungle, that hides the world famous Cenotes filled with the most crystalline sweet water imaginable.  These caverns start in small ponds that are great for snorkeling and full of amazing life forms.
Our snorkel centers are perfectly located for easy access right from the beach to the boats, for a short trip to nearby reefs. The areas we operate from is widely considered the number one places for snorkeling in Mexico. All it takes is snorkel, mask and fins and off you go.
Most Recommended
Snorkel Shop Video
MEXICO'S TOP SNORKELING DESTINATIONS
Snorkeling in Cozumel is an excellent way of immersing yourself in the world of Jacques Cousteau! Dressel Divers, located a stone´s throw away from Cozumel´s top snorkeling sites, offers top-quality snorkel tours and excursions on some of the island´s most incredible reefs. Cozumel´s reefs are acknowledged as some of the best in the world when it comes …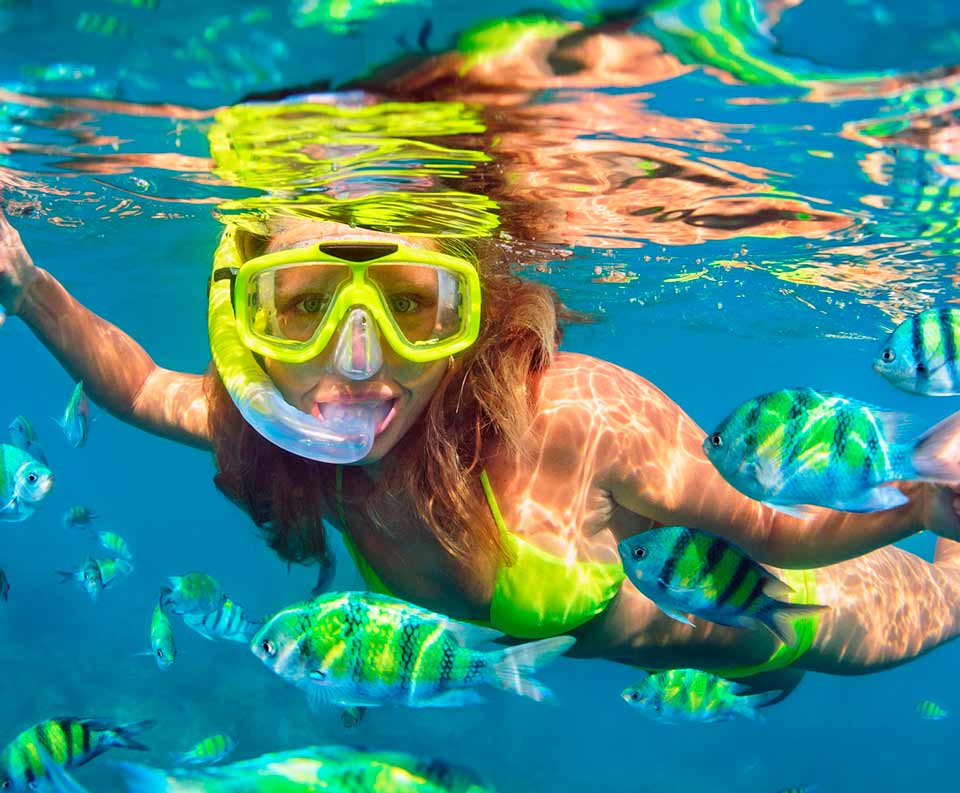 People & Culture
The palmed beaches are amazing and so is the sea. As expected.  The sand is very white and cool to the feet even on the hottest day.
Nevertheless with towns, art, music, food and people so interesting it difficult to stay in the hotel for extended periods. You just feel you want to be out and about with the Mariachis.
Nature & Monuments
History and nature join efforts to impress you profoundly in the Yucatan jungle, that hides Mayan temples and the world famous Cenote caverns filled with the most crystalline sweet water imaginable.
The Cenote caverns flow into incredible ponds that are great for snorkeling and where you will observe amazing life forms. Marvelous, natural swimming pools in the middle of the jungle are waiting for your fin kicks as yet another part of this ecosystem.
Food
Traditional dishes in our areas are poc-chuc, pavo escabeche, relleno negro, queso relleno, panuchos, relleno blanco and papadzules. Barbecued meats are also very common, with spicy salsas and great salads.
And then there are all the seafood dishes. Octopus, squid and prawns marinated ceviches are a must for your taste buds. You will also find a wide variety of tropical fruits.
Currency The official currency is the Mexican peso, although US dollars are widely accepted throughout the country.
Official language Spanish. English is understood very well.
Electricity The voltage supplied in the country is 110 volts. The plugs have 2 flat prongs.
DRESSEL DIVERS MEXICO SNORKELING CENTERS MAP