SCUBA DIVING IN THE DOMINICAN REPUBLIC WITH DRESSEL DIVERS
Be our guest for some fabulous scuba diving in the Dominican Republic. Here we invite you dive the coastline first discovered by Columbus. North, East and South of the Dominican Republic, scuba diving centers run by Dressel Divers will welcome you. Rediscover the Dominican Republic, the island were European's first settled the Americas, with a dive mask. Because of the history, while scuba diving in the Dominican Republic you can't help feeling some shipwreck from that period still lies hidden nearby.
Our dive shops will invite you to places that go by names such as Coral Garden or Paradise reef, very evocative of what scuba diving is all about in the Dominican Republic. Many of these reefs were discovered and named by our founder at the very start of Dressel Divers in the beginning of the nineties. Already more than 20 years ago!
The Dominican republic offers dive adventure like no other destinations can offer them. We take you to virtually uninhabited islands and descend on the most pristine dive sites in the country.  Great scuba diving blends into an all round great day typical of the Dominican Republic.
DOMINICAN REPUBLIC TOP DIVING DESTINATIONS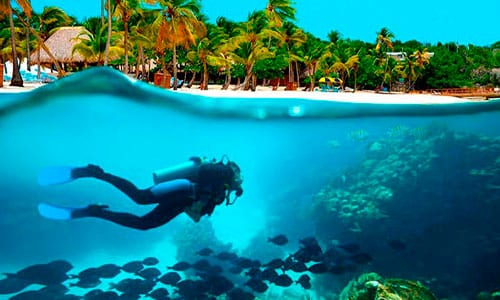 Bavaro Punta Cana
Scuba Diving
From the famous Astron wreck in Bavaro all the way to Punta Cana, scuba diving sites populate this seemingly endless coconut beachfront. Thirty kilometers of ideal scuba diving reefs!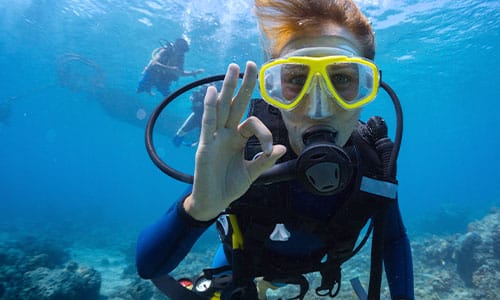 Bayahibe
Scuba Diving
Bayahibe scuba diving options exceed expectations and leave you pleasantly surprised, mixing the many local reefs with its paradise-like uninhabited islands and national park caverns.
DOMINICAN REPUBLIC INFORMATION
People & Culture
The Dominican Republic's diverse and genuinely hospitable people will make your holiday truly unforgettable. Naturally friendly staff will accompany your scub diving activities with their constant smile. The dominican people truly seem to have figured out the secrets of living a happy life. Merengue and bachata, the most popular music is heard everywhere.
Christopher Columbus was the first visitor deeply impressed by the extraordinary beauty of the Dominican Republic. Come visit the island he discovered!
Nature & Monuments
The walled Colonial Zone in Santo Domingo is where the first cathedral, monastery, university, customs house and hospital or the "New World" were build, all historical buildings dating back to the time of Christopher Columbus.
Apart from its endless coconut treed beaches protected by reefs perfect for diving, the Dominican Republic also has a very colorful country side, vast sugar cane fields, mangrove swamps, savannas and rushing rivers for rafting, all of it crowned by the highest mountain range in the Caribbean.
Food
Dominican dishes are a reflection of Spanish and African historical influence. Sancocho is the national dish, a stew with different meats, beans, plantains & yams. Other popular meals are roast pork, all types of fish and seafood, and an extremely wide choice of exquisite tropical fruits. Try the battidas, no doubt the best milkshakes ever.
The country is also famous for its excellent rums distilled made from local sugar cane crops and for its tobacco with cigar brands that compete in excellence with those of Cuba. Don´t leave without trying "a fria", typical Dominican beer by the name of Presidente and served at freezing point.
Currency
Dominican Peso (RD$). The US Dollar (US$) is also generally accepted
Official language
Spanish. English is understood well in many areas.
Electricity
110 V. The plugs have 2 flat prongs
Dressel Divers - Dominican Republic Dive Centers Map