LIVEABOARD DIVING PHILIPPINES
LIVEABOARD DIVING the PHILIPPINES just makes immense scuba diving sense. With just one look at a map of The Philippines you will already want its famous dive sites in your logbook, on as many pages possible and as soon as possible with our Quality Selects Philippines liveaboard diving trip. More Islands than land and, an abundance of world class dive sites, inevitably guarantee the Philippines is just perfect for liveaboard scuba diving!
By many considered the top liveaboard diving area in the coral triangle, the more than 7,000 islands of the Philippines harbor some of the most impressive marine life on the planet. A variety of exciting underwater environments offer offshore pinnacles, wrecks, caves, steep walls and coastal reefs, with everything, from muck diving or critter hunts to sardine runs and close encounters with massive whale sharks.
Liveaboard diving in the Philippines is diving galore, with magical places such as: Pescador & Malapascua, Tubbataha, Balicasag, Visayas – Cebu, Negros, Cabilao and Apo. After cruising and scuba diving their turquoise waters, you will be unable to ever forget these exotic names. Nor will you forget the unique presence of the Dugons, the gentle giant sea cows of the oceans which although on the endangered species list absolutely thrive in the Philippines.


LENGTH / WIDTH
131 ft / 32 ft

YEAR BUILT / RENOVATED
2013 / 2015



LIVEABOARD DIVING PHILIPPINES – QUALITY SELECTS
With the many reef sharks, thresher sharks, manta rays, hammerheads, box fish, scribbled filefish, spiny lobsters, seven species of sea turtles, the unique Napoleon Wrasse and the tiny but special pygmy seahorses, this Philippines liveaboard offers such fantastic diving you won't really want to be on board, but in the water.
Still the SY Philippine Siren is such an eye-catching wooden vessel with such good facilities, staff and meals that you will love every minute of your stay. The dive deck could be considered immense and photo equipment facilities absolutely top of their kind. The S/Y Philippine Siren truly offers a one of a kind Liveaboard diving experience with its masts, wooden decks and cabins.
So, what are you waiting for? Come liveaboard diving in the Philippines to escape the crowd and hit all the hotspots in this part of the coral triangle. The only complaint the vessel's crew have to deal with is divers not wanting to go back home, crying over their dive equipment.
LIVEABOARD DIVING PHILIPPINES – PHILIPPINES SIREN CABINS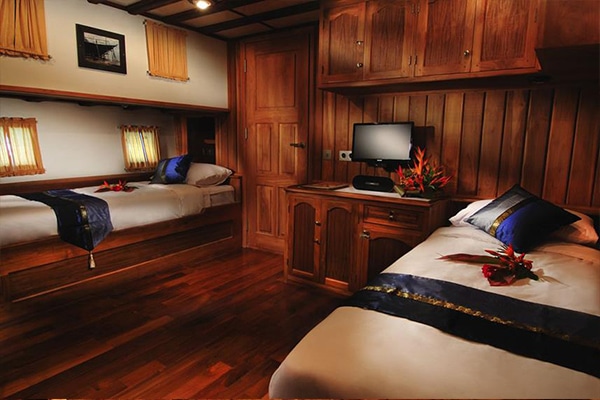 – Size:  12 m² / 130 sq feet
– Beds:  2 twin
– Max occupancy:  2
– Shareable:  Yes
– Private bathroom:  Yes
– Air Conditioning:  Yes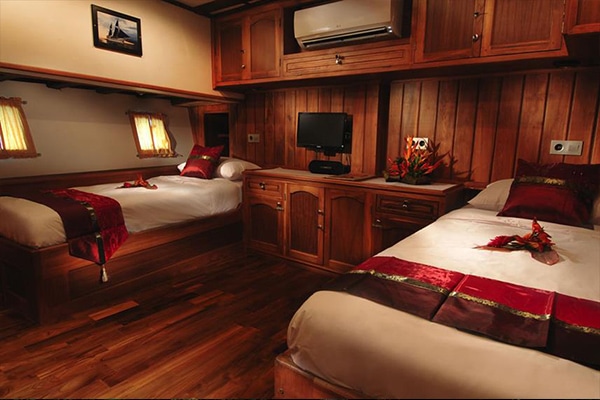 – Size:  21 m² / 226 sq feet
– Beds:  Double or twin
– Max occupancy:  2
– Shareable:  Yes
– Private bathroom:  Yes
– Air Conditioning:  Yes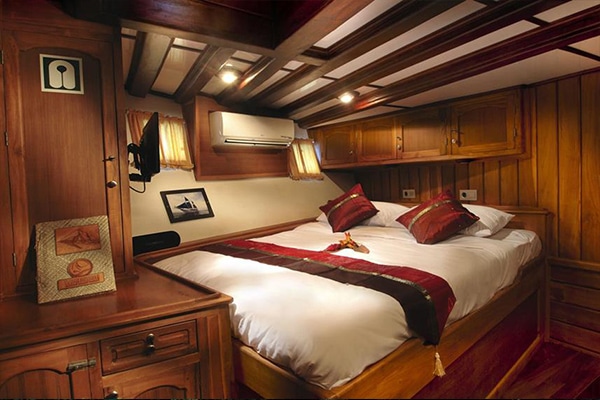 – Size:  12 m² / 129 sq feet
– Beds:  1 Queen
– Max occupancy:  2
– Shareable:  No
– Private bathroom:  Yes
– Air Conditioning:  Yes

WHAT CAN YOU EXPECT FROM THIS LIVEABOARD DIVING PHILIPPINES SAFARI?
PHILIPPINE SIREN DECK PLAN


QUALITY SELECTS BY DRESSEL DIVERS?
BOOK YOUR LIVEABOARD DIVING PHILIPPINES SAFARI
Liveaboard Diving Philippines with Quality Selects is the perfect option for those who want to go one step further in their scuba diving adventures! Experience wild life and real nature at maximum from the amazing dive deck of a liveaboard. Our "Liveaboard Quality Selects" are the result of many clients requesting directly to our CEO, Javier Ibran, their desire for new Dressel Divers adventures and stunning experiences. Your orders are our demands!
Dressel Divers has 30 years' experience in diving and is well-known for its top-notch level of safety, service and quality, giving it the knowledge to evaluate liveaboards and suggest only the very best options. We select only one liveaboard per world class diving destination, the very best one, offering a service level compatible with Dressel Divers and its Quality Selects associate recognition. Nevertheless, the diving is offered based on the own strong standards of each liveaboard operator. All these signature liveaboards also agree to yearly quality controls on behalf Dressel Divers' owner or one of his trusted top managers.


WHY SHOULD YOU CHOOSE DRESSEL'S LIVEABOARD DIVING PHILIPPINES?
We select ONLY 1 LIVEABOARD Diving Safari in Philippines, THE VERY BEST ONE, offering a service compatible with Dressel Divers and its Quality Selects Associate Recognition. The operator also agrees to quality controls by Dressel  Diver's owner or top managers.

DRESSEL DIVERS QUALITY CHECK




SPACIOUS CABINS & FACILITIES

NITROX & EQUIPMENT AVAILABLE