BAHAMAS LIVEABOARD DIVING
For North Americans BAHAMAS liveaboard diving has always been a perfect option because it is right at their door step and offers world class scuba diving. The Bahamas are the perfect liveaboard scuba diving experience in many ways, not least because it provides what divers most want to see, a sea full of sharks, but also, because its 700 islands offer everything else: rich reefs, wrecks, caves and even blue holes. The Dressel Divers Quality Selects Bahamas liveaboard diving of choice offers a very complete scuba cruise very much focused on shark diving.
Few liveaboards offer so many varieties of shark in one visit. You will be cruising and diving the third largest barrier reef on the planet, Caribbean reef sharks, nurse sharks, bull sharks, tiger sharks, great hammerhead, and oceanic whitetip sharks, seem to love this place even more than the lucky divers on visit. Of course, apart from sharks, you will also see several species of dolphins, whales and the famous national fish of the Bahamas, the Nassau grouper.
The name Bahamas has its origins in the Spanish words "baja mar" meaning "shallow water" that offers amazing scenery from the Liveaboard. The cays of the Bahamas are the most magical place to navigate in between dives. Myriads of amazing tropical islands are set in the aquamarine and sapphire colors of the most beautiful water you have ever seen. Although guests come here to submerge, inevitable the picturesque island archipelago surface views and their wildlife become one of the most memorable parts of a Bahamas liveaboard diving safari.


LENGTH / WIDTH
115 ft / 23 ft




BAHAMAS LIVEABOARD DIVING – QUALITY SELECTS
The Bahamas liveaboard diving vessel, chosen by Dressel Divers Quality Selects program, is the Bahamas Master Liveaboard. It is made of steel and 115 feet / 35 meter long. Its upper deck provides great communal areas and the dive deck is state of the art, with individual dive stations and storage facilities plus dedicated indoor camera charging facility.  The bar and dining services make for fantastic surface intervals, and it's very well-designed cabins for a great night's sleep. Staff are wonderful and always ready to serve and help, and the diving staff very familiar with the area.
Many of the dives are baited or feeding dives and sharks come up very close and personal. So, you need to be comfortable in the presence of sharks although diving with them is of course inevitably a fantastic adrenalin event. This trip is actually perfect to learn all about important shark diving information and skills. Most dive sites are sandy bottom shark diving spots, where divers line up on the sand to enjoy the shark action taking place around them.  The diving crew of the Bahamas Master vessel are experts at this kind of diving to give you the safest and best shark dives possible during your Bahamas liveaboard diving safari.
BAHAMAS LIVEABOARD DIVING – BAHAMAS MASTER CABINS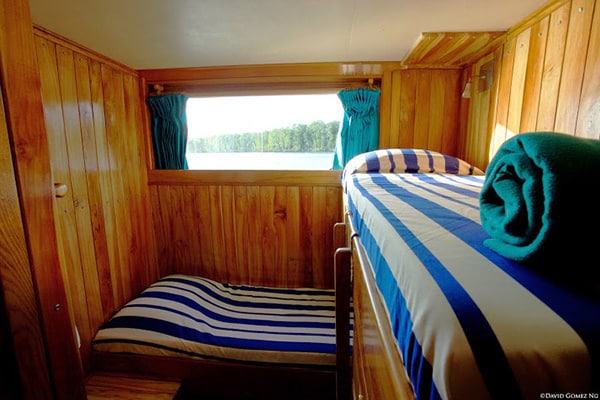 –  Size:  6 m² / 64 sq ft
– Beds:  2 Twin
– Max occupancy:  2
– Shareable:  Yes
– Private bathroom:  No
– Air Conditioning:  Yes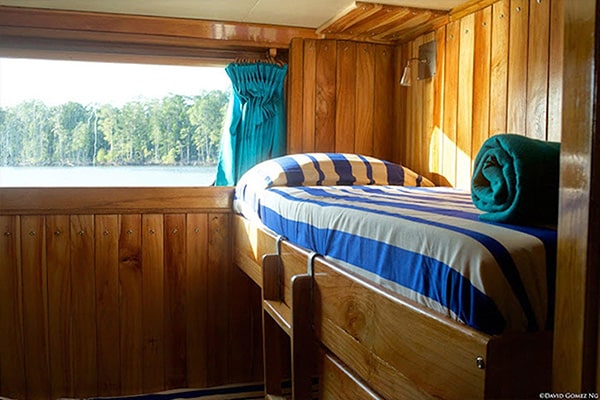 – Size:  6 m² / 64 sq ft
– Beds:  2 Twin
– Max occupancy:  2
– Shareable:  No
– Private bathroom:  Yes
– Air Conditioning:  Yes
– Size:  8 m² / 86 sq ft
– Beds:  1 Double
– Max occupancy:  2
– Shareable:  No
– Private bathroom:  Yes
– Air Conditioning:  Yes
WHAT CAN YOU EXPECT FROM THIS BAHAMAS LIVEABOARD DIVING SAFARI?
QUALITY SELECTS BY DRESSEL DIVERS?
BOOK YOUR LIVEABOARD DIVING SAFARI
Dressel Divers' Bahamas liveaboard diving is the perfect option for those who want to go one step further in their scuba diving adventures! Experience wild life and real nature at maximum from the amazing dive deck of a liveaboard. Our "Liveaboard Quality Selects" are the result of many clients requesting directly to our CEO, Javier Ibran, their desire for new Dressel Divers adventures and stunning experiences. Your orders are our demands!
Dressel Divers has 30 years' experience in diving and is well-known for its top-notch level of safety, service and quality, giving it the knowledge to evaluate liveaboards and suggest only the very best options. We select only one liveaboard per world class diving destination, the very best one, offering a service level compatible with Dressel Divers and its Quality Selects associate recognition. Nevertheless, the diving is offered based on the own strong standards of each liveaboard operator. All these signature liveaboards also agree to yearly quality controls on behalf Dressel Divers' owner or one of his trusted top managers.


WHY SHOULD YOU CHOOSE DRESSEL'S BAHAMAS LIVEABOARD DIVING?
We have selected ONLY 1 LIVEABOARD in Bahamas, THE VERY BEST ONE, offering a service compatible with Dressel Divers and its Quality Selects Associate Recognition. The operator also agrees to quality controls by Dressel  Diver's owner or top managers.

DRESSEL DIVERS QUALITY CHECK




SPACIOUS CABINS & FACILITIES

NITROX & EQUIPMENT AVAILABLE