SNORKELING IN PUERTO AVENTURAS
WITH DRESSEL DIVERS
Snorkel Center & Shops
Our boats patiently lie in wait at the pier to take you snorkeling in Puerto Aventuras. They will take you to one of the bests snorkel sites in the area. Directly from a room with a view to a mask with another best describes a Puerto Aventuras snorkeling vacation.
Our snorkel shop is the hub of everything acuatic, and snorkeling is one of the favorite choices of our guests in Puerto Aventuras. Snorkeling fins will propel you over great streches of reef with minimum effort, and allow you to follow the fish as if one of them.
The mask is not only your window on the wonderfull world below, but with the snorkel allows you to permanently relax your view on everything of beauty down below.
Snorkeling Shop in Puerto Aventuras
PUERTO AVENTURAS CATAMARAN EXCURSION
with snorkeling and natural pool visit
Unforgettable catamaran snorkel cruise, that not only takes you snorkeling but also to visit to a shallow natural pool. To keep things cool out of the water as well as in, we include unlimited cold beverages with or without alcohol during the entire cruise. Snorkeling in Puerto Aventuras is always a great activity to join, but especially so in combination with a state of the art spacious catamaran. This is snorkeling at its best and perfect choice for those wanting to combine snorkeling with a Puerto Aventuras coastal cruise on our brand new catamaran. The catamaran leaves straight from the pier of the hotel in front of our dive center. We then cruise calmly along to show you the impressive Mayan coastline from out at sea. Our first stop is the snorkeling on a very special reef with plenty of corrals and tropical fish to keep you happily finning along in this protected bay. After the snorkeling we take a break cruising along with the catamaran until we reach the natural swimming pools, secluded waist deep spot in the ocean for us to enjoy bathing, wading or walking around with drink in hand. This place feels like a picture perfect ocean postcard with you spot on in the middle. Then we head back to the hotel, cruising along the way we came, only with a mind full of incredible sea adventures to look back on and enjoying our drink service.  Families and friends, and kids especially love this trip because it makes you one with nature and them.
Daily Snorkeling Trips from Puerto Aventuras
Our snorkeling trips go to very nice reefs: either Yanten close to Paamul, Inah or Xpuha (confirmed on site) and to a nice bay called La Bahia. We take you there with our CATAMARAN SNORKEL CRUISE. We offer this trip every day at 09:00 AM and 01:30 PM. It takes app 15 to 20 minutes to get to the reef by boat, depending on the weather. You are out (including the boat ride and getting on/off the boat ) for 3 hrs. of which you spend app 1 hour in the water snorkeling, and the rest visiting a bay. The boat stays close for when anyone gets tired and wants to get back on board. We have snorkel vests that enable you to manage your buoyancy or to just float and enjoy. After a very enjoyable boat ride along the tropical coastline, we arrive at the reef.  With extensive coral population, one enjoys floating along over its sponges, brain and fan corrals impressed by the many colourful fish that live among these, including the butterfly fish, angel fish, parrot fish, yellow tail, grouper and Barracuda. We finish in a nice bay because of its very popular natural swimming pool sphere. During the trip refreshments and beers are included.
The Best Offers & Discounts to Snorkeling in Puerto Aventuras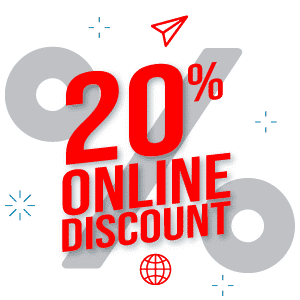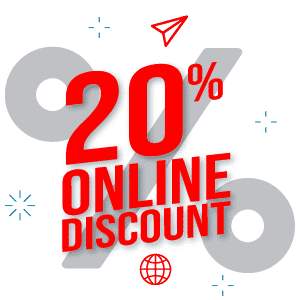 Pay online before your arrival and SAVE up to 20% on diving and snorkeling activities!; these activities must be paid prior to departure by means of a credit card or bank transfer.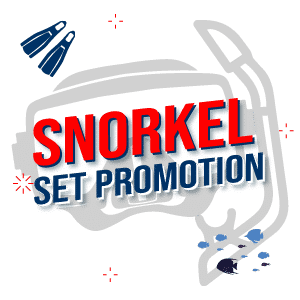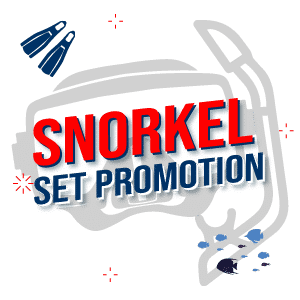 All our trips include a rental snorkel but perhaps like many you prefer to buy your own very cheap snorkel. Perhaps you were wanting to own you own snorkel set and have never got round to it. Our shop sells personal sets with mask and fins of all colors, sizes and models to choose from. The purchase of a professional quality set includes the snorkel for free.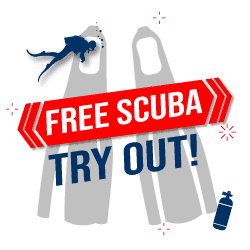 As a snorkeler used to the water and the reef perhaps you would like to take it to the next level and stay down on the reef rather than float over it from the surface. You already know how to use mask and fins, so the next step is even easier for you than others. Not convinced? Come try for free by the pool everyday, where we will take you for a scuba dive with full equipment.
Hotel & Resort Snorkeling In Puerto Aventuras
STAY & SNORKEL

We have a snorkel center DIRECTLY ON THE BEACH of the
***** Barceló Maya Beach***** Barceló Maya Caribe Beach***** Barceló Maya Colonial Beach***** Barceló Maya Tropical Beach***** Barceló Maya Palace
Carretera Federal Chetumal-Puerto Juarez Km. 266.3, X-Pu Ha 77750, Quintana Roo, Mexico

***** Hard Rock Riviera Maya Heaven ***** Hard Rock Riviera Maya Hacienda
Carretera Chetumal-Puerto Juarez 72,  Puerto Aventuras 77710, Quintana Roo, Mexico
Visit & Snorkeling outings can be arranged from a large number of other resorts on the island!
Why not take a walk & snorkel with Dressel Divers?
A number of resorts are located along the beachfront, meaning that the Iberostar Hotel and Dressel Divers are just a short walk away.
| Estimated walking time from: | Minutes: |
| --- | --- |
| Holiday Village White Sands | 10-15 |
| Occidental Allegro Cozumel | 10-15 |
| Occidental Grand Cozumel | 10 |
VISIT & SNORKEL
Transfers
NOT STAYING AT THE IBEROSTAR Hotel but would like to snorkel with Dressel Divers? We can make this happen with a transfer arrangement (exceptions may apply).
ALL-IN Transfers
Want to spend a full day at the resort? Sign up for an ALL-IN Transfer, which includes lunch (buffet), unlimited drinks and use of the beach, pool and facilities.
Additional Visit & Snorkel ACTIVITIES
You – and anyone else in your group – can take a diving course or enjoy waverunners, parasailing or banana boat rides.
Hotels within Transfer Distance
Sign up for a transfer & snorkel with Dressel Divers!
A number of resorts are within easy transfer distance (exceptions may apply)! Why not join us for a VISIT & SNORKEL outing?
| | |
| --- | --- |
| Estimated transfer time from: | Minutes |
| Aura Puerto Aventuras Wyndham Grand Bay | 10 |
| Bahia (downtown) | 20-30 |
| Casa Del Mar | 15-20 |
| Casa Mexicana | 25 |
| Condumel | 20 |
| Coral Princess | 20 |
| Costa Del Sol | 5 |
| Puerto Aventuras Palace | 20-30 |
| El Cid La Ceiba | 15 |
| El Puerto Aventuraseño Beach Resort | 25 |
| Fiesta Americana Puerto Aventuras | 10-15 |
| Flamingo Puerto Aventuras | 20-30 |
| Hotel B Puerto Aventuras | 25-30 |
| Hotel Puerto Aventuras & Resort | 15-20 |
| Melia Puerto Aventuras | 20 |
| Park Royal Hotel | 15-20 |
| Presidente Intercontinental Puerto Aventuras | 15 |
| Residencias Reef Apartments | 20 |
| Sunscape Sabor Puerto Aventuras | 10 |
| Safari Inn | 20 |
| Villablanca Garden Beach Resort | 20 |
| Wyndham Puerto Aventuras | 7 |
$ = All prices are in USD.
Puerto Aventuras Snorkeling Sites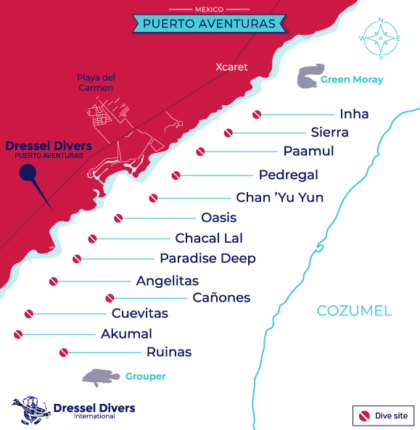 Practical Information
Snorkeling season
lasts all year-round!
---
Average visibility:
+115 feet (+35 meters)
---
Coldest water temp.:
78.8 ºF (26 ºC)
---
Warmest water temp.:
87.8ºF (31 ºC)