DRESSEL DIVERS & IBEROSTAR
All Inclusive Dive Resort In Cozumel
Without a doubt the top all-inclusive stay & dive resort in Cozumel! In 2019 Dressel Divers Cozumel was named the best operator in Mexico by the readers of DIVE magazine.
Combine stay and diving packages and get an unmatched all-inclusive price! The Iberostar Cozumel dive resort is the most popular option for divers. It offers:
Top-notch diving with free Nitrox*
Super comfort spacious dive boats
15 min max from the main dive sites
Eco-dive center
SDI & PADI 5 STAR Dive Center
Certified Green Globe Eco hotel
Private beach with free water sports
All-in bars, restaurants, and night shows.
Animation activities, spa & pools
Cozumel is paradise found when it comes to resort diving. Everything is already there for a great dive vacation, except you.
(*)Free Nitrox is provided subject to in-house compressor capacity and operational status.
DIVE RESORT IN COZUMEL EXPERIENCES
Imagine reefs so plentiful, so perfect and so close to the dive resort no liveaboards are available because they make no sense. Dive it all, up to five dives a day, from the Iberostar Cozumel dive resort, that feels like a true small diver town complete with cozy bars and restaurants.
With our Iberostar Cozumel Stay & Dive resort package everything feels like you belong. Your room is your place, the Iberostar dive resort your village, with pier and dive center, right there for you, right on the edge of the ocean.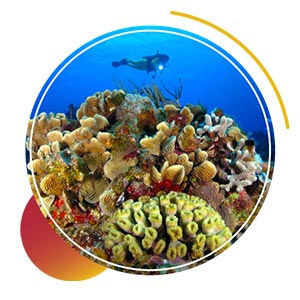 SCUBA DIVING ON THE BEST REEFS OF AMERICA
Explore the largest coral reef in America from a comfortable, luxury, and stress-free ambiance.
Every reef is mind blowing, forever repeatable and, just a breeze away on dive boats you can't wait to board.
There is a reason Jacques Cousteau made very impressive documentaries in this diver hang out. The reefs are just picture perfect, so bring your camera!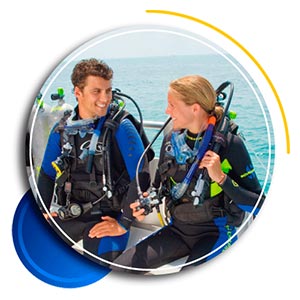 SDI & PADI SCUBA DIVING COURSES OF ALL RECREATIONAL LEVELS
Learning how to dive is like learning how to walk, soon you cant stop running out of happiness, and there is no better place to take your first fin strokes than in Cozumel
SDI & PADI dive resort courses and Advanced courses, including DIVING LESSONS FOR KIDS. We offer stay & dive course packages, that feel like a dream.
A dream you will want to repeat with the like-minded newly certified diver friends that know each other by name and the names of the staff and boats.
AMAZING SCUBA DIVING EXCURSIONS FROM THE  IBEROSTAR DIVE RESORT IN COZUMEL
Don´t worry about feeling stuck on an Island. Our Cozumel dive resort packages can also include amazing day tours to the mainland, to visit the world-famous cenotes, dive with bull sharks, or swim with whale sharks!
We know passionate divers want to see all the best there is to see and spend a great day away from the resort. Dressel Divers is known for not only providing the very best diving in nearby your dive resort, but also all the best in the area, reachable with a simple day trip.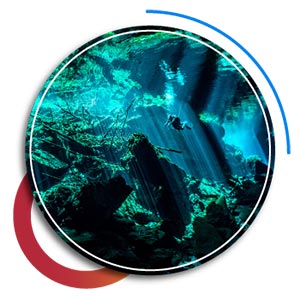 CENOTE DIVING
In the middle of the Yucatan jungle there are ponds with entrances to sub- aquatic caverns, unique on the whole planet: the world-famous Cenotes.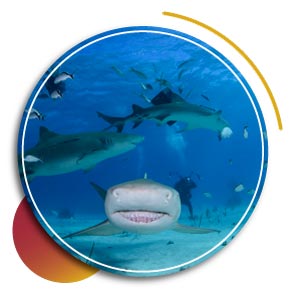 BULL SHARK DIVING
Meet up with wild sharks on their own turf. Our bull shark tour puts you face to face with these imposing animals and delivers a memorable adrenalin rush.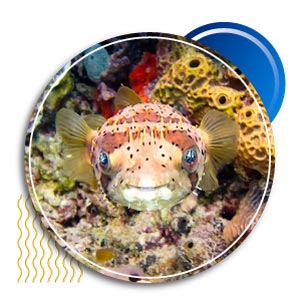 RIVIERA MAYA FOR DIVERS
As a diver you may think there is no reason to leave Cozumel. But there is! In Playa del Carmen Tortugas reef offers an overdose on turtles followed by a second dive on the mystical Mama Viña wreck.
IBEROSTAR DIVE RESORT IN COZUMEL
Located right at the heart of the Marine Park, all the advantages of a liveaboard without the inconveniences is what best defines the Iberostar Stay & Dive resort in Cozumel.
The Iberostar Cozumel Dive Resort offers a true 5-star experience with fully equipped spacious bungalow-style suites with a private balcony. Inside the rooms, every detail is taken care of to ensure you spend an unforgettable resort dive vacation.
Great food is served at the resort buffets or in its themed restaurants.  You can enjoy different types of cuisine, choosing from Mexican, Asian, Italian, Caribbean and more. Snacks are available all night long.
The hotel grounds resemble a pristine jungle with the resort village perfectly nested within it and respecting all its natural grandeur. The Cozumel Marine Park feels like a natural park all the way into the resort, with its straw-thatched roofs on discrete pastel bungalows with wooden balconies.
ALL-INCLUSIVE DIVE RESORT IN COZUMEL MODALITIES
Combine stay and diving packages and get an unmatched promotion price!
Dressel Divers in collaboration with the Iberostar ALL-INCLUSIVE DIVE RESORTS offer special scuba diving deals for its clients.
Enjoy all the comfort of having your accommodation a few meters from your dive center.
Spend a dream day doing what you like with the most luxurious experience for all budgets.
Enjoy Cozumel scuba diving to the fullest and then, rest for a few hours at the Iberostar's ALL-INCLUSIVE DIVE RESORT.
Relax savoring the gastronomy of its restaurants, swimming in the pools, or receiving a massage.
From only  1350 USD*
7 nights at the Iberostar Cozumel with All-Inclusive plan
5 days of 2 dives
Free Nitrox
Cozumel airport transfers
* For dates, please contact info@dresseldivers.com. See all the conditions of the offer here.


SCUBA DIVING RESORT IN COZUMEL, WHAT DO THE GUEST SAY ABOUT IT?
Just ask Jack. Winters in Canada are terribly harsh, Jack lives there. He works hard, takes care of his family, and dreams about his next dive trip to Cozumel. Jack is a huge fan of the all-inclusive Iberostar Cozumel Dive Resort. Not that it is the most expensive hotel in the area, nor the largest. The interesting, the magical, the captivating thing about the Iberostar Cozumel Dive Resort is that there he finds everything he likes. It is the enjoyment of practicing quality diving as many times as he wants on the best reefs in America. It is the happiness of sharing his love for this sport with the friends he has made at the resort. It is the promise of knowing for sure that he is where he is really happy. Jack knows he's in his place.
WHY SHOULD YOU CHOOSE THE DRESSEL DIVERS + IBEROSTAR DIVE RESORT IN COZUMEL?
30+ YEARS OF EXPERIENCE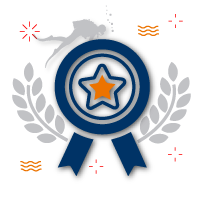 Top-Notch Scuba Diving Since 1993
LOW PRICES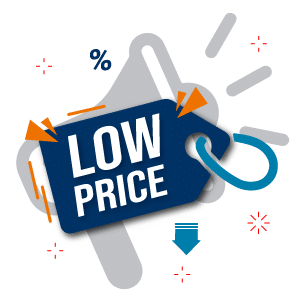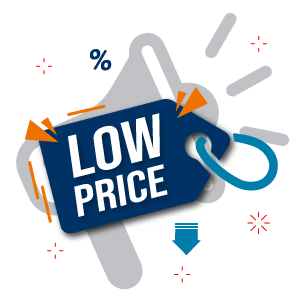 You can dive from only 34 USD