DRESSEL DIVERS & IBEROSTAR
All Inclusive Dive Resort In Bayahibe
Widely considered the best all-inclusive stay & dive resort in Bayahibe, the 5-star Iberostar Hacienda Dominicus offers it all.
It has everything a diver needs and deserves on land and in the Caribbean Sea.
Combine stay and diving packages at this dive resort in Bayahibe, and you will enjoy an unmatched vacation at an unmatched all-inclusive price with all these advantages:
Top-notch diving with free Nitrox*
Super comfort spacious dive boats
15 min max from main dive sites
Eco-dive center
SDI & PADI 5 STAR Dive Center
Certified Green Globe Eco hotel
Private beach with free water sports
All-in bars, restaurants, night shows.
Animation activities, spa & pools
Perfectly located right in the middle of the Saona and Catalina Islands, and with the Saint George wreck straight in front of our pier.  Diving here is as easy as it is ecstatic.
(*)Free Nitrox is provided subject to in-house compressor capacity and operational status.
DIVE RESORT IN BAYAHIBE EXPERIENCES
Staying at the Iberostar Hacienda Dominicus dive resort in Bayahibe you are vacationing right at the heart of the very best diving in the Dominican Republic.
From the resort pier, you can see the islands of Saona and Catalina, considered the top reefs in the country. Both are natural parks and the Iberostar Hotel is the ideal location from where to start your dive discovery.
To make the place completely perfect, between these two islands, connecting them, there is an underwater diver trail dotted with incredible Caribbean reefs and wrecks.
The Iberostar Hacienda Dominicus dive resort is your 5-star base camp, from where to don your fins every morning and go hike this wonderful chain of dive sites.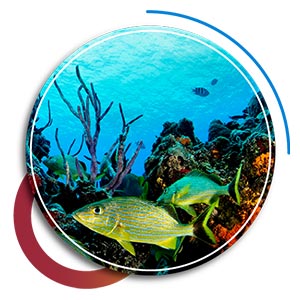 SCUBA DIVING IN THE BEST REEFS OF BAYAHIBE
Total relaxation on spectacular reefs populated with pristine coral and tropical fish are guaranteed diving from the Iberostar dive resort in Bayahibe. And just in case you love wrecks, there are also two wreck dives on the men, including the impressive St- George submerged to promote new reef creation.
Calm seas and great visibility – all year round – make our Bayahibe dive shop the perfect place to jump in! The ocean conditions here are the absolute best in the Dominican Republic.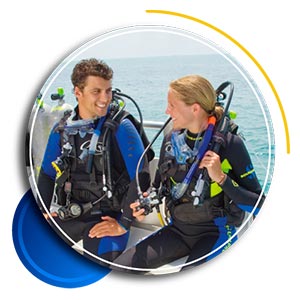 SDI & PADI SCUBA DIVING COURSES OF ALL RECREATIONAL LEVELS
The Iberostar Haciendo Dominicus is a dive hotel in Bayahibe that invites your senses to focus on the Caribbean Sea in front. You must inevitably wonder what lies below its beautiful blue surface. Nothing stops you from seeing. Just sign up for the SDI & PADI resort or full certification course and discover the most incredible sport in the most incredible place for it. With its calm waters and visibility and close-by reefs, this is the place to stop doubting and start diving!
AMAZING SCUBA DIVING EXCURSIONS FROM OUR DIVE RESORT IN BAYAHIBE
We mentioned them before, and here we go again because you simply cannot dive in the Dominican Republic without seeing them.
Saona and Catalina Island are a must in your logbook. We take you there with our day tour straight from the hotel pier, with lunch and all drinks included. A Bacardi poster day with two dives on Cousteau like reefs and walls. On the way back from Saona island, we stop in the most famous natural swimming pools in the Caribbean, where you can wade among big sea stars in crystal waist-deep water with a drink in hand, looking at the distant palm-lined coastline.
Some people try to refuse to board the boat, to stall the excursion a little in this magic place. Once you find paradise, it is difficult to let it go again.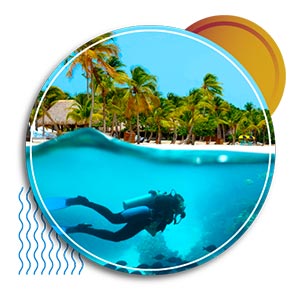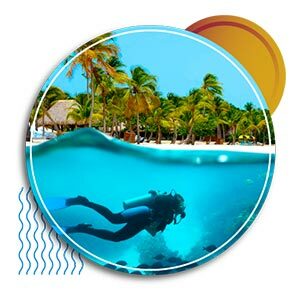 ISLA CATALINA
Catalina Island is home to THE WALL, the most spectacular drop-off in the country.
From the island beach, a gentle coral slope leads towards a coral wall that plunges almost vertical into the deep.
The Island is a natural park and has seabeds teeming with marine life.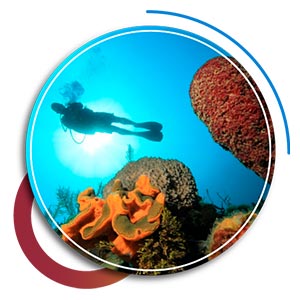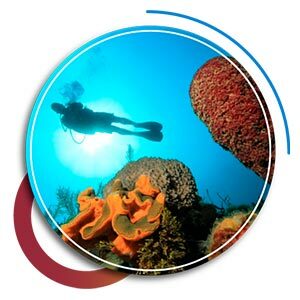 ISLA SAONA
The Saona island diving excursions offer two top-of-the-top dives on the reefs of the most famous Dominican island.
You will see an infinity of submarine species and beautiful sponge formations, around this island entirely converted to a natural park and virtually uninhabited.
IBEROSTAR DIVE RESORT IN BAYAHIBE
A whole world of experiences is waiting for you into and out of the water at the Iberostar dive resort in Bayahibe. The hotel has a spectacular beach, gorgeous natural surroundings, and an iconic lighthouse on the edge of the sea, whose unique charm will make your photos look like postcards.
DIVE RESORT IN BAYAHIBE
This 5-star dive hotel featuring colonial architecture and stunning gardens comes with an array of dining options that are sure to please everyone, including 5 specialty restaurants. There are several room and suite options to please all tastes and budgets. There are many options very close to the dive center.
For divers it has something truly unique: a coral reef nursery in the sea, which we care for along with the hotel to learn about and protect these vital ecosystems. Come check it out.
ALL-INCLUSIVE DIVE RESORT IN BAYAHIBE: MODALITIES
Dressel Divers and the 5-star Iberostar Hacienda Dominicus offer special stay and dive deals for its clients in Bayahibe.
These stay and dive packages combine the diving you want to do with the all-inclusive hotel accommodation at one great price. Upon request we can even offer all-inclusive diving, meaning you can dive all you want when you want to spend even more time on the reef than on the beach.
Everything is taken care of for you from the hotel check-in to your check out again with a mind loaded like a suitcase full of wonderful diving memories as souvenirs. Combining staying and diving in a package can get you unmatched diving opportunities and price value!
Enjoy all the comfort of having your hotel bed just a walk away from your dive center pier right there on the hotel beach and 15 minutes or less by boat from the best dive sites in the area.
If you are renting an apartment or villa in the area, no problem, with our day pass you can also join us for a fantastic day in the Iberostar hotel just like any of our resort divers, with the same 5-star experience for all budgets.
With our day passes, you can visit for the day, enjoy scuba diving and in between eat, drink and rest for a few hours at the Iberostar's ALL-INCLUSIVE DIVE RESORT.
Relax savoring the gastronomy of its restaurants, swimming in the pools, going kayaking, windsurfing, sailing, or receiving a massage. A perfect setup for non-diver friends or family to also enjoy while you go diving.
From only  1450 USD*
7 nights at the Iberostar Hacienda Dominicus with All-inclusive plan
4 local dives
1 Saona Island excursion with 2 dives
1 Catalina Island excursion with 2 dives
"Diver's Day" excursion with 3 dives
Airport transfers
*Available from May to October 2024 and subject to hotel availability. For other dates and locations, please contact info@dresseldivers.com. See all the conditions of the offer here.


DIVE RESORT IN BAYAHIBE, WHAT DO THE GUEST SAY ABOUT IT?
DIVE RESORT IN BAYAHIBE;
WHY SHOULD YOU CHOOSE DRESSEL DIVERS + IBEROSTAR?
Due to the incredible location on the Bayahibe coastline, the Iberostar Hacienda Dominicus diver guests are very close to the main dive sites, meaning the boat trips are very short.
More importantly, we are so close that when doing a two-tank dive we can return to the dive center between dives for people to have a break for a snack and drink at the hotel cafeteria.
Our staff is multi-lingual top dive professionals. Dives are done with our super spacious dive boats equipped with sunroof, fresh drinking water, radio, GPS device, oxygen, and everything else deemed mandatory by the United States Coast Guard.
The engines, all top brands, are subject to ongoing monitoring and servicing by our in-house mechanics. Boat captains, moreover, all have First Aid training. Finally, all boats have double engines for increased security.
Our dive equipment and compressors are top quality and regular maintenance and renewed, based on the strictest quality standards.
30+ YEARS OF EXPERIENCE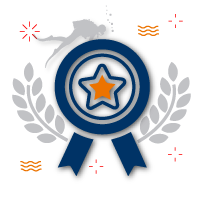 Top-Notch Scuba Diving Since 1993
LOW PRICES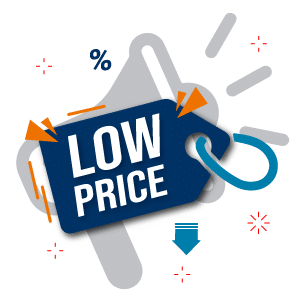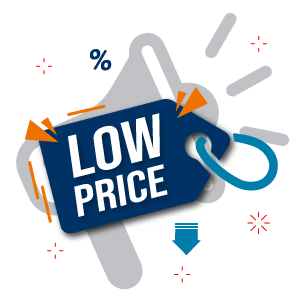 You can dive from only 34 USD