Diving INSTRUCTOR Jobs & Careers with Dressel Divers
DRESSEL DIVERS
Scuba Instructor Employment
We have fantastic scuba diving instructor jobs awaiting your application form! During your dive instructor employment with us, we will constantly be there to help you focus on your career interest including the attainment of higher SDI & PADI Instructor degrees.
Crucial to reaching these higher SDI & PADI titles in your instructor career is the opportunity to certify many students. This is made easy working in Dressel Divers considering we hold the PADI worldwide record in dive certifications per year for a multi-resort operation.
A job as an instructor is just the beginning. Promotion to our dive boss, base leader, operations manager, regional manager, cavern guide and course director levels etc. are exclusively reserved for our committed employees.
For more information on dive instructor jobs with Dressel Divers, please go to the contact section and send us a resume (C.V.) and two daily life pictures, one full person and one portrait.
Prerequisites for a career in Dive Instructor employment
Diving Credentials
You must be a renewed SDI or PADI dive instructor and if offered the job will have to register with their America Delegations. Instructors from other federations may join SID or PADI by applying for our crossover course.
Extensive diving instructor employment experience is appreciated but not necessary. If you have only recently graduated our system is prepared to help newly born scuba diving instructors transition to full job maturity.
Non-diving Credentials
You have to be fluent in English, the official language of Dressel Divers. Ideally you will also speak one or more of the following; Spanish, German, French, Portuguese, Italian or Dutch.
Furthermore you need to be an enthusiastic, hardworking, safety oriented and service minded individual with good sales and people skills.
Others opportunities:
Those wanting to join us that are NOT A SDI OR PADI DIVE INSTRUCTOR YET BUT STRIVE TO BE SO can do so by means of our internship that includes the course entirely for free including meals, lodging, and much more…
In addition, we have job options for Public Relations that speak English and at least one other language (see those listed above).
So if a partner or any of your friends do not have the prerequisites for a scuba dive instructor job but are interested in joining us in any case, please ask them to contact us with respect to these fantastic alternatives.
To apply for this job please fill in this form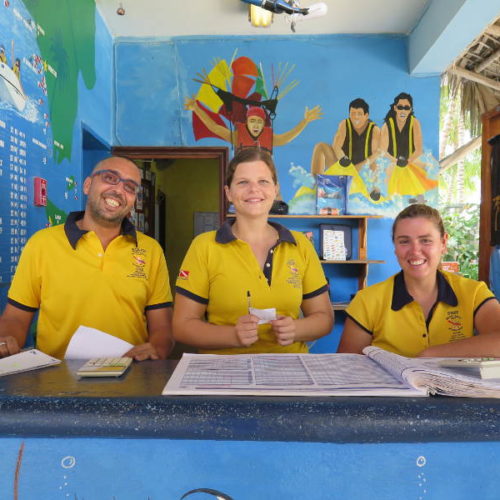 Diving is fun! Teaching it even more!
Dive Instructor Job Testimonials from our Blog
DIVING INSTRUCTOR JOB DESTINATIONS