SCUBA DIVING IN SPAIN
WITH DRESSEL DIVERS
Scuba diving in Spain and, the renowned Mediterranean sea, is always well worth to be memorized in a logbook page. Facing some of the most crystal clear waters in Spain, scuba diving from our dive shop is relaxing and rich in surprises. Scuba diving the bays, coves, caverns, tunnels, walls, you will encounter variety of marine life such as barracuda, octopus, moray eels, jacks, grouper, wrasse, goatfish, cardinal fish, damsel fish, blennies, gobies, starfish, and sea urchins all typical scuba diving companions in the Spanish Mediterranean. In many areas dive sites are so close to the coastline shore diving is very popular right from the beautiful calas (coves).
In most its destinations Dressel Divers cannot offer shore diving as it is not feasible because the reefs are far out, but here we fully shore dive with access directly from the hotel our dive center is located in, or by short transfer, to one of the many other nearby calas. Dressel Divers is a Spanish company totally at home in these water offering top quality scuba diving at great value.
Spain Dive Shop
Video Of The Hotel
DRESSEL DIVERS SPAIN
Dive Center & Shop
We know each dive during your vacation is special for you and we will take very special care of it. Divers will enjoy the postcard beauty of Spain's best beaches and calas before and after submerging into the Mediterranean sea.
The coastline is dotted with low cliffs and pine forests typical to the Mediterranean, picture perfect backdrop for a perfect shore dive.
Apart from shore diving in another way this is not your usual Dressel Divers dive center as you may be used to in our other destinations. It has much smaller scale and a super family feel to it, run by long standing and very trustworthy associates.
SPAIN
TOP DIVING DESTINATION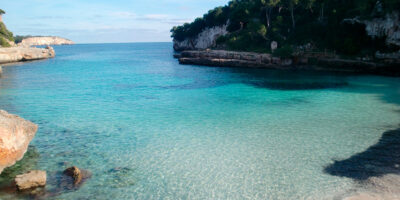 MAJORCA (BALEARIC ISLANDS) SPAIN
Hop over for some splendid scuba diving in Majorca, the biggest of the Balearic Islands. Here your dive will be joined by barracudas, octopus, moray eels, jacks, and grouper.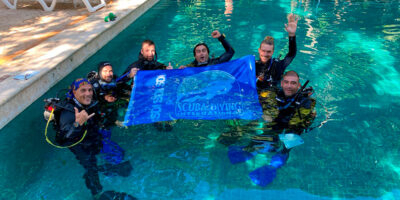 SCUBA DIVING COURSES
The SDI & PADI scuba diving courses offered by Dressel Divers allow you to penetrate beyond the beautiful ocean surface to see what it is hidden within.
People & Culture
The Spanish are rightly very proud of their country. They boast good living, enjoy outdoor life and with family and friends.  A country of great traditions, food, wines, olives and joy. Spain always surprises those who visit it.
The Mediterranean offers an enchanting place to vacation whose natural and architectural inspiration is truly intoxicating. The town and village atmospheres are simply unforgetable with people living the outside life in old church squares and cafeterias that are part of the family.
Nature & Monuments
The beaches beach from which we dive offer fine white sand, turquoise waters and spectacular cliff views. The inland areas boast great views of plains and hills with a variety of Mediterranean flora and vegetation such pine trees, shrubs, bushes and thickets. Vinards, orange groves, and olive trees are all around.
Our dive shop is beautifully situated at only 700 meters from the popular Mondragó Natural Park well worth a visit for those with spare time to switch diving fins for walking boots.
Spain is famous for its food
Great food in a great place! The most traditional dishes in the Spanish Mediterannean islands are trampó, tumbet or vegetable-based soups and brown bread. Also not to be missed, the fritos, rostit, lechona al horno, pork loins with cabbage, arroz brut, cocas, pa amb oli, olives and a good local wine, as well as the sobrasada, botifarró, or camaiot.
The most popular mediterranean sweets are the ensaimada, cheese cake, apricot cake, potato cake, duquesas, crespells and robiols.
Official time in Spain
UTC + 2 in summer. UTC + 1 in winter
Official language
Spanish & Catalan
Electricity
220 V. The plugs have 2 round prongs