BIKINI ATOLL LIVEABOARD DIVING
+ FREE DIVE PACK!!! Quality Selects Bikini Atoll liveaboard diving includes a "Discover Dressel Divers" FREE COZUMEL 5+1 DIVE PACKAGE.
When liveaboard diving the BIKINI ATOLL, breaking the recreational dive limits is the rule rather than the exception. The world's most amazing collection of very deep wrecks, guarantees Bikini Atoll liveaboard diving to be a tec divers dream come true. The bikini atoll is pretty much the worlds liveaboard hub for technical diving on wrecks, your tec dive fanatic get together if there ever was one.
Located in the crystal blue waters of the pacific Marshall Islands, visibility at depth is amazing. Although the corals reefs and marine life of the Bikini Atoll are wonderful, this is not why liveaboards flock there, rather because of its world-famous underwater warship museum, including the USS Saratoga aircraft carrier with its 888 feet / 270 meters flight deck. Just imagine approaching and landing on that deck in scuba gear!
The sheer number of historic battleships, cruisers, submarines and aircraft carriers you can find while Bikini Atoll liveaboard diving is of such significance that the Bikini Atoll has been declared a UNESCO World Heritage site. However, in the Bikini Atoll you can submerge with your mind at ease that no sailors or marines actually died here, as all warships were sunk on purpose and unmanned.


LENGTH / WIDTH
121 ft / 23 ft

YEAR BUILT / RENOVATED
1974 / 2016



BIKINI ATOLL LIVEABOARD DIVING – QUALITY SELECTS
Ask yourself, how often as a technical diver do you go on vacation and make the most of your hard-earned tec diving knowledge and skills? How often can you go very deep not just to go deep but because there is actually something very worthwhile to see at that depth? Where can you go liveaboard diving knowing that everybody else on board is also technical diver, just like you?
Welcome to the Bikini Atoll liveaboard diving safari, where Dressel Divers Quality Selects boat of choice is the steel hulled Truk Master. This liveaboard yacht and staff will take great care of you in and out of the water. Its spacious dive deck is ideal for technical diving and camera preparations. Bear in mind, given the great visibility, phenomenal corral growth, rich marine life and great size of the wrecks, underwater photography here is a pixel feast.
The Truk Master liveaboard diving staff are true Bikini Atoll wreck experts and will ensure you get very impressive wide-angle views, as well as close ups looks at the impressive flight decks, planes, pilot houses, gun batteries, bombs, torpedo tubes, anti-aircraft guns, depth charge racks, propellers, passageways, staircases, rooms, storerooms, accommodation, and galleys.
BIKINI ATOLL LIVEABOARD DIVING – TRUK MASTER CABINS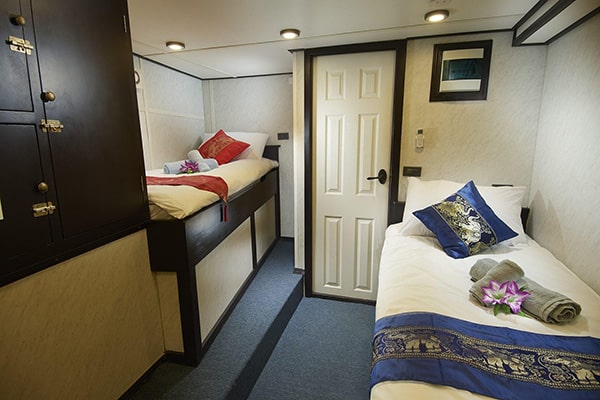 LOWER DECK – Standard Cabin
– Size: 9 m² / 97 sq ft
– Beds: 2 Twin
– Max occupancy: 2
– Shareable: Yes
– Private bathroom: Yes
– Air Conditioning: Yes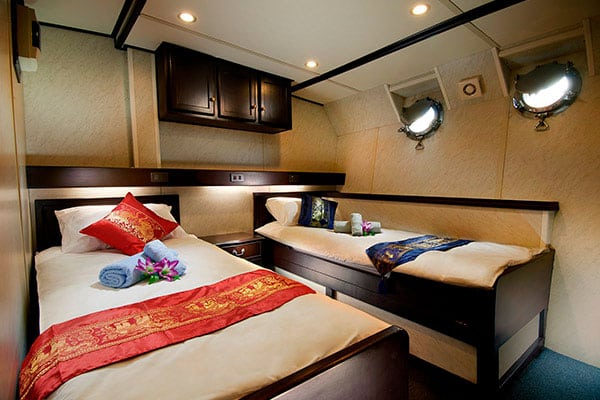 – Size: 9 m² / 97 sq ft
– Beds: 2 Queen or 2 twin
– Max occupancy: 2
– Shareable: Yes
– Private bathroom: Yes
– Air Conditioning: Yes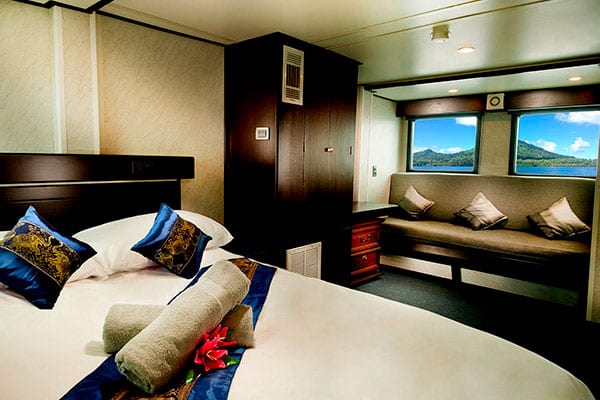 – Size: 9 m² / 97 sq ft
– Beds: 1 Queen
– Max occupancy: 2
– Shareable: No
– Private bathroom: Yes
– Air Conditioning: Yes
WHAT CAN YOU EXPECT FROM THIS BIKINI ATOLL LIVEABOARD DIVING
WHAT IS QUALITY SELECTS BY DRESSEL DIVERS?
BOOK YOUR LIVEABOARD DIVING SAFARI
Dressel Divers' Bikini Atoll liveaboard diving is the perfect option for those who want to go one step further in their scuba diving adventures! Experience wild life and real nature at maximum from the amazing dive deck of a liveaboard. Our "Liveaboard Quality Selects" are the result of many clients requesting directly to our CEO, Javier Ibran, their desire for new Dressel Divers adventures and stunning experiences. Your orders are our demands!
Dressel Divers has 30 years' experience in diving and is well-known for its top-notch level of safety, service and quality, giving it the knowledge to evaluate liveaboards and suggest only the very best options. We select only one liveaboard per world class diving destination, the very best one, offering a service level compatible with Dressel Divers and its Quality Selects associate recognition. Nevertheless, the diving is offered based on the own strong standards of each liveaboard operator. All these signature liveaboards also agree to yearly quality controls on behalf Dressel Divers' owner or one of his trusted top managers.


WHY SHOULD YOU CHOOSE DRESSEL'S BIKINI ATOLL LIVEABOARD DIVING?
We have selected ONLY 1 LIVEABOARD in Bikini Atoll, THE VERY BEST ONE, offering a service compatible with Dressel Divers and its Quality Selects Associate Recognition. The operator also agrees to quality controls by Dressel Diver's owner or top managers.

DRESSEL DIVERS QUALITY CHECK




SPACIOUS CABINS & FACILITIES

NITROX & EQUIPMENT AVAILABLE