GALAPAGOS LIVEABOARD DIVING
GALAPAGOS LIVEABOARD DIVING submerges you in the wildlife waters of Charles Darwin's natural paradise. He could not go scuba diving in the Galapagos, because the sport had not been invented, but you can! No doubt the ocean is even more impressive than the land. Dressel Divers Quality Selects liveaboard diving is the best way to discover the underwater glory of Galapagos! There is a reason the worlds most famous biologist chose Galapagos for his study and it is widely considered the top diving destination in the world; nowhere on the planet is life so diverse and imposing. If you were to do only one liveaboard in your scuba diving life this would have to be the one. But why do only one? Just make sure Galapagos is included! The earlier the better.
If you enjoy pelagic magic, this Galapagos Liveaboard Diving Safari will meet your needs. This is pelagic to the power of hundreds of hammerhead sharks doting and gliding your blue ocean sky.  This is up-close meetings with whale sharks,  giant manta rays, mobula rays, cow nose rays, eagle rays, Galapagos sharks, silky sharks, sea turtles, giant morays and massive schools of fish, such as millions of black-striped salemas. You may even see sunfish at depth. But what makes Galapagos liveaboard diving even more unique is the presence of sea iguanas, speeding penguins and sea lions playing all over the place. And then there are the details, the macro life, to make it all even more picture perfect, such as black coral bushes sheltering seahorses, blennies, nudibranchs, hawkfish and frogfish.


LENGTH / WIDTH
105 ft / 26 ft

YEAR BUILT / RENOVATED
2004 / 2014



GALAPAGOS LIVEABOARD DIVING – QUALITY SELECTS
Given its location at the get together of three major pacific ocean currents the diving can be challenging, due to surface conditions, currents and water temperatures. Visibility may also diminish due to currents and the influx of nutrients. Therefore, to enjoy this Galapagos Liveaboard diving safari is recommended to have at least 50 dives logged with drift diving experience and the advanced level of certification. Suitable thermal protection is advised as thermoclines may be encountered also.
No doubt about it, Charles Darwin new how to pick the right place to enjoy and study nature. He went there on board the HMS Beagle, but you? You can do this Galapagos liveaboard diving trip form the comfort of the Deep Blue liveaboard yacht, Dressel Divers Quality Selects choice for this area. The deep blue is a member of the worldwide Masters fleet, offering the guarantees of a long standing liveaboard operator that is the best at what they do, everywhere they do it. A great dive deck provides individual dive equipment set up areas and under bench storage with rinse tanks for washing dive equipment and camera gear.
GALAPAGOS LIVEABOARD DIVING – GALAPAGOS MASTER CABINS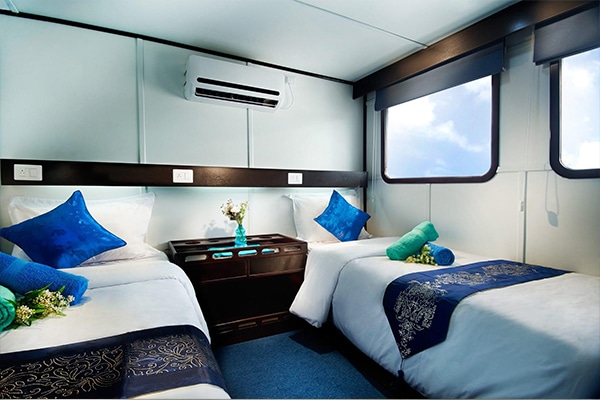 CLASSIC TWIN CABIN – Lower Deck
– Size:  9 m² / 97 sq ft
– Beds:  Double or Twin
– Max occupancy:  2
– Shareable:  Yes
– Private bathroom:  Yes
– Air Conditioning:  Yes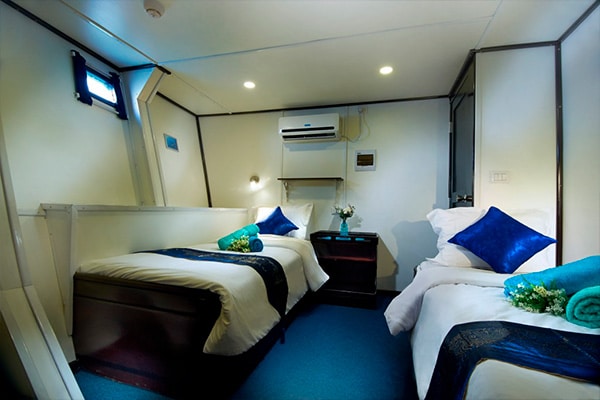 PREMIUM TWIN/QUEEN BED CABIN – Upper Deck
– Size:  9 m² / 97 sq ft
– Beds:  1 Queen or 2 Twin
– Max occupancy:  2
– Shareable:  Yes
– Private bathroom:  Yes
– Air Conditioning:  Yes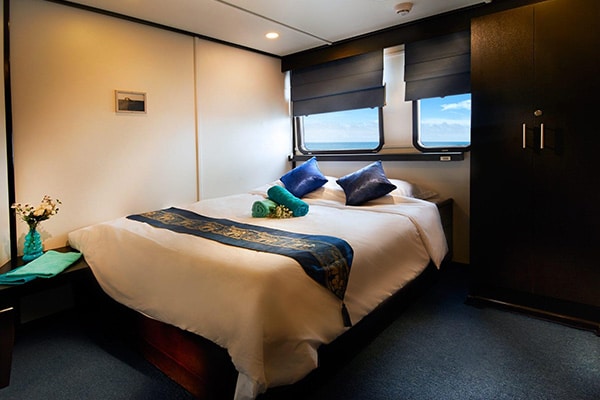 PREMIUM DOUBLE CABIN – Main Deck
– Size:  10 m² / 108 sq ft
– Beds:  1 Queen 
– Max occupancy:  2
– Shareable:  No
– Private bathroom:  Yes
– Air Conditioning:  Yes
WHAT CAN YOU EXPECT FROM THIS GALAPAGOS LIVEABOARD DIVING SAFARI?
GALAPAGOS MASTER DECK PLAN
QUALITY SELECTS BY DRESSEL DIVERS?
BOOK YOUR LIVEABOARD DIVING SAFARI
Dressel Divers' Galapagos liveaboard diving is the perfect option for those who want to go one step further in their scuba diving adventures! Experience wild life and real nature at maximum from the amazing dive deck of a liveaboard. Our "Liveaboard Quality Selects" are the result of many clients requesting directly to our CEO, Javier Ibran, their desire for new Dressel Divers adventures and stunning experiences. Your orders are our demands!
Dressel Divers has 30 years' experience in diving and is well-known for its top-notch level of safety, service and quality, giving it the knowledge to evaluate liveaboards and suggest only the very best options. We select only one liveaboard per world class diving destination, the very best one, offering a service level compatible with Dressel Divers and its Quality Selects associate recognition. Nevertheless, the diving is offered based on the own strong standards of each liveaboard operator. All these signature liveaboards also agree to yearly quality controls on behalf Dressel Divers' owner or one of his trusted top managers.


WHY SHOULD YOU CHOOSE DRESSEL DIVERS' GALAPAGOS LIVEABOARD DIVING?
We have selected ONLY 1 LIVEABOARD in Galapagos, THE VERY BEST ONE, offering a service compatible with Dressel Divers and its Quality Selects Associate Recognition. The operator also agrees to quality controls by Dressel  Diver's owner or top managers.

DRESSEL DIVERS QUALITY CHECK




SPACIOUS CABINS & FACILITIES

NITROX & EQUIPMENT AVAILABLE