SCUBA DIVING IN MEXICO WITH DRESSEL DIVERS
SCUBA DIVING IN MEXICO
Dressel Divers' Dive Centers & Shops
20% ONLINE DISCOUNT to discover the best scuba diving in Mexico. We make every dive special! In Mexico, scuba diving is very popular for very good reasons. Every dive is unique and repetitive scuba diving never feels repetitive.
Drift diving is very common in Mexico. During a drift dive the boat follows the group's bubbles. The drift carries the divers along and fins are used for steering more than moving. You literally take flight underwater and go with the flow lowering your air consumption.
Mexico is also the number one place on the planet for cenote diving. A double tank dive in the Yucatan jungle ponds and caverns is definitely a very unique thing to do and our dive shops are perfectly placed for this.
Pelagic action is also part of a Scuba Diving In Mexico vacation! Whale watching or swimming with whale sharks are very popular with divers.  Even bull shark diving is on the menu for those with an adrenalin appetite.
Most Recommended
Mexico Dive Shop Video
SCUBA DIVING IN MEXICO: TOP DESTINATIONS
SCUBA DIVING IN MEXICO: BEST EXCURSIONS
SCUBA DIVING IN MEXICO – MORE INFORMATION
People & Culture

Mexico is one of the most popular tourist destinations in the world. It is a magnet for those looking for beautiful beaches, white sand and clear waters. But it is the local people, their food and the traditional music, what make the difference.
The extensive Mayan heritage of the areas where Dressel Divers is based provides to our guests an enjoyable vacation. They will be immersed in a unique world, while they also enjoy scuba diving in Mexico.
Nature & Monuments

Mexico has endless kilometers of beaches, from which you can observe the sea's infinite tones of blue and its inland Yucatan jungle landscapes. The place feels like a massive nature park, with many  interesting cultural pyramids and temples from the Maya Era.
Our centers are perfectly placed to facilitate time out to enjoy other attractions besides Scuba Diving  in Mexico:  Yucatan jungle, Mayan temples, local shopping, village's restaurants and bars.
Food

You shouldn't miss the barbecued meats, with spicy salsas, salads, vegetables and a wide variety of fruits.  Of course, don't forget the Octopus, squid and prawns marinated ceviches. There are other traditiona specialties in our areas, such as pock-chuc, pavo escabeche, relleno negro, queso relleno, panuchos, relleno blanco and papatzules.
Surface intervals between one dive and next takes on a great new culinary meaning, while you enjoy scuba diving in Mexico!
Currency The official currency is the Mexican peso, although US dollars are widely accepted throughout the country.
Official language Spanish. English is understood very well.
Electricity The voltage supplied in the country is 110 volts. The plugs have 2 flat prongs.
DRESSEL DIVERS COZUMEL IS THE BEST DIVE CENTER IN MEXICO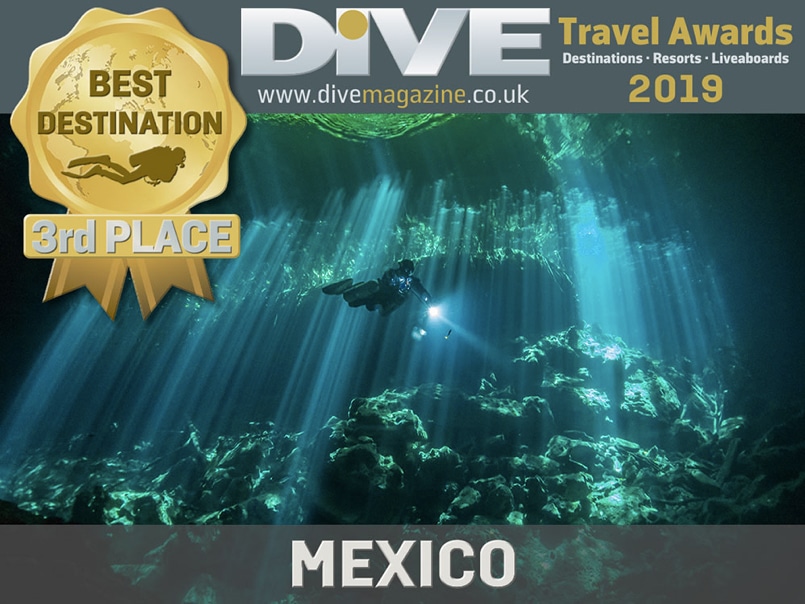 DRESSEL DIVERS COZUMEL HAS RECENTLY BEEN NAMED 
BEST DIVE CENTER IN MEXICO
6TH BEST DIVE CENTER IN THE WORLD
After a long 6 voting months, more than 470 diving centers all over the world participating, and 20.000 votes, on November 15, 2019 Dressel Divers Cozumel was chosen as the 6th best dive center in the world, and the best dive center in Mexico. In addition, Mexico was ranked as the 3rd best destination. Without any doubt Dressel Divers is the best option to enjoy scuba diving in Mexico.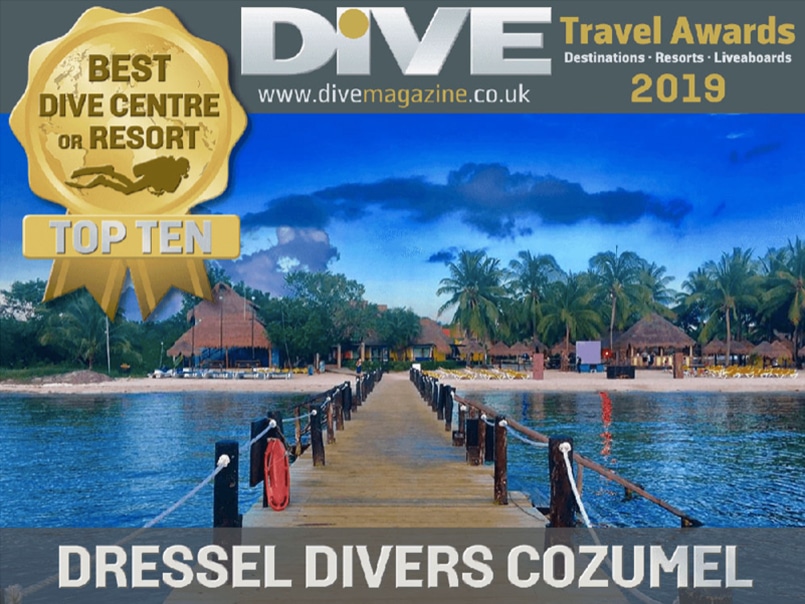 DRESSEL DIVERS – MEXICO DIVE CENTERS MAP