Diving with bull sharks in Playa del Carmen is a dream come true for any scuba diver. All of us love the marine biodiversity,  the adventure, and enjoy our hobby in a sustainable way. For this reason, diving with bull sharks is among the top of the best experiences you can have in a lifetime. There is nothing like feeling the adrenaline when a beautiful 440 pounds shark is softly approaching you.
Probably, if you are reading this post it is because you are wondering what makes this experience so special. In this article,  we are going to tell you about everything you need to know about diving with bull sharks in Playa del Carmen, and why you shouldn't miss the chance of diving among these amazing creatures. Are you ready?
Diving with bulls sharks, the lords of the oceans… and other waters
Did you know bull sharks can leap up rivers, like salmons do, to reach the fresh waters of some lakes? This is only one of the many curiosities about bull sharks that most people ignore… We are talking about animals that have survived more than 450 million years! Therefore, diving with bull sharks in Playa del Carmen means enjoying an awesome dive experience surrounded by prehistoric animals.
On the other hand, with this activity, you will have a great opportunity for learning. It allows humans and sharks to interact closely and in a friendly way. In addition, it helps to remove their black legend, and it helps to spread the truth: We have to take care of bull sharks and respect them because they are a fundamental part of the biodiversity of the seas.
Diving with bull sharks in Playa del Carmen, you have no better place to be
Nobody knows exactly why bull sharks migrate to Playa del Carmen, and not to other places. Neither do we know why only the pregnant female sharks arrive at their destination. The only thing that is 100% sure is these animals come back to Playa del Carmen year after year, from November to March.
In this paradisiacal zone in the Mexican Caribbean, bull sharks are in their own habitat. It is a place where they find the perfect conditions to raise their babies. Bull shark scuba diving in Playa del Carmen gives you the chance to observe their daily rituals without interfering. In this way, we do not change their natural environment.
Another very important feature of this shark is its ability to swim in freshwater. This is because they have a special gland in the kidney, which allows them to contain salt water in their bodies and expel the sweet whereas cells of other sharks explode and cause their death. This, coupled with his penchant for the shallows, where they find more food, makes them more likely to meet people.  They can be found in several lakes and rivers around the world, like the Amazon in South America or the Ganges in India.
In the Pacific, it is found from Baja California to Ecuador and Taiwan to Australia and New Zealand. In the Atlantic from the Caribbean, Colombia and Venezuela to Brazil. Also in Mexico, in the state of Quintana Roo, where usually approach the shores during the winter months, when the water is colder and can leave their offspring in the mangroves while looking for food. It is in the months between November and February when the season begins and you can practice diving with bull sharks in Playa del Carmen … One of the most thrilling dives for many divers!
Tips for diving with bull sharks in Playa del Carmen
In Dressel Divers, we are expert scuba divers, with more than 20 years of experience. Therefore, we want to give you some nice tips about diving with bull sharks in Playa del Carmen.
1. Trust the professionals that plan your excursion for diving with bull sharks in Playa del Carmen: Notice that only persons with a deep knowledge about these animals and this zone are able to provide a satisfactory guided experience.
In addition, they are going to develop a scuba diving plan focused on 2 things: enjoying the dive among bull sharks and doing it in a safe way. You will only have to follow their expert instructions to take full advantage of diving with bull sharks in Playa del Carmen.
2. Be prepared. We are not  just talking about learning as much as possible about bull sharks. If it has been a while since your last dive,  your scuba diving skills can be updated too with reviews and specialties.  You can trust the Dressel Divers Diving Courses, which you can enjoy in situ, in Mexico.
How to book an excursion to enjoy diving with bull sharks in Playa del Carmen
Dressel Divers does excursions to dive with bull sharks in Playa del Carmen, every Thursday and Saturday, during winter months: November until mid-March. You can purchase it online enjoying a 20% prepayment discount! This offer is also available for diving courses and other excursions.
You can book your EXCURSION  to enjoy diving with bull sharks, by sending an email to info@dresseldivers.com or by telephone  (+34) 963 561 496
DON'T MISS THIS AWESOME EXPERIENCE!!!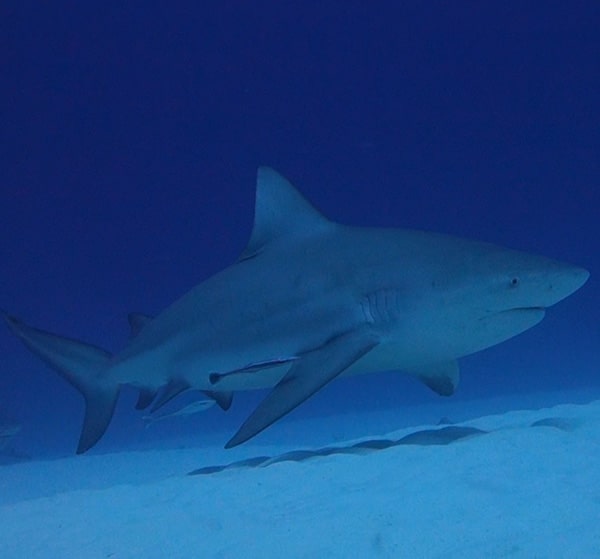 BOOK YOUR BULL SHARK EXCURSION