WHITE SHARK DIVING – GUADALUPE LIVEABOARD
This great white shark diving safari with an amazing Guadalupe Liveaboard safari, puts you face to face with these majestic masters of the ocean! Enjoy Guadalupe cage diving with so many great white sharks it will challenge your usual understanding of a school of fish as a friendly species get together. Looking for the right liveaboard to scuba dive in Guadalupe Island?
Welcome aboard the Vortex, Guadalupe's signature pelagic diving liveboard! The perfect ship to break away from land all together. Enjoy good liveaboard living on the very ocean you are diving from dusk until dawn. This too is what liveaboard scuba in Guadalupe is all about, not just the diving with the great white sharks.
Become one with the ocean for several days with no need to touch land. Want to spend loads of bottom time diving with this load of great white sharks? Again, cage diving in Guadalupe from the Vortex the sharks will circle you in exceptional numbers, staring you in the eyes one after the other, testing your nerve for hours on end.
The spacious Vortex multiple shark cages hang just under the ocean's surface, moored right onto the edge of the vessels swim platform and, are equipped with surface supplied air.  Therefore, you can enter, exit and stay in them very easily, often and for long periods of submersion.


LENGTH / WIDTH
147 ft / –

YEAR BUILT / RENOVATED
2019



WHITE SHARK DIVING – GUADALUPE LIVEABOARD – QUALITY SELECTS
This White Shark Diving Guadalupe liveaboard safari with Vortex draws not only divers from all over the world, due to perfect conditions and very intense shark behavior. Many of them are professional photographers and videographers looking for amazing new views. Widely considered among, if not the, top location for great white cage diving, Guadalupe Island is part of Mexico and located in the Pacific Ocean.
There are some things all true blood scuba divers have to do at least once in a life time. Diving with great white sharks in Mexico's Guadalupe Island is for sure one of those things! So, why not come and have the scuba diving time of your life with one of the most impressive inhabitants of our oceans? Its selfie time, your me time, with great white sharks. Do not postpone. The great whites will be there and so should you.
For sure you have seen all kinds of smileys but never ones with jaws of 5 or more rows of teeth and the size and resolution of a mega high definition flat screen TV hanging right in front of your nose. A great white shark is the one fish in the ocean you do not want to wait for and see by surprise, somewhere, sometime unexpectedly.
GUADALUPE LIVEABORD WITH THE AMAZING VORTEX
WHAT CAN YOU EXPECT FROM THIS WHITE SHARK DIVING GUADALUPE LIVEABOARD?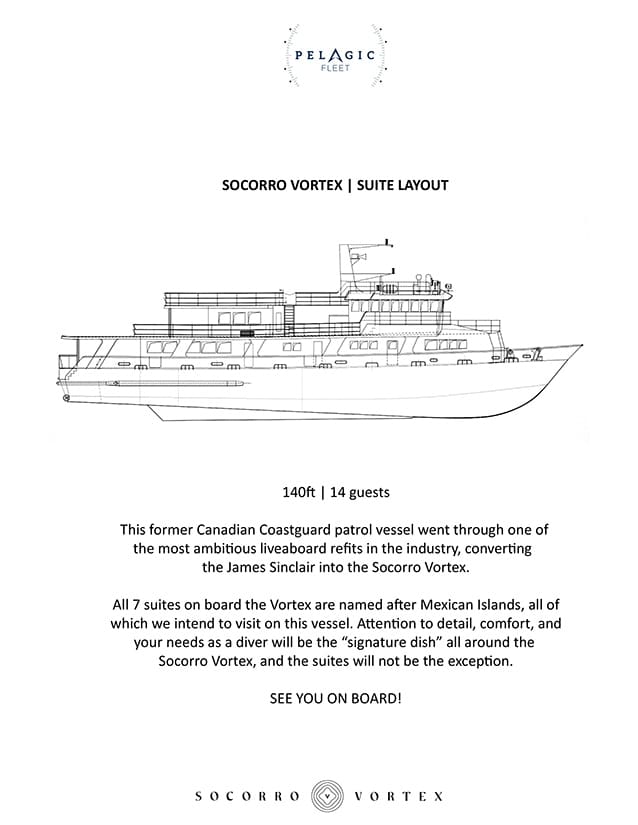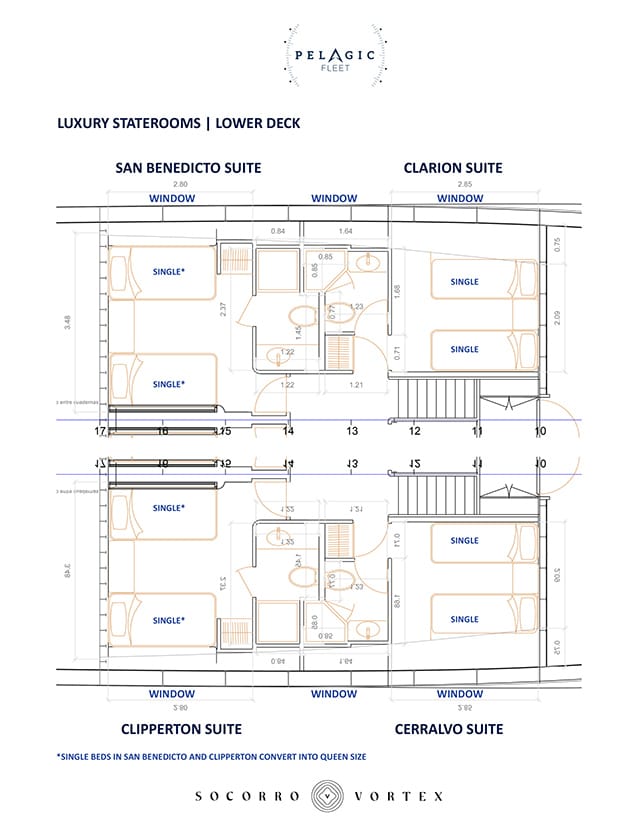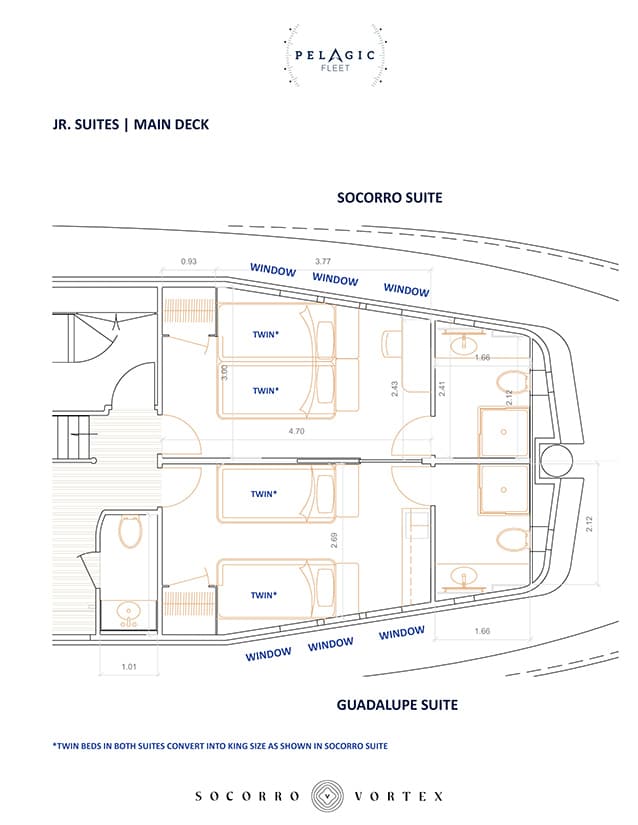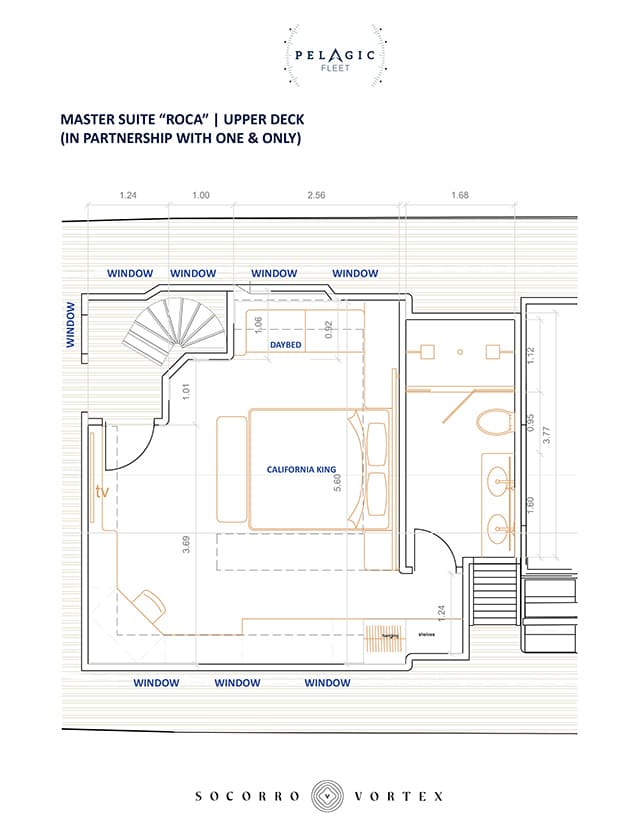 WHAT IS QUALITY SELECTS BY DRESSEL DIVERS?
BOOK YOUR WHITE SHARK DIVING GUADALUPE LIVEABOARD DIVING SAFARI
Welcome to our selection of liveaboard scuba diving adventures! Diving is true living, especially from the dive deck of a liveaboard. The Dressel Divers "Liveaboard Quality Selects" are the result of many clients expressing directly to Javier Ibran, owner of the company, their increasing desire for new dive destinations and experiences. When need calls, we listen!
Dressel Divers totals 25 years of experience in the scuba diving market and is recognized for its high level of safety and service. Therefore, we have the experience and knowledge with which to evaluate liveaboard dive operations and suggest only the very best options to our customers. We select only one liveaboard per world class diving destination, the one we consider the very best of all available, offering a service standard compatible with Dressel Divers and its Quality Select associate recognition.