SPECIAL PROMOTION


BUY THIS  LIVEABOARD AND GET A
FREE COZUMEL 5 + 1 DIVE PACK
This great Guadalupe Liveaboard with an amazing white shark diving safari puts you face to face with these majestic masters of the ocean! Enjoy Guadalupe cage diving with so many great white sharks it will challenge your usual understanding of a school of fish as a friendly species get together. Looking for the right liveaboard to scuba dive in Guadalupe Island?
Welcome aboard the Vortex, Guadalupe's signature pelagic diving liveboard! The perfect ship to break away from land all together. Enjoy good liveaboard living on the very ocean you are diving from dusk until dawn. This too is what liveaboard scuba in Guadalupe is all about, not just the diving with the great white sharks.
Become one with the ocean for several days with no need to touch land. Want to spend loads of bottom time diving with this load of great white sharks? Again, cage diving in Guadalupe from the Vortex the sharks will circle you in exceptional numbers, staring you in the eyes one after the other, testing your nerve for hours on end.
The spacious Vortex multiple shark cages hang just under the ocean's surface, moored right onto the edge of the vessels swim platform and, are equipped with surface supplied air.  Therefore, you can enter, exit and stay in them very easily, often and for long periods of submersion.


LENGTH / WIDTH
147 ft / –

YEAR BUILT / RENOVATED
2019



GUADALUPE ON VORTEX, AUGUST 28th – SEPTEMBER 1st 2021
The cost of the trip is $5500 Luxury Cabin  / $6000 JNR Suite / $7000 Master Suite
This is an UNBEATABLE PRICE
Included in the rate of your Guadalupe trip are: round-trip transportation via luxury motor coach from San Diego, California  (or Tijuana, Mexico) to Ensenada, Mexico. All port fees, fuel surcharges, National Park fees, accommodations, all meals and snacks, and all beverages including beer and wine.
Trip prices in GBP and EURO are also available upon request.
TIME LEFT UNTIL DEPARTURE
GUADALUPE LIVEABOARD DIVING – ITINERARY
DAY 1
Safety Briefing, Crew Introduction, Necessary Dive Paperwork, Cabin allocation and ship orientation will take place before departing the Harbour.
During the journey to our first dive site for a check dive, please take this opportunity to familiarize yourselves with the vessel and make yourself comfortable.
Eighteen-hour crossing you will arrive at the island early morning of day 2.
Please Note: This is a sample itinerary and no of dives, dive sites, etc. may be subject to change due to weather conditions and other unforseeable factors
DAY 2 – 3
Start shark diving operations immediately, day 2, 3 and 4 are spent cage diving with great whites.
Non-divers must use a hookah system and stay in a cage at the surface. Certified divers can use scuba equipment while cage diving at 30 feet (10 meters).
Discover one of the best dive sites in the world for shark diving.
Great white sharks approach the cages and divers closely and they are not shy around the cages, making this the most thrilling white shark encounter in the world.
There have been 171 great whites counted in this dive area during this season.
You may also have some great opportunities to see Northern Elephant Seals, California sea lions and endemic Guadalupe fur seals. The bird life around Guadalupe is also top notch with many species of gulls, terns and comical brown boobies.
Try the new Self Propelled Ocean Cage, with the speed of 5knots allows you to keep up with the pace of a great white, which would be impossible when swimming or diving. Ideal for filming smooth shots from every single angle of the shark. The SPOC and its pilot will be available on every single Guadalupe trip, sometimes on Vortex, sometimes on Solmar V. If the Vortex is hosting the SPOC
on a trip and someone from Solmar V wants to charter it, we will move the guest to the other boat for the experience, and vice versa. Limited to 4x 45min inmersions per day. The SPOC can be chartered privately for a full trip, or hourly without previous reservation
DAY 4
At the end of day wrap up and start the trip back to port arriving by noon on day 5.
DAY 5
Unfortunately our trip has come to an end and we have to say goodbye, but we hope to see you again soon!
GUADALUPE LIVEABOARD DIVING WITH THE AMAZING VORTEX
GUADALUPE LIVEABOARD DIVING – VORTEX CABINS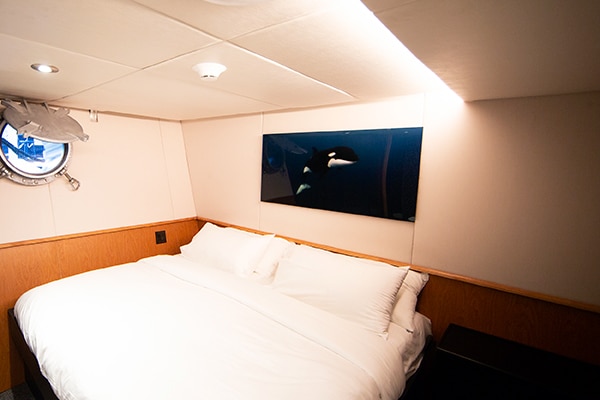 – Beds: 1 Queen or 2 Twin
– Max Occupancy: 2
– Shareable: Yes
– Private bathroom: Yes
– Air Conditioning: Yes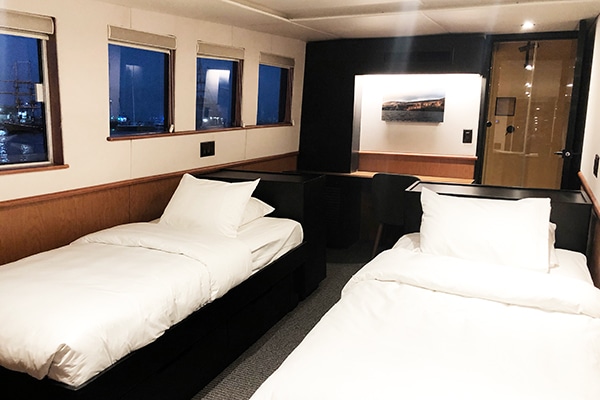 – Beds: 1 King or 2 Twin
– Max Occupancy: 2
– Shareable: Yes
– Private bathroom: Yes
– Air Conditioning: Yes
– Beds: 1 King
– Max Occupancy: 2
– Shareable: Yes
– Private bathroom: Yes
– Air Conditioning: Yes
GUADALUPE LIVEABOARD DIVING – VORTEX DECK PLAN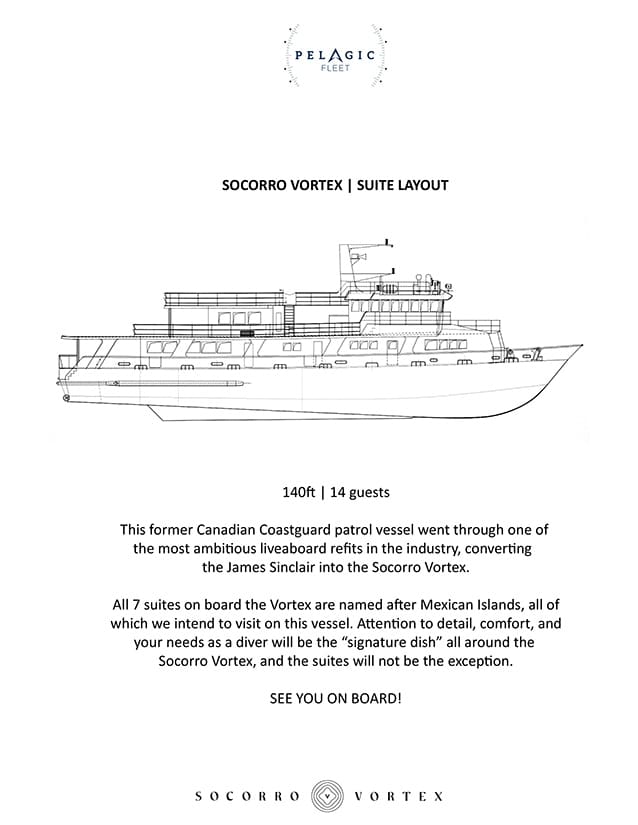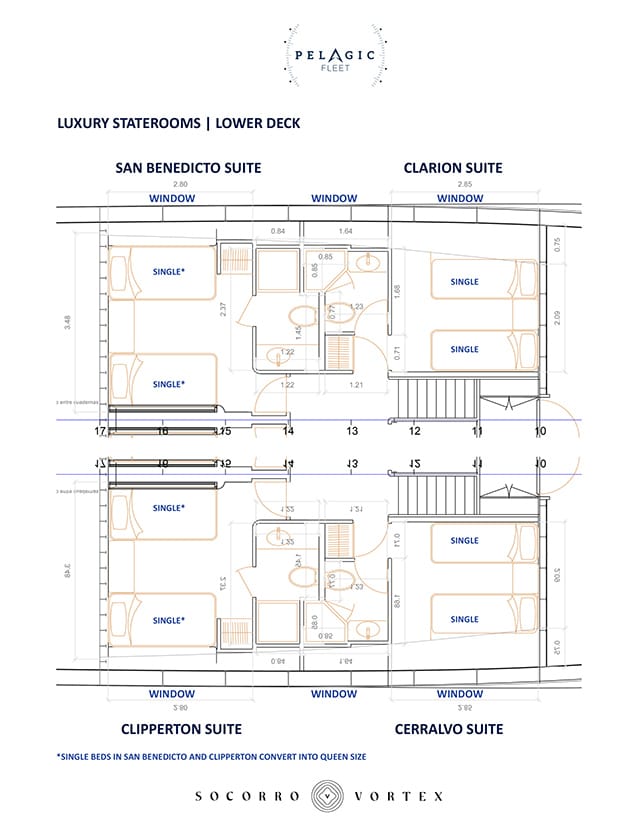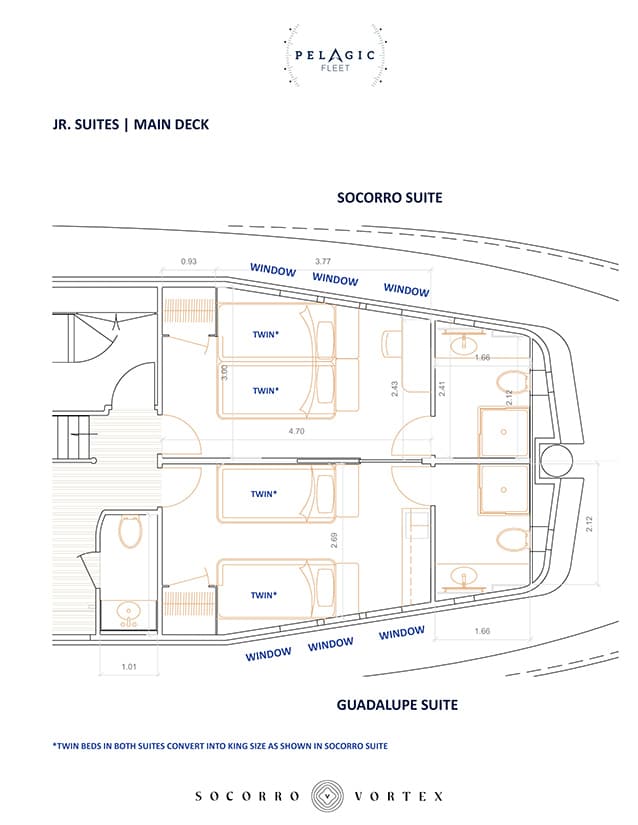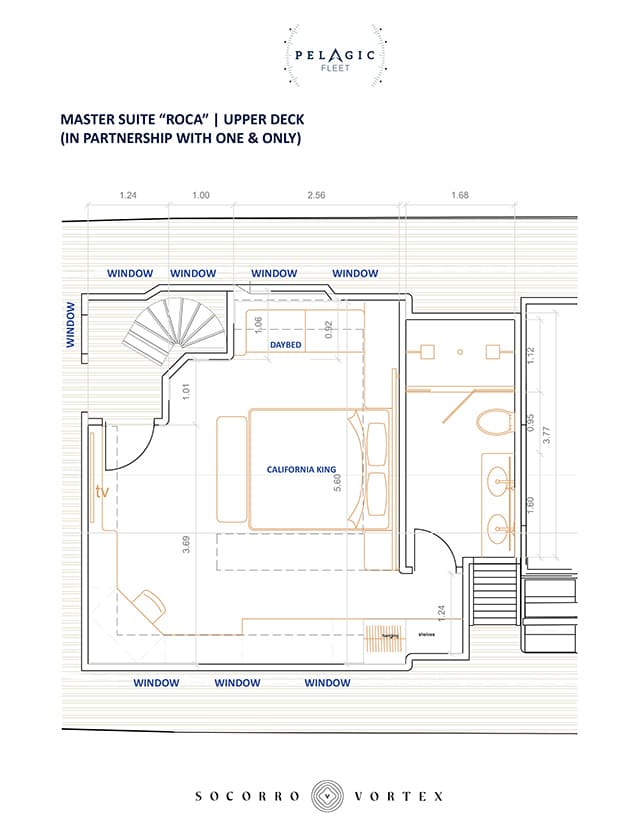 QUALITY SELECTS BY DRESSEL DIVERS
BOOK YOUR LIVEABOARD DIVING SAFARI
[contact-form-7 404 "Not Found"]
Dressel Divers' liveaboard diving Quality Selects are the perfect option for those who want to go one step further in their scuba diving adventures! Experience wild life and real nature at maximum from the amazing dive deck of a liveaboard. Our "Liveaboard Quality Selects" are the result of many clients requesting directly to our CEO, Javier Ibran, their desire for new Dressel Divers adventures and stunning experiences. Your orders are our demands!
Dressel Divers has 25 years' experience in diving and is well-known for its top-notch level of safety, service and quality, giving it the knowledge to evaluate liveaboards and suggest only the very best options. We select only one liveaboard per world class diving destination, the very best one, offering a service level compatible with Dressel Divers and its Quality Selects associate recognition. Nevertheless, the diving is offered based on the own strong standards of each liveaboard operator. All these signature liveaboards also agree to yearly quality controls on behalf Dressel Divers' owner or one of his trusted top managers.