GALAPAGOS LIVEABOARD EXCLUSIVE DATES
The newest luxury liveaboard yacht offering vacations in the Galapagos is the Galapagos Master. The Galapagos Master is a 32m, steel yacht with 9 cabins for up to 16 guests. Offering both upper deck and lower deck air conditioned accommodation each with personal clothing storage and private en suite bathrooms, with centrally heated hot water. A spacious indoor lounge and dining area is situated on the middle deck, it is fully air conditioned with comfortable cushioned bench seating and a complete entertainment system. Delicious meals are served buffet style by the onboard chefs. The outer deck has shaded seating which is a great place to relax between dives whilst the upper level sundeck and cocktail bar is typically where divers gather to relive the day's diving adventures.
Scuba diving from the Galapagos Master liveaboard is supported by high powered tenders, with 2 dive masters to accompany the group. The well equipped diving deck provides ample space for all your equipment. Amenities include nitrox fills, equipment storage boxes, rinse tanks, warm water shower and a 2-tier camera table. The Galapagos Master offers year round diving holidays in a luxury setting, with a choice of 7 night and 10 night itineraries departing from San Cristobal. Each trip takes you through an extravaganza of dive sites including a minimum of 2 days at Darwin and Wolf. Diving up to 4 times per day you can expect to see schooling hammerheads, Galapagos sharks, tuna, sea lions, iguanas, eagle rays and much more.
GALAPAGOS MASTER INFORMATION


LENGTH / WIDTH
105 ft / 26 ft

YEAR BUILT / RENOVATED
2004 / 2014



Galapagos Master, October 11th – October 18th 
The cost of the trip is 5,950 USD in a Classic cabin, 6,050 USD in a Premium Cabin
This is an Unbeatable Price
Included: VAT, Airport Transfer, Drinking Water, Soft drinks, Tea & Coffee, Wine with Dinner, Full-Board Meal Plan (All meals), Snacks, Diving Package, Land Excursions, Cabin Towels, Complimentary Toiletries, Deck Towels.
Required Extras: Dive Insurance, Travel Insurance, Chamber Fees (35 USD per trip), National Park Fees (100 USD per trip).
Optional Extras: Gratuities (60-70 USD per day), Alcoholic Beverages, Rental Gear, Laundry / Pressing Services.
Book now, pay later: You can easily place your booking online. We will then hold the spaces for you and you can confirm with a payment later.
TIME LEFT UNTIL DEPARTURE
GALAPAGOS LIVEABOARD DIVING ITINERARY
Day 1: Monday morning airport arrival, transfer to Galapagos Master and lunch, followed by an afternoon check out dive. Carried out in a sheltered bay in an excellent shallow spot, at a max depth of 9m (30ft), this will allow you to check your dive gear but also become acquainted with some of the local marine life.
Day 2: Tuesday morning will be 2 dives at Punta Carrion and Baltra North East followed by an afternoon land tour of North Seymour Island before cruising north during the evening.
Days 3&4: Wednesday & Thursday will be spent at Darwin.
Day 5: Friday will be spent at Wolf followed by a cruise South during the evening.
Day 6: Saturday will be spent at Punta Vicente Roca.
Day 7: Sunday morning we will dive at Cousin Rock with a dive at Los Gemelos followed by a land visit to see giant land tortoises on Santa Cruz.
Day 8: Monday morning there will be a visit to the Interpretation Centre on San Cristóbal Island followed by disembarkation and transfer to the airport or local hotel.
Marine Life: Manta Rays, Whale Sharks, Hammerheads, Barracuda, Sea Lions, Turtles
The above is a daily plan for your 7 night cruise as per our operating permit in the Galapagos Islands. This itinerary may change without notice.
GALAPAGOS LIVEABOARD DIVING – GALAPAGOS MASTER CABINS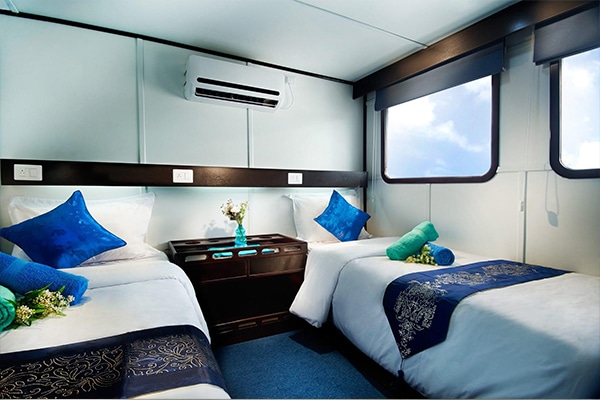 CLASSIC TWIN CABIN – Lower Deck
– Size:  9 m² / 97 sq ft
– Beds:  Double or Twin
– Max occupancy:  2
– Shareable:  Yes
– Private bathroom:  Yes
– Air Conditioning:  Yes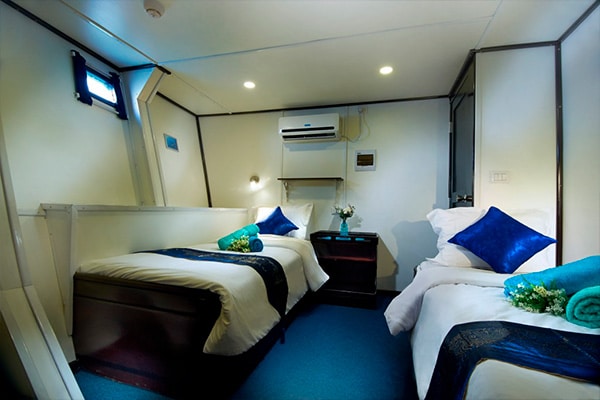 PREMIUM TWIN/QUEEN BED CABIN – Upper Deck
– Size:  9 m² / 97 sq ft
– Beds:  1 Queen or 2 Twin
– Max occupancy:  2
– Shareable:  Yes
– Private bathroom:  Yes
– Air Conditioning:  Yes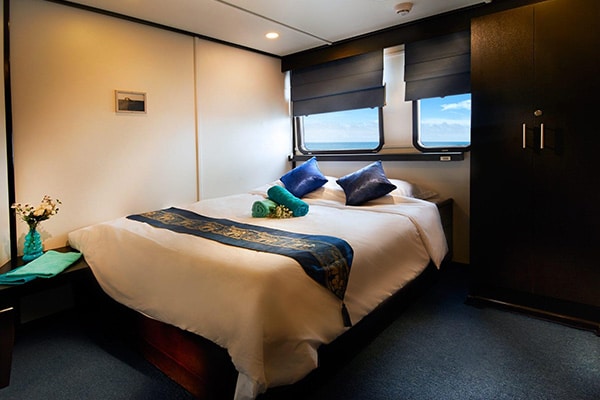 PREMIUM DOUBLE CABIN – Main Deck
– Size:  10 m² / 108 sq ft
– Beds:  1 Queen 
– Max occupancy:  2
– Shareable:  No
– Private bathroom:  Yes
– Air Conditioning:  Yes
WHAT CAN YOU EXPECT FROM THIS GALAPAGOS LIVEABOARD DIVING SAFARI?
GALAPAGOS MASTER DECK PLAN




BOOK YOUR LIVEABOARD DIVING SAFARI
Dressel Divers' Galapagos liveaboard diving is the perfect option for those who want to go one step further in their scuba diving adventures! Experience wild life and real nature at maximum from the amazing dive deck of a liveaboard. Our "Liveaboard Quality Selects" are the result of many clients requesting directly to our CEO, Javier Ibran, their desire for new Dressel Divers adventures and stunning experiences. Your orders are our demands!
Dressel Divers has 25 years' experience in diving and is well-known for its top-notch level of safety, service and quality, giving it the knowledge to evaluate liveaboards and suggest only the very best options. We select only one liveaboard per world class diving destination, the very best one, offering a service level compatible with Dressel Divers and its Quality Selects associate recognition. Nevertheless, the diving is offered based on the own strong standards of each liveaboard operator. All these signature liveaboards also agree to yearly quality controls on behalf Dressel Divers' owner or one of his trusted top managers.