Mergulho e Snorkeling de Qualidade!
MÉXICO – OS MELHORES DESTINOS DE MERGULHO E SNORKELING
Viva mergulhar no México! Um lugar onde os nossos centros de actividades aquáticas o farão sentir-se completamente em casa, com uma infindável quantidade de sítios de snorkel e mergulho que lhe permitem disfrutar de uma experiência única, combinando natureza, aventura e tranquilidade. Porque não juntar-se ao Dressel Divers do México para umas férias inesquecíveis, onde pode misturar praias incríveis com recifes igualmente inacreditáveis?
EXCURSÕES DE MAR COM O DRESSEL DIVERS NA JAMAICA
Junte-se a nós na Jamaica para excursões de mergulho e snorkeling de excelência, que ficarão no top das suas memórias. O centro de desportos aquáticos do Dressel Divers está localizado a um pulinho dos melhores sítios de mergulho e snorkel que a Jamaica tem para oferecer. Quer esteja flutuando à superfície ou aventurando-se mais fundo nas águas azul-turquesa, garantimos-lhe uma experiência inigualável.
VAMOS MERGULHAR NA REPÚBLICA DOMINICANA
As lagoas tropicais são perfeitas para fazer snorkeling e mergulho e são o ponto mais importante das excursões da República Dominicana. O nosso centro de desportos aquáticos vai permitir-lhe que explore o mar que trouxe Cristóvão Colombo à República Dominicana. O Dressel Divers é o seu ponto de acesso a todos os mais importantes pontos de snorkeling e mergulhos, ao longo das costas Norte, Este e Sul deste paraíso aquático.
EXCURSÕES DAS CARAÍBAS DO DRESSEL DIVERS
Queremos que tenha umas férias divertidas cheias de actividades. Para isso, todos os nossos centros de mergulho e snorkeling das Caraíbas disponibilizam excursões a lugares famosos pela sua beleza e águas cristalinas. Lugares perfeitos para excursões de mergulho e snorkeling! Se o recife é reconhecido entre a comunidade de desportos aquáticos, e é acessível de forma fácil e divertida, então conte connosco para o levar até lá!
APRENDA A MERGULHAR NO MEDITERRÂNEO ESPANHOL
Os mergulhadores europeus viajam para Espanha, onde a beleza dessa terra se estende até às profundezas do oceano. Nestas águas cristalinas, abundam locais de mergulho majestosos, mesmo em frente ao centro de mergulho Dressel Divers em Cala Barca. As águas calmas, coloridas e transparentes de Espanha fazem lembrar os trópicos!
PROMOÇÕES E DESCONTOS EM MERGULHO

Promoções de Mergulhos Gratuitos
Pacotes de mergulho com MERGULHOS GRATUITOS! Clubes de mergulho e promoções para grupos.

Até 25% Desconto Online
Reserve e pague antes da sua chegada e aproveite o nosso desconto de até 25% em todas as actividades de mergulho ou snorkel!

Estadia e Mergulho
Contacte-nos para averiguar acerca de preços combinados de mergulho e hotel ou para obter mais informação acerca dos nossos pacotes de mergulhos ilimitados!
Sim! O desconto online aplica-se a todos os serviços de mergulho recreativo e snorkeling.
Disponibilizamos GRATUITAMENTE NITROX (nos centros onde nitrox está disponível) e também Cursos Avançados de Mergulho SDI & Padi Advanced Open Diver.
DESPORTOS AQUÁTICOS COM DRESSEL DIVERS
CENTROS DE MERGULHO, HOTÉIS E RESORT DRESSEL DIVERS
ESTADIA E MERGULHO
Fique HOSPEDADO num dos resorts onde o Dressel Divers tem centro de mergulho, podendo assim embarcar nos nossos barcos e MERGULHAR directamente da praia do seu hotel!
VISITA E MERGULHO
Está alojado noutro resort mas ainda assim quer disfrutar dos serviços de desportos aquáticos do Dressel Divers?
Junte-se a nós através do nosso serviço diário de transfer VISITA E MERGULHO. Join us by organizing a daily VISIT & DIVE transfer (poderão aplicar-se excepções).
Mais de 25 anos ao seu serviço
Dressel Divers Liveaboard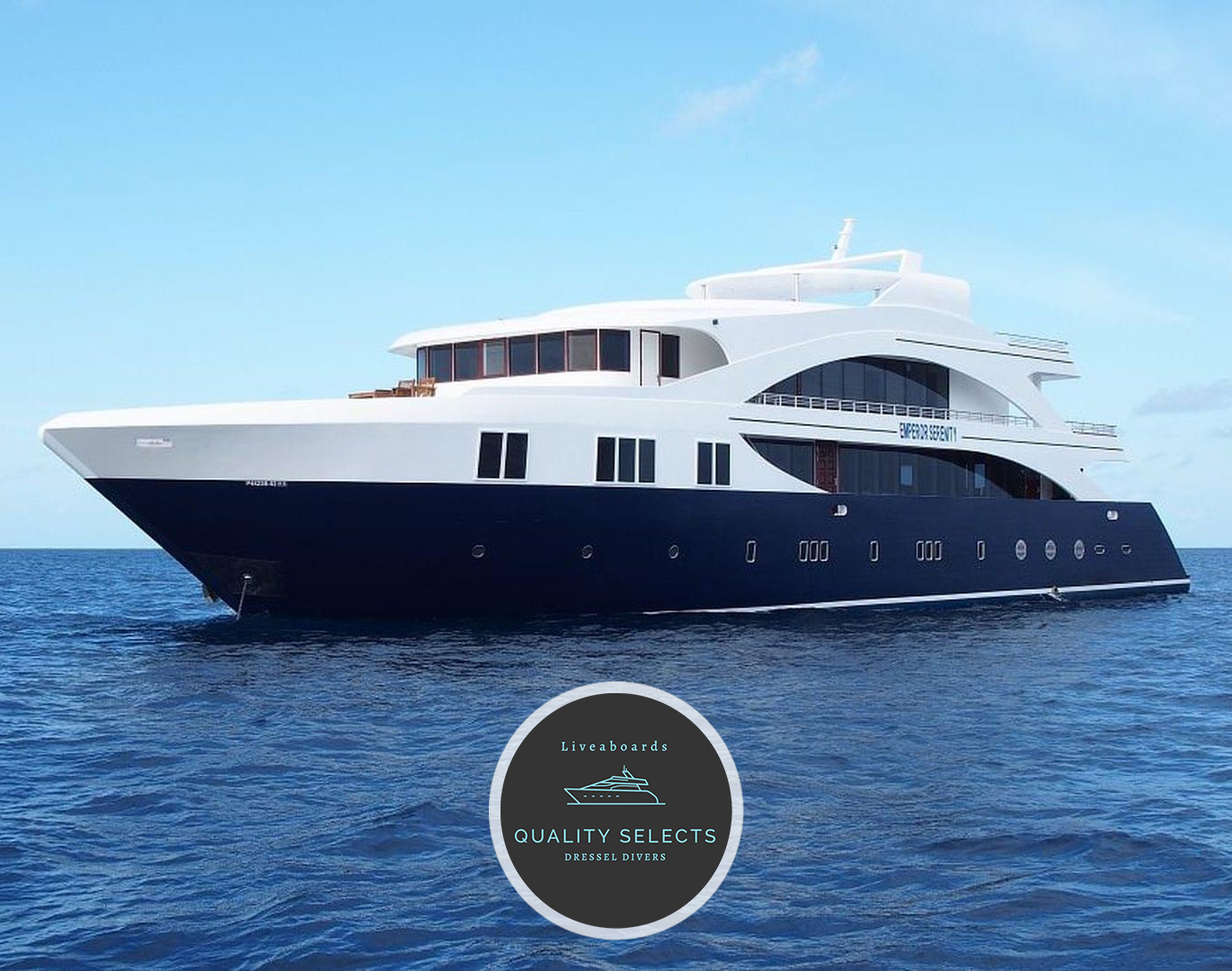 Dressel Divers' liveaboard diving Quality Selects are the perfect option for those who want to go one step further in their scuba diving adventures! Experience wild life and real nature at maximum from the amazing dive deck of a liveaboard. Our "Liveaboard Quality Selects" are the result of many clients requesting directly to our CEO, Javier Ibran, their desire for new Dressel Divers adventures and stunning experiences. Your orders are our demands!
Dressel Divers has 25 years' experience in diving and is well-known for its top-notch level of safety, service and quality, giving it the knowledge to evaluate liveaboards and suggest only the very best options. We select only one liveaboard per world class diving destination, the very best one, offering a service level compatible with Dressel Divers and its Quality Selects associate recognition. Nevertheless, the diving is offered based on the own strong standards of each liveaboard operator. All these signature liveaboards also agree to yearly quality controls on behalf Dressel Divers' owner or one of his trusted top managers.
O que os nossos clientes pensam de nós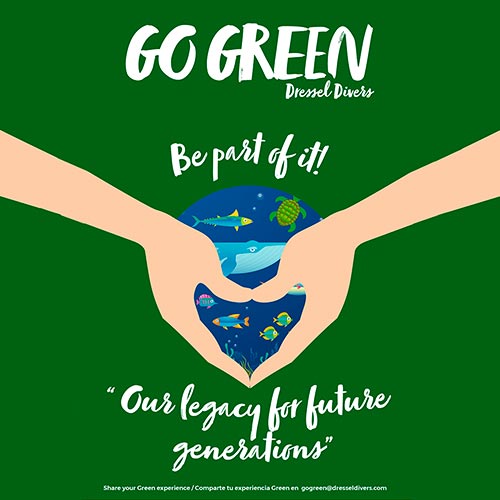 BE PART OF OUR LEGACY
Our main challenge is to share with our customers experiences that go beyond to a sustainable diving. The satisfaction of doing something for the blue planet and also for our future generations.
Go Green is an attitude, a philosophy, a commitment to raise awareness. The opportunity to transmit the responsibility of each individual in the care of our planet.
Go Green develops environment actions in the Caribbean area, such as Coral Reef maintenances, seabed cleanup activities, and decrease ecological footprint. We also support local NGO`s and we help them to make their social and green goals come true.
Be part of Dressel Divers community does not only mean diving, leisure, fun or passion. It also means commitment, action, respect and solidarity.
Be part of it!
Centros de mergulho dressel divers