DRESSEL DIVERS' EXCLUSIVE LIVEABOARD DATES?
These liveaboard exclusive dates are the best way to extend your Dressel Divers' diving experience to some of the best scuba destinations of the world. These dates are made in the best liveaboard boats. Travel with your friends ore meet old buddies you haven't seen since time ago. These liveaboard trips are about scuba diving, but they are also a full time fun experience.
We have a particular focus on exclusive liveaboard charters and group trips which can be found on our Exclusive Trips page. We like to escort these trips so we can really get to know our clients, and to ensure the Dressel Quality and philosophy are maintained. Our exclusive trips range from destinations yet to be discovered by the international dive community to well-known areas where our focus is always on making sure we dive at the right time of year and if appropriate with the right phase of the moon to maximise underwater encounters.
GALAPAGOS: October 11th – October 18th, 2021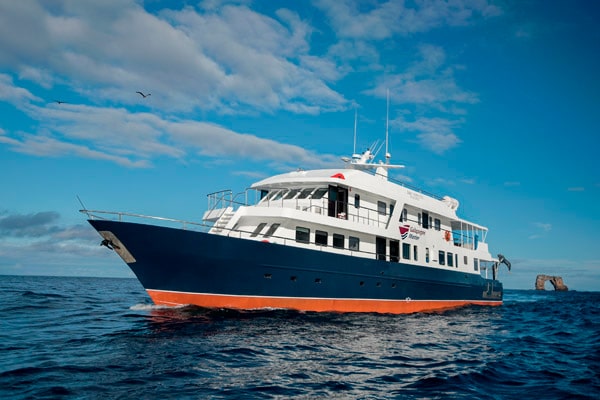 The newest luxury liveaboard yacht offering vacations in the Galapagos is the Galapagos Master. The Galapagos Master is a 32m, steel yacht with 9 cabins for up to 16 guests. Offering both upper deck and lower deck air conditioned accommodation each with personal clothing storage and private en suite bathrooms, with centrally heated hot water. A spacious indoor lounge and dining area is situated on the middle deck, it is fully air conditioned with comfortable cushioned bench seating and a complete entertainment system. Delicious meals are served buffet style by the onboard chefs. The outer deck has shaded seating which is a great place to relax between dives whilst the upper level sundeck and cocktail bar is typically where divers gather to relive the day's diving adventures.
SOCORRO VORTEX: April 23rd  – May 1st, 2021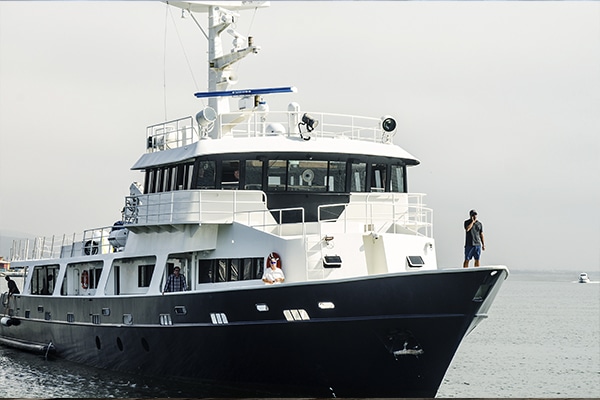 The Socorro Islands (Revillagigedo Islands) are a group of four volcanic islands in the Pacific Ocean, known for their unique ecosystem. The islands are home to many endemic plant and animal species, and are sometimes called Mexico's "little Galapagos". The islands lie 250 miles off Baja Mexico's southern shore. When embarking on a trip to the Socorro Islands possible destinations are San Benedicto, Socorro, Roca Partida and Clarion Islands. These islands are a spectacular magnet for the largest ocean pelagic animals in the world. Schooling Hammerhead Sharks, Dolphins, Silky Sharks, Silvertip Sharks, Tiger Sharks, Galapagos Sharks, clouds of Jacks and Barracuda, Tuna, Wahoo, Marlin, Oceanic Whitetip Sharks, Whale Sharks and Mantas.
GUADALUPE VORTEX: August 28th – September 1st 2021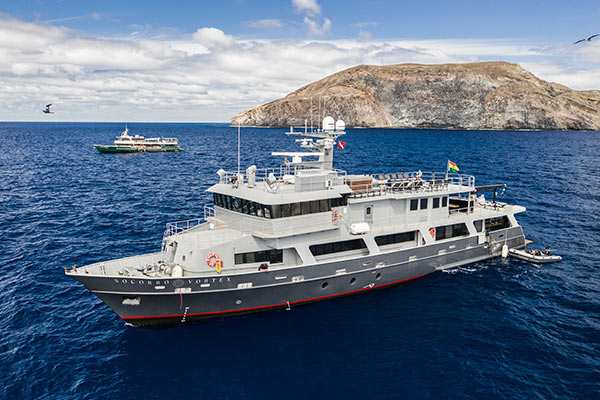 This great Guadalupe Liveaboard with an amazing white shark diving safari puts you face to face with these majestic masters of the ocean! Enjoy Guadalupe cage diving with so many great white sharks it will challenge your usual understanding of a school of fish as a friendly species get together. Looking for the right liveaboard to scuba dive in Guadalupe Island? Welcome aboard the Vortex, Guadalupe's signature pelagic diving liveboard! The perfect ship to break away from land all together. Enjoy good liveaboard living on the very ocean you are diving from dusk until dawn. This too is what liveaboard scuba in Guadalupe is all about, not just the diving with the great white sharks. Become one with the ocean for several days with no need to touch land.
SPECIAL PROMOTION


BUY 1 LIVEABOARD AND GET A
FREE COZUMEL 5 + 1 DIVE PACK
WHY SHOULD YOU CHOOSE DRESSEL'S QUALITY SELECTS LIVEABOARD DIVING?
We select ONLY 1 LIVEABOARD per destination, THE VERY BEST ONE, offering a service compatible with Dressel Divers and its Quality Selects Associate Recognition. The operator also agrees to quality controls by Dressel  Diver's owner or top managers.

DRESSEL DIVERS QUALITY CHECK




SPACIOUS CABINS & FACILITIES

NITROX & EQUIPMENT AVAILABLE
GREAT REASONS TO BOOK WITH US
 YOU ARE ENTITLED TO OUR LOYAL CUSTOMER BONUSES!!!
Our return customers enjoy some additional privileges and benefits as an expression of our gratitude for their loyalty:
Returning customer discount – another initiative from Dressel Divers to ensure you get the best possible value for money: Book 2 Liveaboard trips with us and receive a 5% returning customer DISCOUNT applicable to your second trip and every one after that.
Frequent diver discount – make 5 bookings with us and receive 10% off the price of your 5th booking from Dressel Divers. This discount is repeated every additional 5 bookings that you make.
Free booking amendment – we know that it's not always possible to stick to your plans. So we will waive any administration charge for the first change you request to any booking as a repeat customer.
You get a cash reward when you recommend us – If you have used our services and recommend us to your friends, relatives or dive buddies, then you will be rewarded. When they book their trip with us, you can claim a discount voucher of up to USD 100.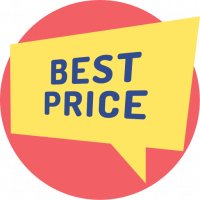 YOU PAY THE BEST PRICE
We charge you NO commission or agent's fee and we can GUARANTEE the lowest price with our Lowest Price Guarantee – If you can book the same package elsewhere online, at the same time, then we will beat that price.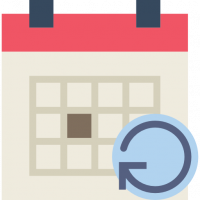 BOOK NOW PAY LATER
You can easily make your booking online. We will then hold the spaces for you and you can confirm with a payment later.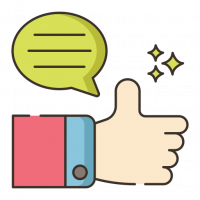 YOU ONLY PAY WHEN YOU ARE READY
Unlike others, we won't demand your credit card right away. You should not feel rushed into paying. We want to help you make the right decision for you. Our team are here to help answer all your questions so you feel comfortable, and pay only when you want to pay.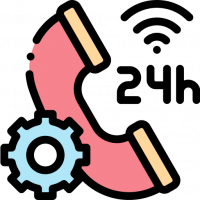 24 HOUR CANCELLATION WINDOW
Once you receive our confirmation you still have 24 hours to make further travel arrangements (i.e. book flights), and if anything doesn't work out you can cancel without penalty.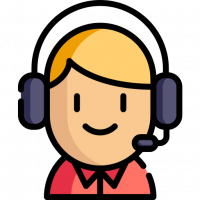 QUICK PERSONAL COMMUNICATIONS
We tell it like it is. All operators will claim they are the best. We want to match you with the operator that is the best for you. Contact us and our expert Dive consultants will communicate with you by email and answer all your questions and concerns.
No other Dive Company has invested more time and effort into the in-depth knowledge of products and destinations than Dressel Divers. We have been around longer and have more than 25 years industry experience.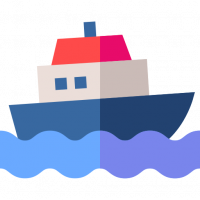 YOU HAVE A BIGGER CHOICE
We match your requirements against the offerings of hundreds of scuba diving trips before we offer you an objective and independent recommendation!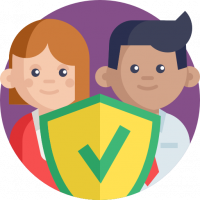 YOU'RE NOT BEING USED TO FILL OUR BOATS
We're an independent dive company. Our priority is to You, to see that you get what you expect, at the best price. Why? Because we want you to be so thoroughly delighted that you'll want to use us again to book your diving trip next year! Also if things go wrong on your vacation we will represent you to the operator who will be keen to keep us happy more than a customer they will never see again. In these circumstances it pays to have us on your side.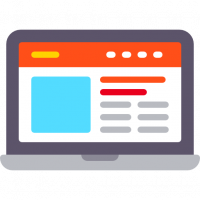 YOUR BOOKING MAKES A DIFFERENCE
Your bookings make a difference … Dressel Divers makes charitable contributions on a yearly basis and, by booking your dive tours with us, you are contributing to our chosen charities:
QUALITY SELECTS BY DRESSEL DIVERS?
BOOK YOUR LIVEABOARD DIVING SAFARI
Dressel Divers'  Quality Selects is the perfect option for those who want to go one step further in their scuba diving adventures! Experience wild life and real nature at maximum from the amazing dive deck of a liveaboard. Our "Liveaboard Quality Selects" are the result of many clients requesting directly to our CEO, Javier Ibran, their desire for new Dressel Divers adventures and stunning experiences. Your orders are our demands!
Dressel Divers has 25 years' experience in diving and is well-known for its top-notch level of safety, service and quality, giving it the knowledge to evaluate liveaboards and suggest only the very best options. We select only one liveaboard per world class diving destination, the very best one, offering a service level compatible with Dressel Divers and its Quality Selects associate recognition. Nevertheless, the diving is offered based on the own strong standards of each liveaboard operator. All these signature liveaboards also agree to yearly quality controls on behalf Dressel Divers' owner or one of his trusted top managers.