Quality Diving & Snorkeling!
MEXICO'S TOP DIVING & SNORKELING DESTINATIONS
Viva diving in Mexico! A place where water sport centers feel totally at home with reefs that make it easy to offer guests a world-famous snorkeling and diving experience, combining nature, adventure and tranquility. So why not join Dressel Divers in Mexico for the diving vacation of a lifetime, where you can mix incredible beaches with equally incredible reefs?
OCEAN TRIPS WITH DRESSEL DIVERS IN JAMAICA
Meet us in Jamaica for scuba diving and snorkeling tours guaranteed to top your list of holiday memories. Dressel Divers´ water sports center is located a stone´s throw away from the very best snorkel and dive sites Jamaica has to offer. Whether you float at the surface with mask and fins or venture deeper into the island´s turquoise waters, we guarantee an experience like none other.
LET'S DIVE IN THE DOMINICAN REPUBLIC
Tropical islands boasting lagoons that are perfect for snorkeling and scuba diving are the focal point of our Dominican Republic day trips, and our water sports centers will let you explore the sea that brought Columbus to the Dominican Republic. Dressel Divers is your travel gateway to all major snorkeling and diving reefs along the Northern, Eastern and Southern coastlines of this aquatic paradise.
CARIBBEAN EXCURSIONS BY DRESSEL DIVERS
Offering yet more ways to ensure an activity-filled holiday, all of our Caribbean scuba diving and snorkeling centers organize excursions to sites renowned for their exceptional beauty and prestine waters. The perfect spot for a diving or snorkeling day trip! If the reef is famous in the Caribbean water sports community and, can be reached with a fun tour, we go!
LEARN DIVING IN THE SPANISH MEDITERRANEAN
European divers flock to Spain, where the land´s extreme beauty extends deep into the sea.  Majestic scuba diving sites abound in the crystal clear waters facing the Dressel Divers shop in Cala Barca. Spain´s calm, colourful, transparent waters are reminiscent of the the tropics.
SCUBA DIVING OFFERS & DISCOUNTS

Offers & Specials
Dive packages with FREE DIVES! Dive club & group deals.

20% Internet Discount
Pay online before your arrival and SAVE 20% on diving and snorkeling activities!

Stay & Dive Deals
Contact us for great combined hotel and dive rates as well as our all-you can dive prices!
Yes! The online discount is applicable to all recreational diving and snorkeling services.
We also offer FREE NITROX where available and Free Advanced open water diver courses.
DRESSEL DIVE CENTER HOTELS & RESORTS
STAY & DIVE
STAY at a resort with a Dressel dive shop on the premises, where you can board a Dressel boat and DIVE DIRECTLY from the hotel beach!
VISIT & DIVE
Staying somewhere else but want to enjoy water sports with Dressel Divers?
Join us by organizing a daily VISIT & DIVE transfer (exceptions may apply).
WHY SHOULD YOU CHOOSE DRESSEL DIVERS?
STRICT COVID SECURITY MEASURES
For over 27 years at Dressel Divers we have always taken hygiene, safety, and health measures extremely seriously. Now, with COVID-19 we have boosted these already excellent standards to the next level. As always, nothing is more important to us than your safety and that of our staff, in and out of the water, making protection against Covid-19 our absolute top priority.
To prevent COVID-19 we follow, hotel, government and scientific norms and recommendations, using the very best possible protocols and disinfection products to meet them. We do this using SANOSIL, the most powerful and innovative disinfectant brand in the world, of Swiss quality since 1982. Deriving from their advanced techniques, the professional training and the supervision of their experts, we are able to offer our guests and staff the best Covid-19 safeguards possible.
MORE THAN 25 YEARS AT YOUR SERVICE
LIVEABOARD DIVING – QUALITY SELECTS DESTINATIONS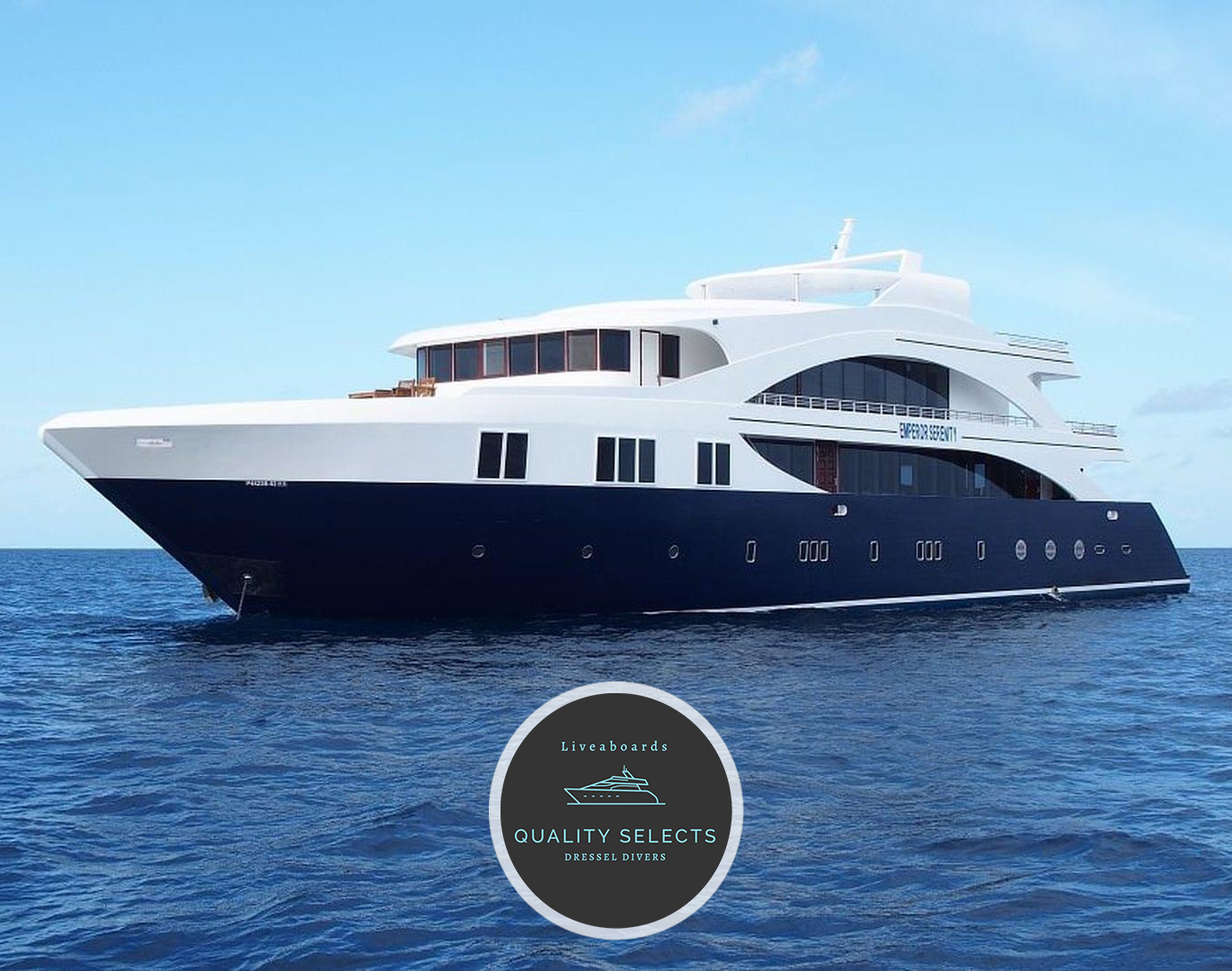 Dressel Divers' liveaboard diving Quality Selects are the perfect option for those who want to go one step further in their scuba diving adventures! Experience wild life and real nature at maximum from the amazing dive deck of a liveaboard. Our "Liveaboard Quality Selects" are the result of many clients requesting directly to our CEO, Javier Ibran, their desire for new Dressel Divers adventures and stunning experiences. Your orders are our demands!
Dressel Divers has 25 years' experience in diving and is well-known for its top-notch level of safety, service and quality, giving it the knowledge to evaluate liveaboards and suggest only the very best options. We select only one liveaboard per world class diving destination, the very best one, offering a service level compatible with Dressel Divers and its Quality Selects associate recognition. Nevertheless, the diving is offered based on the own strong standards of each liveaboard operator. All these signature liveaboards also agree to yearly quality controls on behalf Dressel Divers' owner or one of his trusted top managers.
DRESSEL DIVER'S LATEST NEWS – Don't miss a beat
WHAT OUR CLIENTS SAY ABOUT US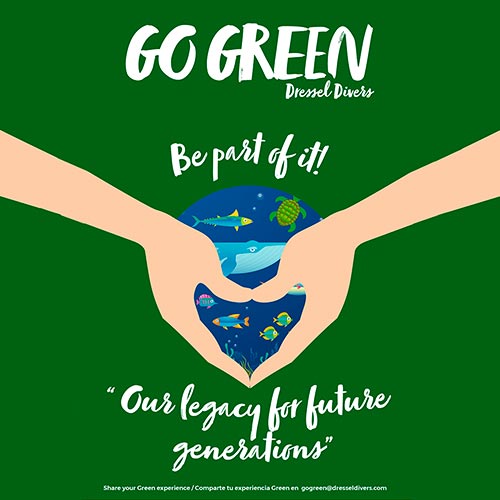 BE PART OF OUR LEGACY
Our main challenge is to share with our customers experiences that go beyond to a sustainable diving. The satisfaction of doing something for the blue planet and also for our future generations.
Go Green is an attitude, a philosophy, a commitment to raise awareness. The opportunity to transmit the responsibility of each individual in the care of our planet.
Go Green develops environment actions in the Caribbean area, such as Coral Reef maintenances, seabed cleanup activities, and decrease ecological  footprint. We also support local NGO`s and  we help them to make their social and green goals come true.  
Be part of Dressel Divers community does not only mean diving, leisure, fun or passion. It also means commitment, action, respect and solidarity. 
Be part of it!
DRESSEL DIVERS – DIVE CENTERS MAP