BUCEO Y SNORKEL DE CALIDAD
LOS MEJORES DESTINOS DE BUCEO Y SNORKEL EN MÉXICO
¡Viva el buceo de México! Visite alguno de nuestros centros de deportes acuáticos y disfrute de nuestros viajes y excursiones por mar. La gran cantidad de zonas para bucear y hacer snorkel hacen posible que los clientes disfruten y obtengan una experiencia única que combina naturaleza, aventura y relax. Así que, ¿por qué no unirse a Dressel Divers México para las vacaciones de buceo de su vida?, podrá mezclar playas increíbles con arrecifes impresionantes.
 CONOZCA EL MAR CON DRESSEL DIVERS EN JAMAICA
Únase a nosotros en Jamaica para realizar sus excursiones de buceo y snorkel. Le garantizamos que esta experiencia estará en su lista de viajes inolvidables. El centro acuático de Dressel Divers está a un tiro de piedra de las mejores zonas que Jamaica ofrece para realizar snorkel y submarinismo. Da igual que usted simplemente flote en la superficie con máscara y aletas o que se sumerja más profundo en sus aguas turquesas, le garantizamos será una experiencia única.
VAMOS, BUCEE EN LA REPÚBLICA DOMINICANA
Sus islas tropicales propician la formación de lagunas naturales perfectas para el snorkel y el submarinismo, son el foco principal de nuestras excursiones diarias en la República Dominicana. Nuestros centros de deportes acuáticos le permitirán explorar el mar que recibió a Cristóbal Colón hasta que recaló en este país. Dressel Divers es su puerta de entrada a sus principales arrecifes a lo largo del Norte, Este y Sur de las costas de este paraíso subacuático.
EXCURSIONES DE DRESSELDIVERS EN EL CARIBE
Ofrecemos muchas maneras de asegurarle unas vacaciones plenas de actividad. Todos nuestros centros de buceo y snorkel en el Caribe ofrecen excursiones a lugares reconocidos por su excepcional belleza y aguas cristalinas. ¡El lugar perfecto para un viaje de un día de buceo o de snorkel! Sus arrecifes son famosos entre los practicantes de deportes acuáticos. Llegaremos a ellos en unas travesías excepcionales. ¿Le llevamos?
APRENDE BUCEANDO EN EL MEDITERRÁNEO ESPAÑOL
Buceadores europeos acuden a España, donde su extremada belleza paisajística se extiende por el mar. Majestuosos parajes de buceo abundan en las aguas cristalinas frente al Centro de Buceo Dressel Divers Mallorca. Las aguas tranquilas, azules y transparentes de esta isla mágica son una reminiscencia de los trópicos.
OFERTAS Y DESCUENTOS DE BUCEO

Ofertas y Promociones
¡Paquetes de buceo con INMERSIONES GRATIS! Ofertas para grupos y clubs de buceo.

Hasta un 20% Descuento para nuestros clientes en internet.
¡Pague online antes de su llegada y AHÓRRESE hasta un 20% en actividades de buceo y snorkel!

Hoteles y promociones de buceo
¡Póngase en contacto con nosotros para obtener excelentes tarifas hoteleras y de buceo así como nuestras tarifas "TODO LO QUE PUEDA BUCEAR" que incluye aparte del hotel "todo incluído", todo el buceo!
¡Sí! El descuento online es aplicable a todos los servicios de buceo y snorkel.
También ofrecemos NITROX GRATUITO donde tenemos disponible. Nuestros cursos de BUCEADOR AVANZADO PADI son GRATUITOS también.
DEPORTES ACUÁTICOS CON DRESSEL DIVERS
CENTROS DE BUCEO DRESSEL HOTELES & RESORTS
ALOJAMIENTO Y BUCEO
¡Alójese en un resort con un centro de buceo de Dressel! Estamos localizados siempre dentro del resorty podrá embarcar en nuestros barcos directamente desde la playa del hotel.
VISÍTENOS Y BUCEE
Si se aloja en otro lugar, organizamos diaramente su traslado (se pueden aplicar excepciones).
¿POR QUÉ ELEGIR DRESSEL DIVERS?
 Más De 25 Años A Tu Servicio.
Dressel Divers Liveaboard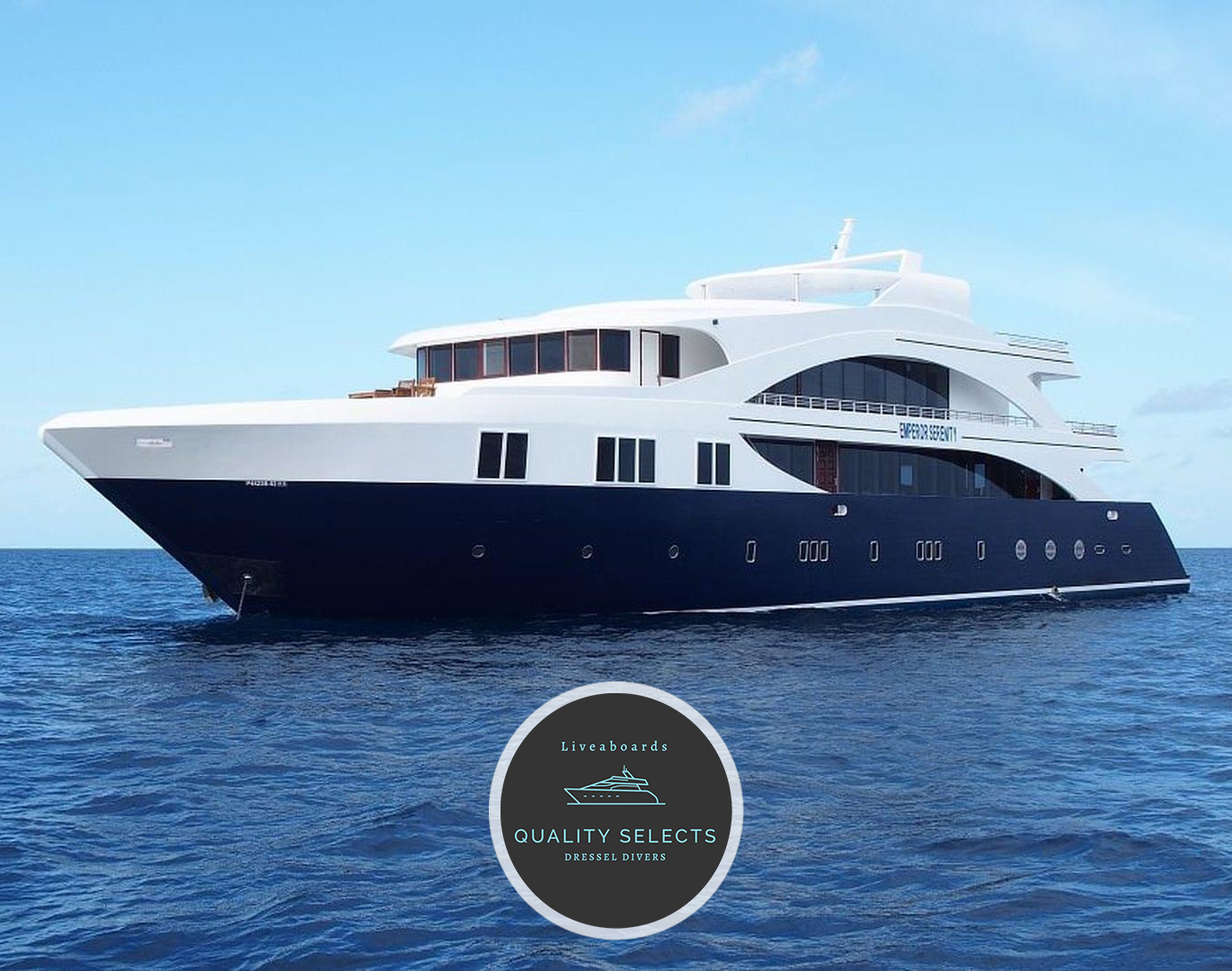 Dressel Divers' liveaboard diving Quality Selects are the perfect option for those who want to go one step further in their scuba diving adventures! Experience wild life and real nature at maximum from the amazing dive deck of a liveaboard. Our "Liveaboard Quality Selects" are the result of many clients requesting directly to our CEO, Javier Ibran, their desire for new Dressel Divers adventures and stunning experiences. Your orders are our demands!
Dressel Divers has 25 years' experience in diving and is well-known for its top-notch level of safety, service and quality, giving it the knowledge to evaluate liveaboards and suggest only the very best options. We select only one liveaboard per world class diving destination, the very best one, offering a service level compatible with Dressel Divers and its Quality Selects associate recognition. Nevertheless, the diving is offered based on the own strong standards of each liveaboard operator. All these signature liveaboards also agree to yearly quality controls on behalf Dressel Divers' owner or one of his trusted top managers.
ÚLTIMAS NOTICIAS SOBRE DRESSEL DIVER – No te pierdas nada
¿Qué dicen nuestros clientes de nosotros?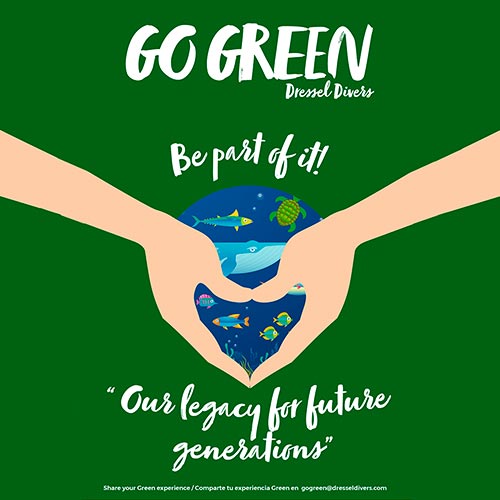 BE PART OF OUR LEGACY
Our main challenge is to share with our customers experiences that go beyond to a sustainable diving. The satisfaction of doing something for the blue planet and also for our future generations.
Go Green is an attitude, a philosophy, a commitment to raise awareness. The opportunity to transmit the responsibility of each individual in the care of our planet.
Go Green develops environment actions in the Caribbean area, such as Coral Reef maintenances, seabed cleanup activities, and decrease ecological footprint. We also support local NGO`s and we help them to make their social and green goals come true.
Be part of Dressel Divers community does not only mean diving, leisure, fun or passion. It also means commitment, action, respect and solidarity.
Be part of it!
Centros de buceo Dressel Divers